SumatoSoft Got 4 Nominations as Top 10% Company in Europe by Aciety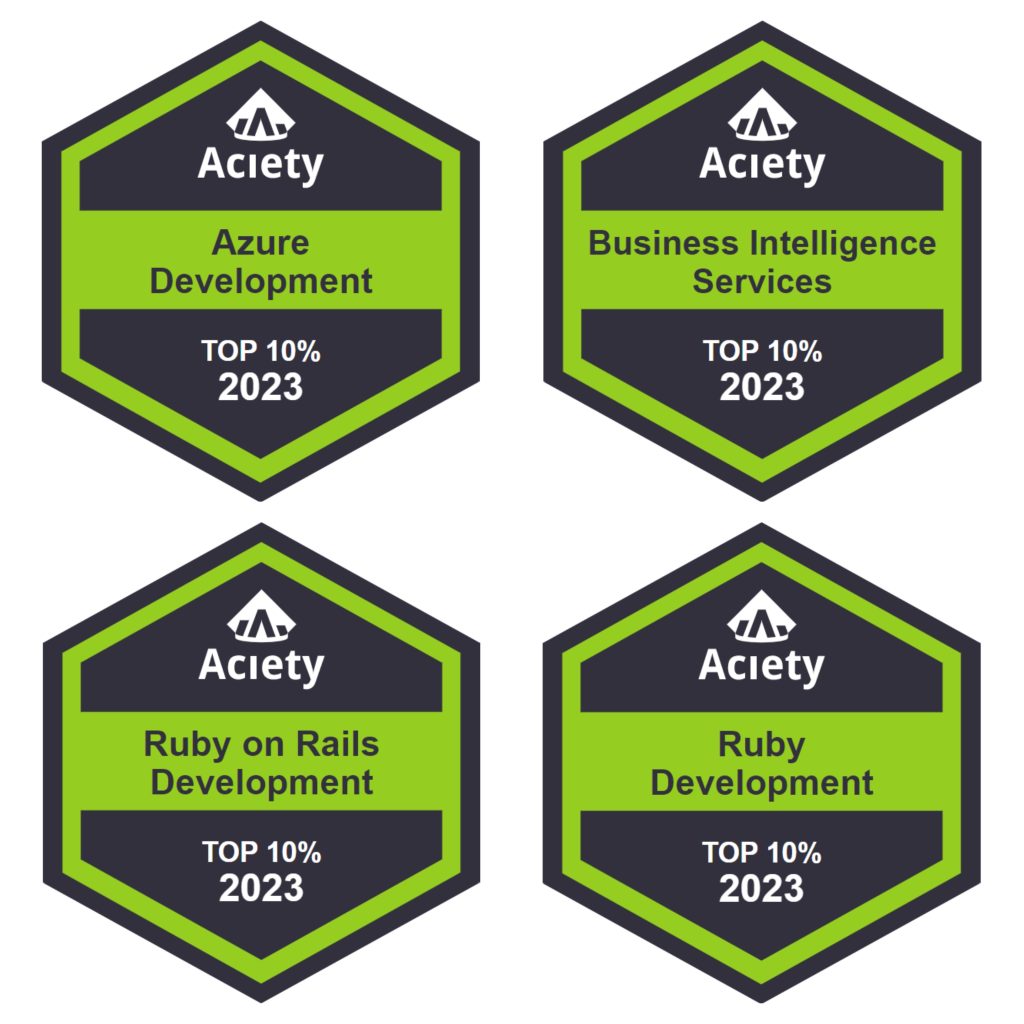 Boston, US, 03.30.2023 – SumatoSoft, a leading software development company, has been recognized by Aciety for its expertise in four different categories, earning top 10% nominations in Europe for Ruby on Rails development, Ruby development, Machine learning development, and Business Intelligence services..
Aciety started nominating software companies from Europe across 100 categories of services in 2023. Out of over 2000 companies from Europe that were nominated, SumatoSoft was recognized as one of the top companies in four categories:
Ruby on Rails Development
Ruby Development
Azure Development
Business Intelligence Development
"We are delighted to receive this recognition from Aciety in four nominations at once," said Yury Shamrei, CEO of SumatoSoft. "This recognition reflects our team's hard work and dedication to delivering exceptional services to our Clients."
About Aciety
Aciety is a platform that connects businesses with the best software companies across the globe. With a comprehensive database of software companies and a user-friendly interface, Aciety simplifies the process of finding and hiring software development companies. Aciety's platform allows businesses to filter and compare companies based on their expertise, location, and client reviews, enabling them to make informed decisions when selecting a software development partner. By facilitating partnerships between businesses and software companies, Aciety helps to foster innovation and growth in the tech industry.
About SumatoSoft
SumatoSoft is a software development service provider that became a technological partner to its Clients across 27 countries. Our portfolio counts over 150 successful projects in various industries like eCommerce app development, Elearning software, Finance, Real Estate, Logistics software development, Travel, and more. 
The company delivers exemplary services in 10+ business domains and works with all types of technologies like Machine Learning, Blockchain, Artificial Intelligence, web, mobile, and progressive app development. However, our key expertise areas are Ruby, Ruby on Rails, Cloud technologies and the Internet of Things development.
We mastered Ruby and RoR, working on projects like:
And dozens of other projects.
We can make a massive contribution to the development of complex projects. Contact us if you are looking for high-level technical expertise.
You are here
2 Discuss it with our expert
3 Get an estimation of a project
Thank you!
Your form was successfully submitted!