Software product development

company


At SumatoSoft, we specialize in building software products that prioritize reliability, stability, and scalability, seamlessly integrating the latest technologies like AI, ML, Big Data, and IoT to enhance productivity, streamline operations, and support growth for businesses of all sizes.

Get in Touch
Product development
services we provide
The system has produced a significant competitive advantage in the industry thanks to SumatoSoft's well-thought opinions.
They shouldered the burden of constantly updating a project management tool with a high level of detail and were committed to producing the best possible solution.
I was impressed by SumatoSoft's prices, especially for the project I wanted to do and in comparison to the quotes I received from a lot of other companies.
Also, their communication skills were great; it never felt like a long-distance project. It felt like SumatoSoft was working next door because their project manager was always keeping me updated. Initially.
We tried another company that one of our partners had used but they didn't work out. I feel that SumatoSoft does a better investigation of what we're asking for. They tell us how they plan to do a task and ask if that works for us. We chose them because their method worked with us.
SumatoSoft is great in every regard including costs, professionalism, transparency, and willingness to guide. I think they were great advisors early on when we weren't ready with a fully fleshed idea that could go to market.
They know the business and startup scene as well globally.
SumatoSoft is the firm to work with if you want to keep up to high standards. The professional workflows they stick to result in exceptional quality.
Important, they help you think with the business logic of your application and they don't blindly follow what you are saying. Which is super important. Overall, great skills, good communication, and happy with the results so far.
Together with the team, we have turned the MVP version of the service into a modern full-featured platform for online marketers. We are very satisfied with the work the SumatoSoft team has performed, and we would like to highlight the high level of technical expertise, coherence and efficiency of communication and flexibility in work.
We can say with confidence that SumatoSoft has realized all our ideas into practice.
They are very sharp and have a high-quality team. I expect quality from people, and they have the kind of team I can work with. They were upfront about everything that needed to be done.
I appreciated that the cost of the project turned out to be smaller than what we expected because they made some very good suggestions. They are very pleasant to work with.
The Rivalfox had the pleasure to work with SumatoSoft in building out core portions of our product, and the results really couldn't have been better.
SumatoSoft provided us with engineering expertise, enthusiasm and great people that were focused on creating quality features quickly.
SumatoSoft succeeded in building a more manageable solution that is much easier to maintain.
Thanks to SumatoSoft can-do attitude, amazing work ethic and willingness to tackle client's problems as their own, they've become an integral part of our team. We've been truly impressed with their professionalism and performance and continue to work with a team on developing new applications.
We are completely satisfied with the results of our cooperation and will be happy to recommend SumatoSoft as a reliable and competent partner for development of web-based solutions
Download
company's profile
All information about the company in one PDF-document:
services;
how we work;
our projects.
Why choose

product development with SumatoSoft
Long-term cooperation

: With a 70% repeat Client rate, we take pride in fostering lasting relationships with our Clients. 

High Client satisfaction

: Our 98% satisfaction rate is a testament to our dedication to meeting deadlines and addressing our Clients' needs during software development.

Proven track record

: We have successfully completed 150 software projects across 27 countries in 11 business domains.

Strong communication

: Our English-speaking developers team ensures a smooth collaboration without language barriers.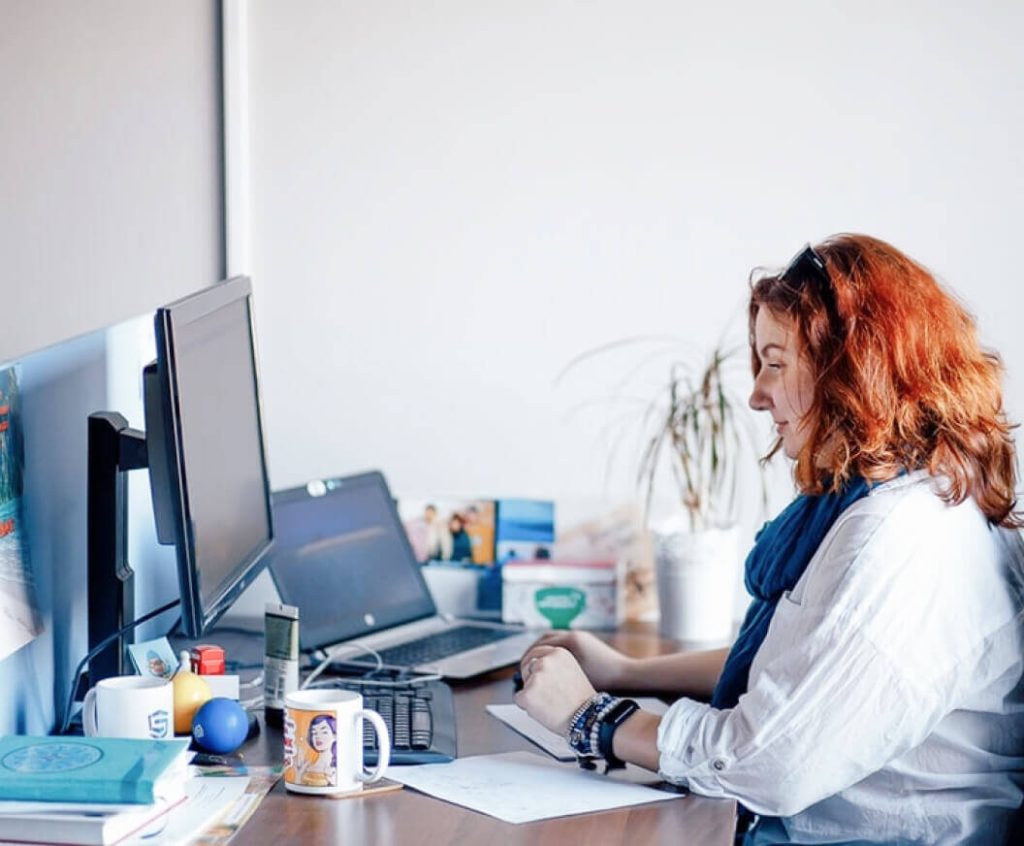 As evangelists of IoT, Big Data, AI/ML, AR/VR, and blockchain, we help businesses stay ahead in a rapidly evolving tech landscape using the latest technologies in our software development services.
Rewards

& Recognitions
Our product development process

Discovery and planning
We kick off the project by analyzing your business goals, understanding user needs, and defining a clear product vision. This phase involves close collaboration with your team to ensure alignment and set expectations. This is the first step to the successful software development. 
Design and prototyping
As a part of software development services, our design experts create visually appealing and user-friendly interfaces, backed by comprehensive user research and testing. We develop prototypes to validate ideas and gather feedback before moving on to the development phase.
Software architecture and development
Our experienced developers build robust, scalable, and secure software solutions using the latest technologies and best practices. We focus on clean, maintainable code that meets your requirements and can evolve with your business.
Quality assurance and testing
Our QA specialists rigorously test the software to ensure it meets the highest quality standards. We identify and fix any issues, ensuring the final app is reliable, stable, and ready for launch.
Deployment and launch
We handle the deployment process, ensuring your software product is successfully launched and accessible to your users. We work closely with your team to address any last-minute issues and ensure a smooth transition to a new software solution.
Post-launch support and maintenance
Our commitment doesn't end at launch. We provide ongoing support and maintenance to keep your software product up-to-date, secure, and performing at its best. We also help you with continuous product evolution, incorporating new features and improvements based on user feedback and changing business needs.
Benefits

of SumatoSoft's product development approach

Professional app design
Our experienced business analysts and marketing specialists help translate your product idea into a truly competitive software solution and create strong brand identification.
Fast time to market
With Agile development, CI/CD pipeline, DevOps approach, and a balanced mix of manual and automated testing, we can introduce needed software changes while maintaining a steady release pace (every 2-3 weeks).
Well established processes and management
Leverage well-established processes and effective management with SumatoSoft's custom app development services, ensuring seamless collaboration and timely delivery of top-notch software solutions to empower your business growth.
Reduced development costs
We deliver cost-effective software thanks to the use of scalable cloud-native architectures, ready-made components (frameworks, platforms, and services), and public APIs.
Flexible outsourcing options
We can either take over the whole software development process or back up your in-house developers team with a dedicated team of developers or the staff augmentation model of outsourcing.
Risk management
We estimate different risks (time, budget, performance)that can be faced during software development and write a mitigation plan to address each of them.
Scalable solutions
Our custom software products are designed to scale with your business growth, ensuring that you are always prepared to meet increasing demands and capitalize on new opportunities.
Enhanced customer satisfaction
By creating user-centric applications that address the needs and preferences of your target audience, we help you increase customer satisfaction, loyalty, and engagement.
You are here
2 Discuss it with our expert
3 Get an estimation of a project
Sales Leads Researcher
Sales Development Representative
Business Analyst
Linkbuilding Specialist
Node.js Developer
Sales Executive Manager
React.js Developer
Ruby on Rails Developer
Full-Stack (Node.js+React.js) Developer
Thank you!
Your form was successfully submitted!
Frequently asked questions
What is product development services?
Product development services encompass the entire process of designing, creating, and launching a new software product tailored to meet specific business needs and market demands.
What are services in software development?
Services in software development include ideation, design, coding, testing, deployment, and ongoing support, covering all aspects of creating and maintaining custom software applications.
What is AI and machine learning services?
AI and machine learning services provide solutions that leverage AI and ML techniques to develop intelligent systems for various applications like data analysis, prediction, and automation.
What is a product development software?
In the software industry, the terms "services" and "products" have distinct meanings, and understanding the difference between them is important.
Services in software are usually a synonym for the phrase "custom software development services". It typically refers to activities performed by developers teams or companies to create custom software solutions for clients. These development services can encompass a wide range of tasks, such as consulting, ideation, design, development, testing, deployment, and ongoing support. The goal of software services is to provide expertise and software  solutions tailored to a client's specific needs, often resulting in a bespoke software designed exclusively for the client's business. Such type of software can be development by an in-house team of developers or by outsourcing the whole development process to an third-party developers team. 
On the contrary to software development services, software products can be considered as ready-to-use software products that don't require investing in development services. These products are pre-built, off-the-shelf applications or platforms that are designed to serve a broader audience with more general needs. These products are typically created by software companies and sold to customers either as a one-time purchase or on a subscription basis. Subscription model is also known as Software-as-a-Service or SaaS model. Software application can range from simple tools and utilities to complex enterprise applications, such as customer relationship management (CRM) systems or enterprise resource planning (ERP) solutions.
The main difference between services and products in software lies in customization and target audience. Services are tailored to the unique requirements of a specific client and are focused on solving their particular challenges, while products cater to a broader market and offer standardized features and functionalities that can be used by multiple customers.
How do you ensure the quality of a software product during development?
To ensure the quality of a software product during providing software development services, we adopt a comprehensive quality assurance approach. This includes employing best practices like test-driven development, continuous integration, and code reviews. Our experienced QA engineers collaborate closely with the developers team, conducting thorough manual and automated testing throughout the development process. This allows us to identify and address any issues proactively, ensuring that the final software meets the highest quality standards.