Healthcare

IoT software development company

Transforming Healthcare with Intelligent IoT software. We connect medical devices, streamline workflows, and optimize patient care with real-time data analytics. Trust us to drive innovation in your healthcare setting, from remote monitoring to smart diagnostics.

real-time patient monitoring

integrated medical devices

workflow efficiency

data-driven decision-making

scalable solutions

security & compliance

smart diagnostics

Get in Touch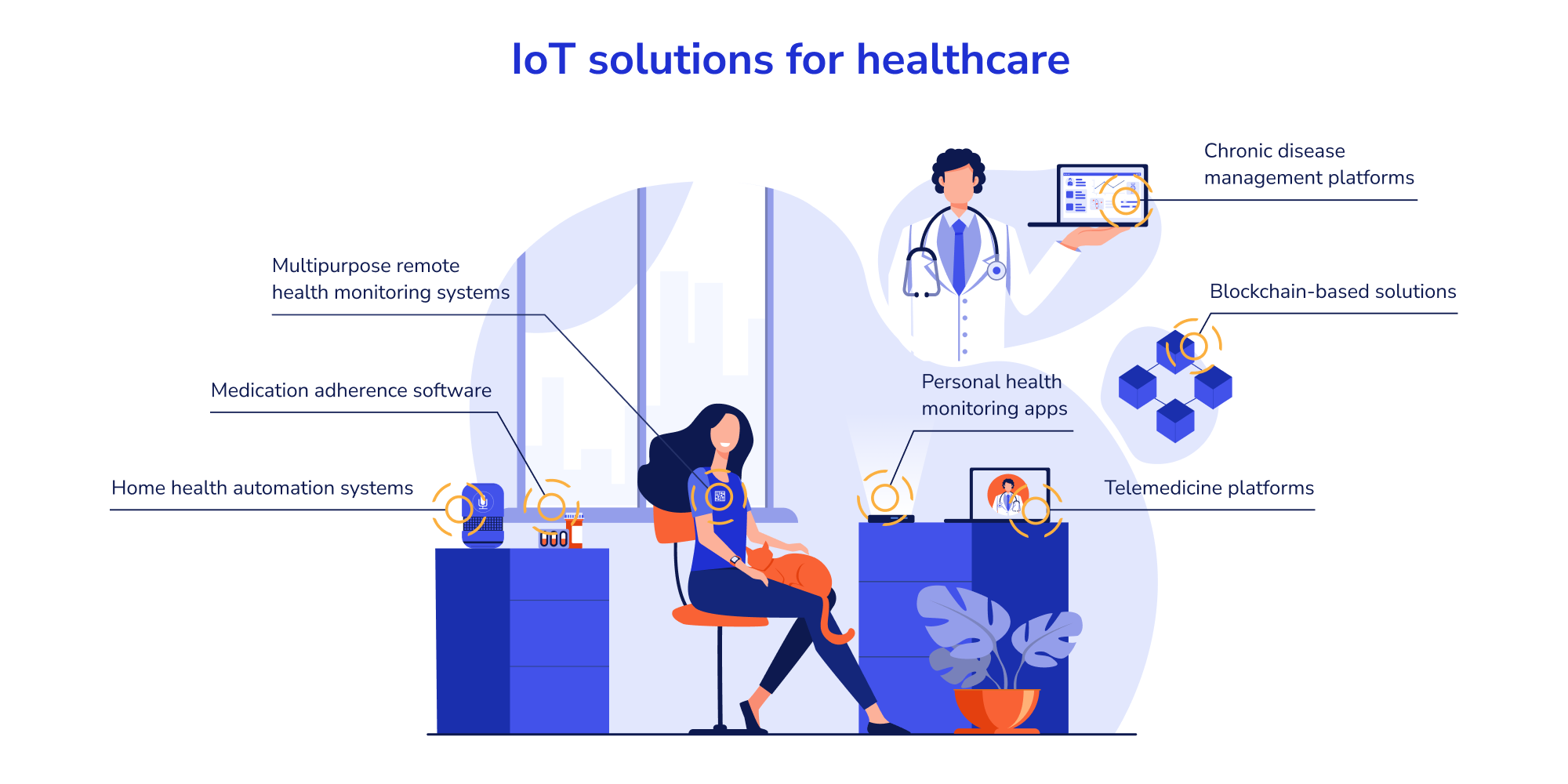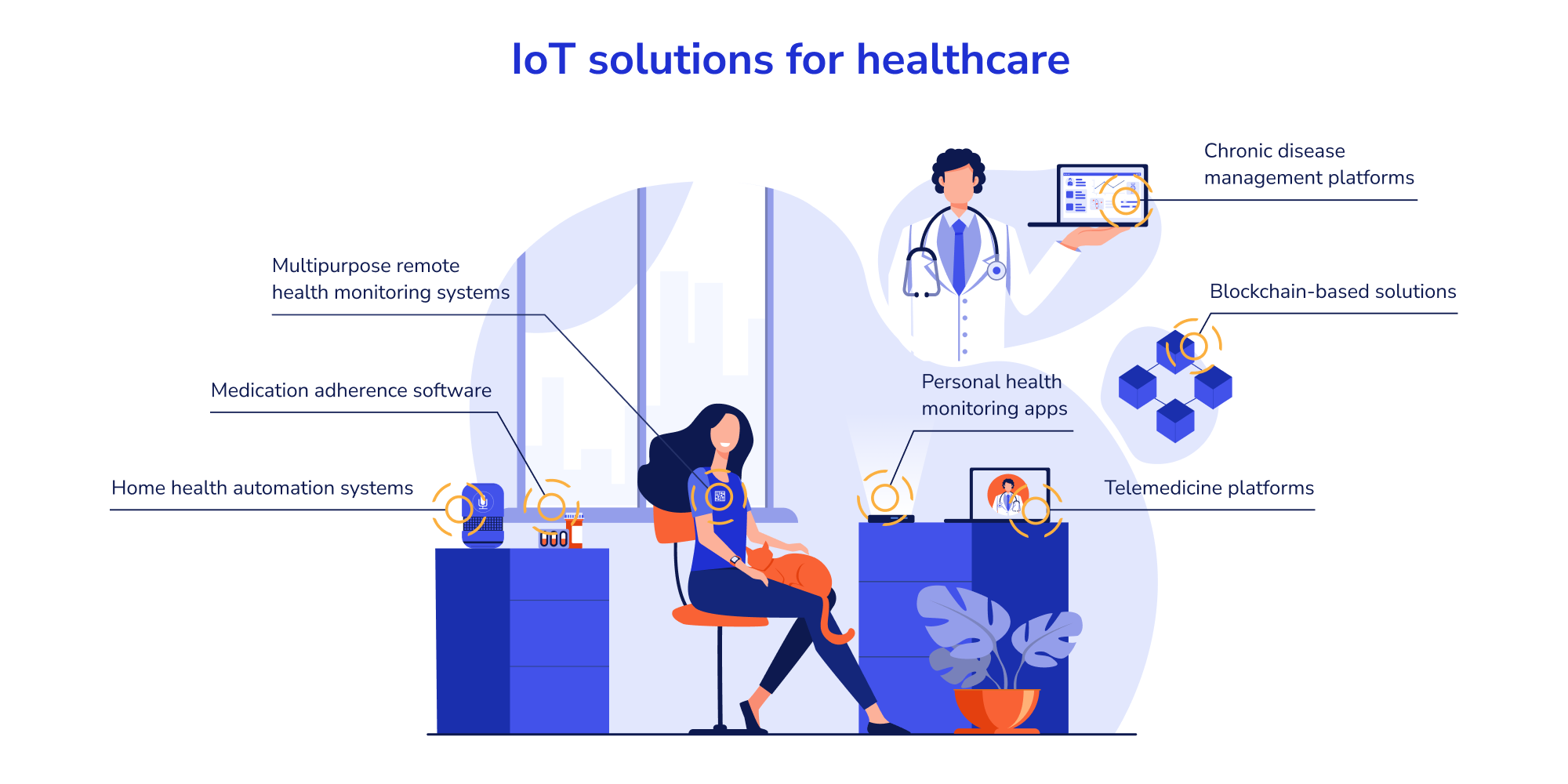 IoT-powered healthcare
 solutions we build
At the core of any IoT healthcare software is a simple approach: the connection of healthcare devices to software where data is processed and presented in various actionable formats. While this remains consistent across different IoT-based healthcare platforms, the distinction arises from the types of devices connected and the specific application of each system. Here are the solutions we offer:
Multipurpose remote health monitoring systems
These encompass a broad range of applications, from generic remote patient monitoring to specialized systems for post-operative care and elderly assistance. By capturing and transmitting patients' health data to healthcare providers from non-clinical settings, we ensure continuous patient oversight without necessitating their presence in a healthcare facility.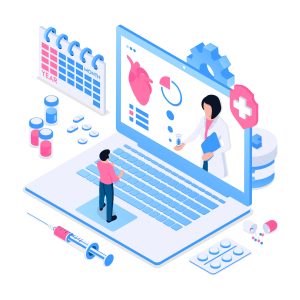 Personal health monitoring apps
A convergence of technology and personal health, these solutions include applications tailored for fitness trackers, smart bracelets, watches, and sleep monitors. We delve into specific health metrics, building apps that can measure heart rate, sleep cycles, blood oxygen levels, and more. We can design applications that train users for a marathon, assist in yoga, cater to swimmers, or monitor daily activities. Our apps are tailored to cater to a wide spectrum of physical endeavors, ensuring users always have insights into their health.
Telemedicine platforms
In essence, telemedicine replicates the physical clinic experience in a digital space. Patients can book appointments, consult with doctors through video calls, get prescriptions, and even have follow-up sessions. Beyond patient-doctor interactions, these platforms also serve as a hub for doctors to collaborate, share patient histories, and derive second opinions.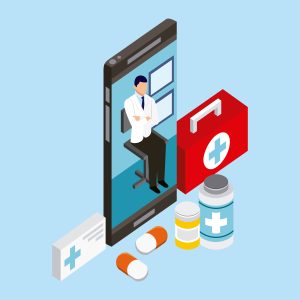 Chronic disease management platforms
Dealing with long-term conditions like diabetes or hypertension requires analysis of huge amounts of historical data since it's a long-lasting disease. We develop platforms that offer real-time tracking as well as comprehensive and informative historical data representation. With analytical tools, patients and healthcare providers can view trends, derive insights from past data, and strategize treatments more effectively.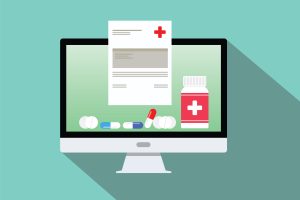 Medication adherence software
This solution type includes smart pill dispensers, smart insulin pens, and other devices that ensure patients never miss a dose. With features like automated reminders and real-time adherence tracking patients and healthcare providers stay informed and proactive. Patients get automated notifications to take medications in time while doctors remotely track the intake and can check the medication efficiency and adjust treatments or dosage.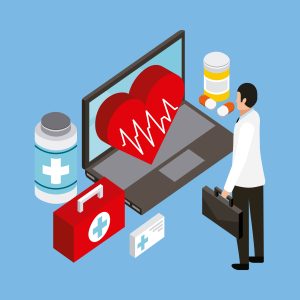 Home health automation systems
Think of a 'smart home', but with an emphasis on health. This is the most advanced solution that comprises multiple subsystems like telecommunication, patient billing, home visit scheduling, care planning, claim management, and interfaces for doctors, home care providers, and patients. Home health automation systems serve two purposes: optimizing healthcare staff workflow and ensuring meticulous remote patient monitoring. 
Healthcare IoT software development
services we provide
Healthcare devices development
Software development & integration
Securing and testing
Training and support
All-in-one partnership
End-to-end healthcare device prototyping and development
At SumatoSoft, we bridge the gap between ideas and tangible healthcare devices. Be it a fresh concept or an existing prototype needing fine-tuning, we've got you covered. Our expertise includes but isn't limited to devices such as blood pressure cuffs, glucometers, heart rate monitor sensors, and pill dispensers.
We cover the following aspects:
idea feasibility;
form factor design;
functionality;
material selection;
scalable production;
packaging;
logistics & distribution.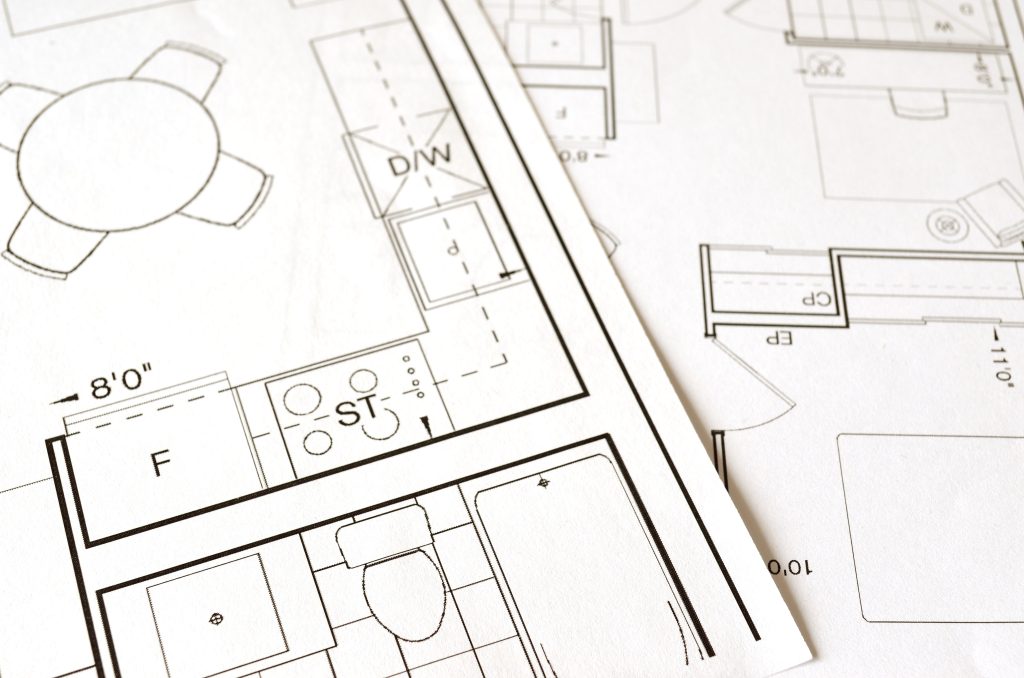 Software development and device integration
We provide bespoke software development services that cater to both mobile and web platforms. Our software solutions are designed to flawlessly integrate with your healthcare devices, offering seamless bi-directional data transmission, secure data protocols, and cloud connectivity.
native and cross-platform development;
bi-directional data transmission;
cloud connectivity;
user-focused design;
insightful data analytics and reporting;
robust security measures and compliance adherence;
seamless integration capabilities with existing systems;
over-the-air updates;
offline data storage and sync.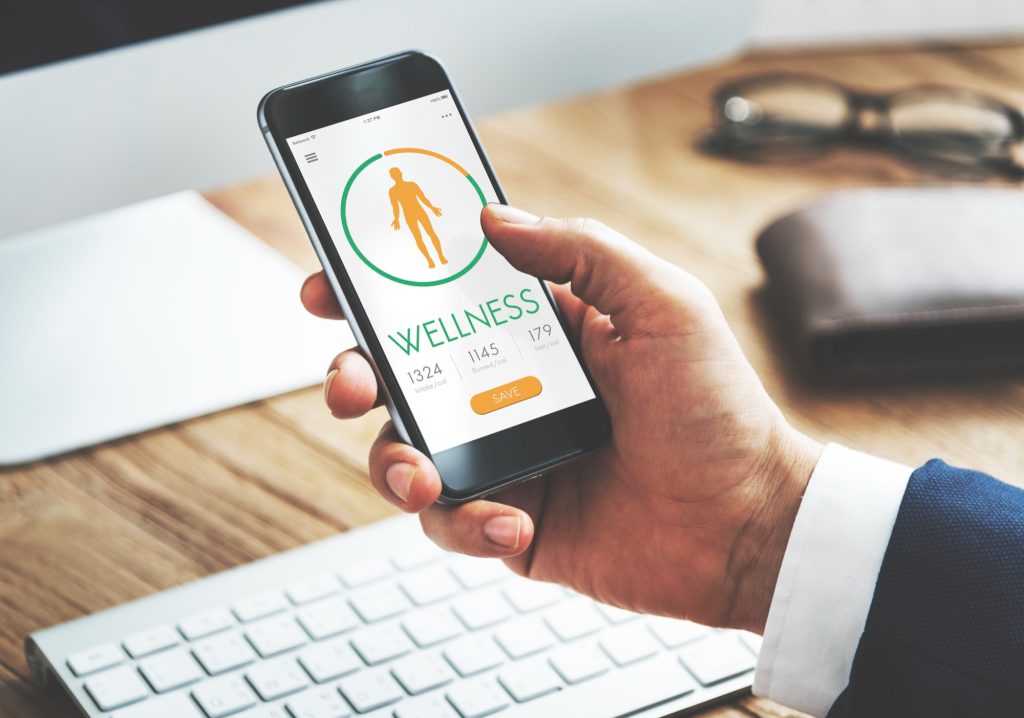 Securing and testing healthcare devices
Ensuring data security in healthcare is critical and mandates adherence to stringent standards across different regions. From HIPAA in the U.S. to GDPR in Europe, our software aligns with key regulations, including FDA, HITRUST, HL7, DICOM, and ISO 13485. We rigorously test both software and devices to ensure the seamless and secure transfer and storage of user data.
Our approach incorporates:
robust monitoring & logging;
secure OTA updates;
anonymization;
firmware integrity checks;
code security assessments;
data encryption.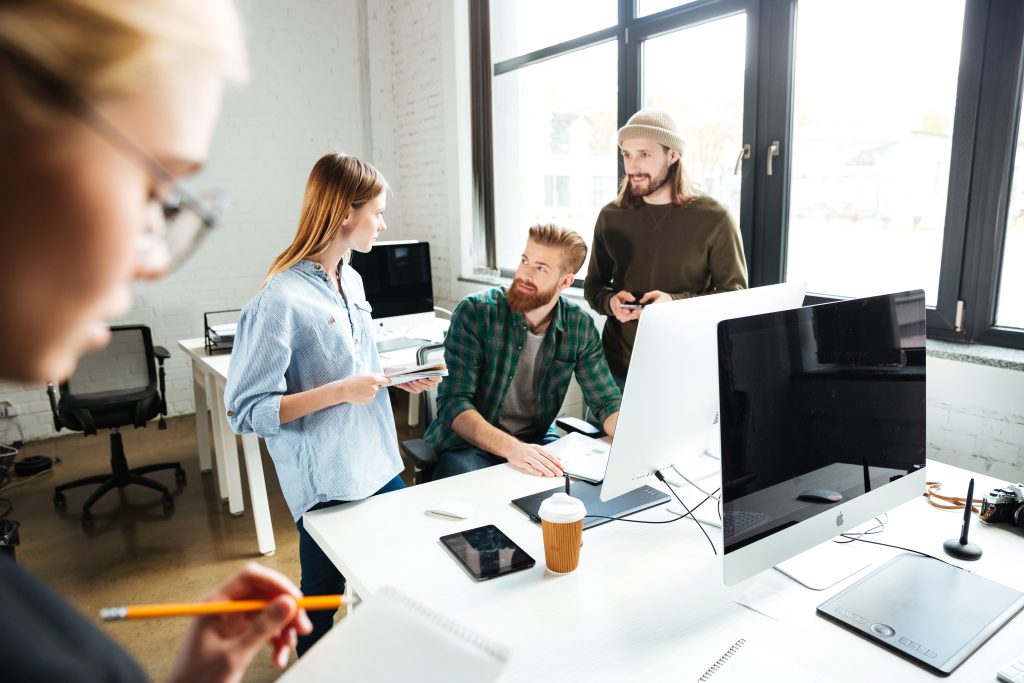 Training and support after release
Launching your healthcare solution is only the beginning of our journey together. We understand the importance of continuous education and support in this ever-evolving domain.
With SumatoSoft, you get:
user training sessions;
technical support;
software updates;
device maintenance tips;
feedback loop.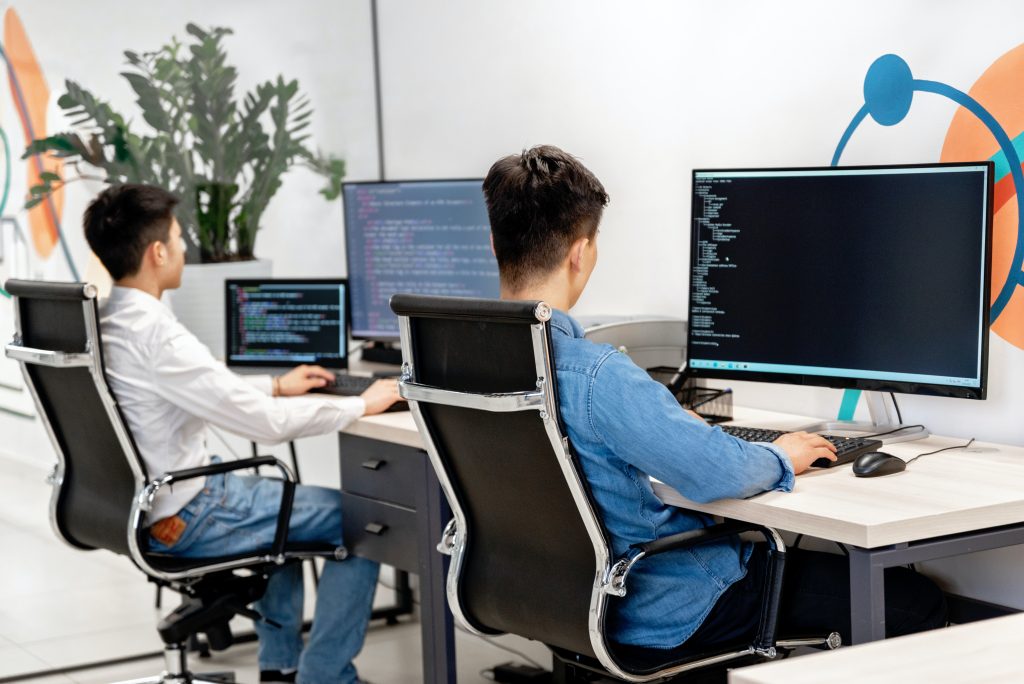 All-in-one healthcare IoT partnership
With SumatoSoft, you don't have to juggle between different agencies. We provide an integrated approach, ensuring your vision is realized cohesively, on time, and within budget. We position ourselves as your comprehensive partner, covering all stages of healthcare device development and guiding you from ideation to post-launch:
initial conceptualization & prototyping;
efficient device manufacturing;
tailored software development;
strict security & compliance adherence;
ongoing training & support.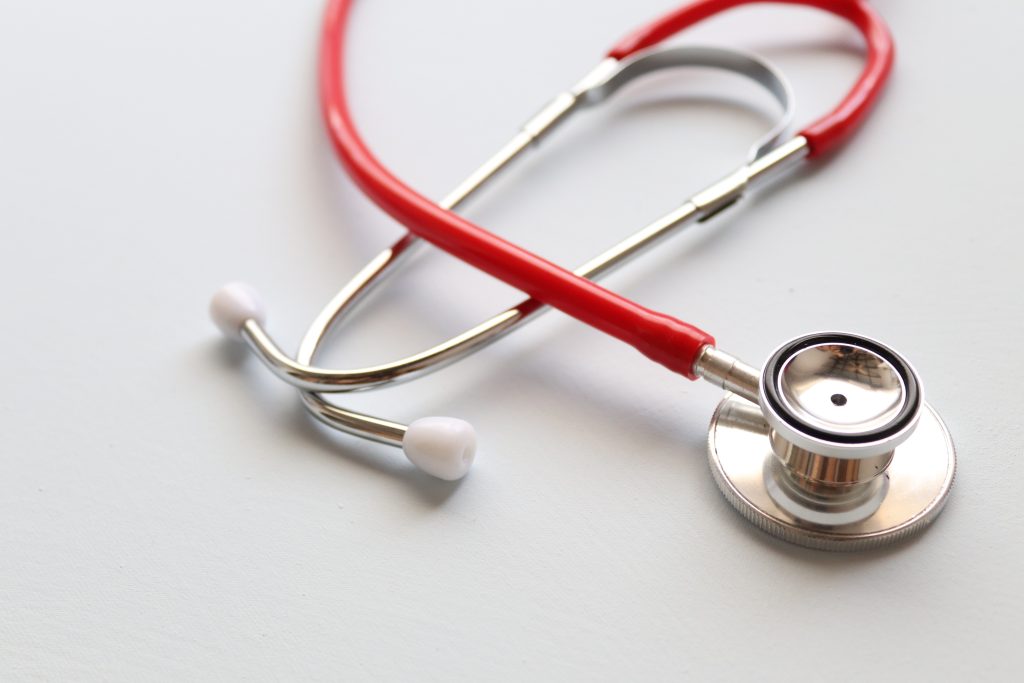 How healthcare
benefits

from IoT
Remote patient monitoring
Enables real-time health tracking, reducing frequent hospital visits and providing medical professionals insights from afar.
Remote care delivery
Beyond monitoring, it offers telehealth consultations and therapy, vital during times when in-person visits are challenging.
Data-driven patient diagnostics
Utilizing vast patient data, treatments are tailored for individual needs, paving the way for precision medicine.
Accurate chronic-disease management
Continuous data collection from IoT devices allows efficient tracking and adaptable treatments for chronic conditions.
Emergency care
IoT devices can provide instantaneous alerts to medical teams or family during sudden health crises, ensuring swift responses.
Self-driven health monitoring
Patients proactively monitor their health using IoT devices, lessening their sole reliance on healthcare professionals.
The system has produced a significant competitive advantage in the industry thanks to SumatoSoft's well-thought opinions.
They shouldered the burden of constantly updating a project management tool with a high level of detail and were committed to producing the best possible solution.
I was impressed by SumatoSoft's prices, especially for the project I wanted to do and in comparison to the quotes I received from a lot of other companies.
Also, their communication skills were great; it never felt like a long-distance project. It felt like SumatoSoft was working next door because their project manager was always keeping me updated. Initially.
We tried another company that one of our partners had used but they didn't work out. I feel that SumatoSoft does a better investigation of what we're asking for. They tell us how they plan to do a task and ask if that works for us. We chose them because their method worked with us.
Together with the team, we have turned the MVP version of the service into a modern full-featured platform for online marketers. We are very satisfied with the work the SumatoSoft team has performed, and we would like to highlight the high level of technical expertise, coherence and efficiency of communication and flexibility in work.
We can say with confidence that SumatoSoft has realized all our ideas into practice.
The Rivalfox had the pleasure to work with SumatoSoft in building out core portions of our product, and the results really couldn't have been better.
SumatoSoft provided us with engineering expertise, enthusiasm and great people that were focused on creating quality features quickly.
SumatoSoft succeeded in building a more manageable solution that is much easier to maintain.
Thanks to SumatoSoft can-do attitude, amazing work ethic and willingness to tackle client's problems as their own, they've become an integral part of our team. We've been truly impressed with their professionalism and performance and continue to work with a team on developing new applications.
We are completely satisfied with the results of our cooperation and will be happy to recommend SumatoSoft as a reliable and competent partner for development of web-based solutions
IoMT
architecture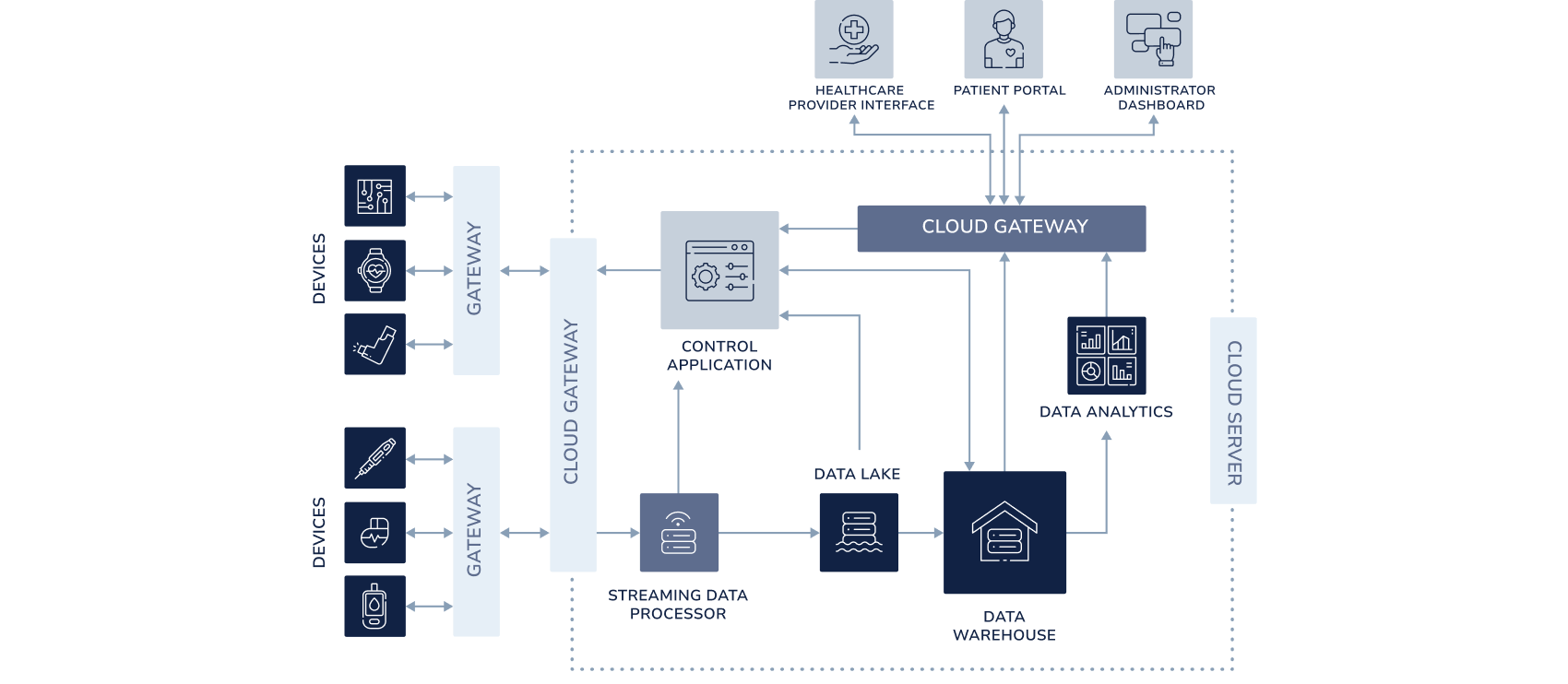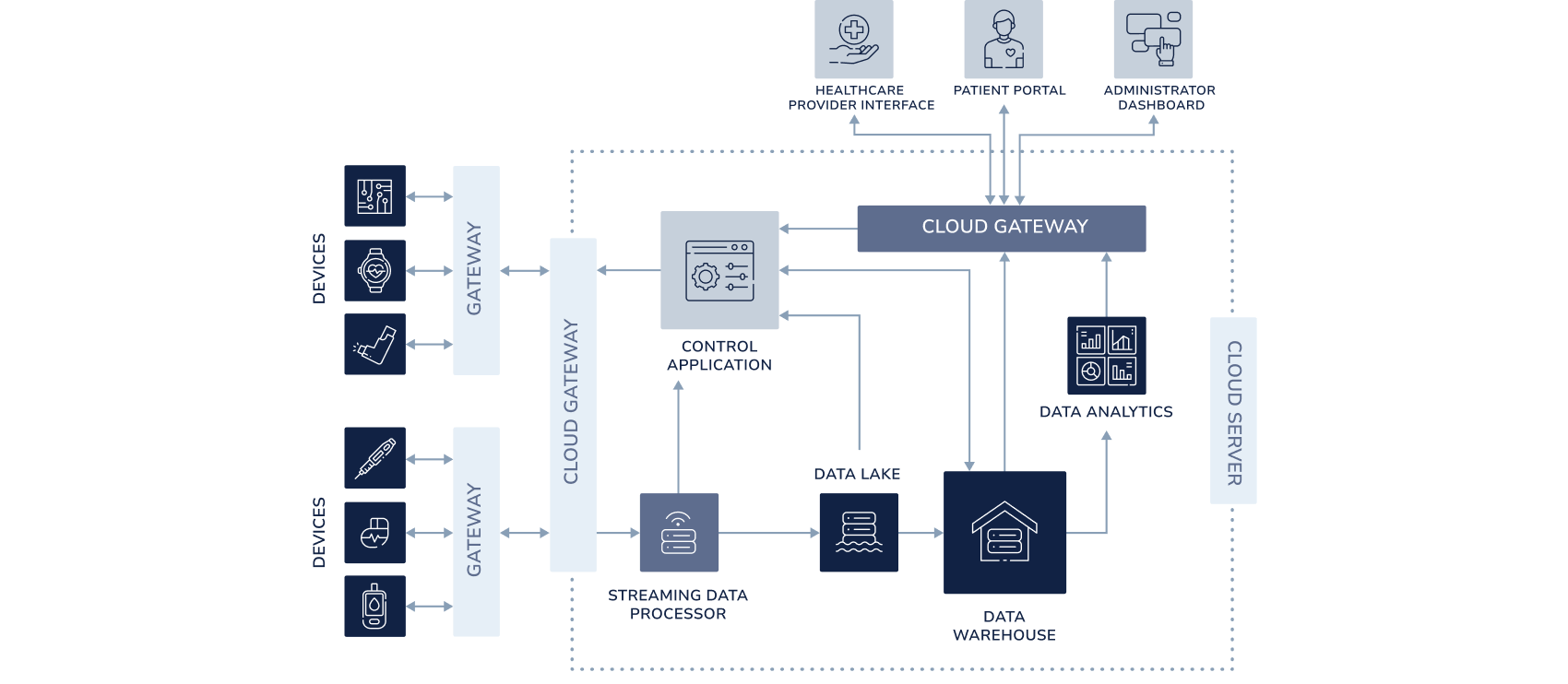 How

IoT software for smart medical devices works
IoT software for smart medical devices enables real-time data collection and analysis through interconnected sensors. This data is then made accessible to healthcare providers for timely decision-making. The system is engineered for reliability and compliance with healthcare regulations.
How smart medical devices operate using IoT Software
Medical smart devices – gather the patient data and pass it to gateways through Wi-Fi, NFC. Equipped with actuators that can execute pre-set actions, such as modifying insulin dosage in insulin pumps. 
Gateways – serve as intermediaries that filter, preprocess, and forward data from patient devices to the cloud and pass commands from the cloud to devices. 
Cloud gateway – compresses the data from the medical devices, ensuring a secure transfer to the cloud.
Streaming data processing – manage the incoming data.
Data lake – the storage of unstructured health data.
Data warehouse – the storage of structured and categorized health data.
Data analytics –  analysis of the accumulated health data and trends for diagnosis, treatment adjustments, and lifestyle recommendations.
Control application module – sends directives to actuators in the medical devices, prompting them to carry out specific actions.
Healthcare provider interface – allows medical staff, such as doctors and nurses, to view patient health data, receive critical alerts, customize vital thresholds for alerts, tweak medication dosages, and assess patient health based on device data analytics.
Patient portal – offers patients a view of their health metrics (like heart rate or glucose levels) and the status of their linked device via an app. It also alerts them to any concerning health readings.
Administrator dashboard – displays an overview of all software users, both patients and healthcare staff and grants system access management capabilities.
Why

Clients cooperate with us in IoMT
Expertise in IoMT

– with 12 years on the market and successfully released IoMT projects, we at SumatoSoft apply this expertise to tackle healthcare's project challenges.

IoT device integration

– we work with multiple devices from wearables like fitness trackers and smartwatches to medical grade equipment such as glucose monitors, ECG machines, and smart inhalers. We ensure seamless data flow and interconnectivity.

Regulatory and standards mastery

– compliance is non-negotiable in the healthcare realm. SumatoSoft ensures adherence to global regulations and standards like HIPAA, HL7, FHIR, GDPR, and more, guaranteeing the sanctity and security of patient data.

Security focus

– beside strict adherence to security standards across the industry, we run security test, use robust monitoring and logging, regularly update software to protect the system from new treats, and advance our skills in the cybersecurity. 

Partnership with manufacturers

– SumatoSoft's collaborations with a device manufacturer enrich our solutions, providing our Clients an opportunity to prototype and manufacture their healthcare devices.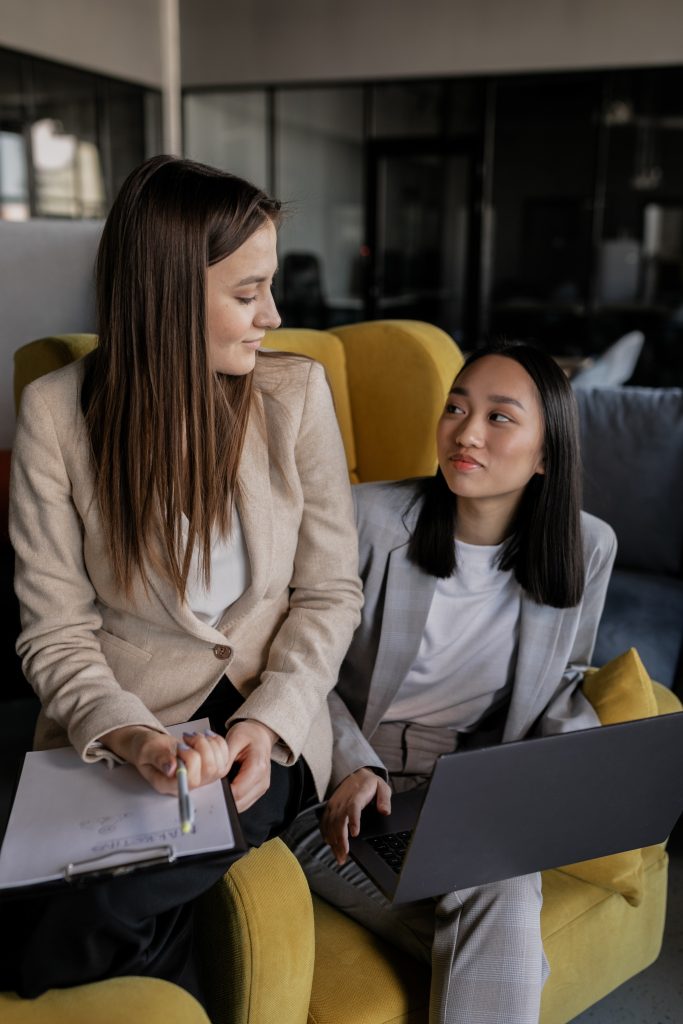 Quick
facts

about SumatoSoft

Years of Сlients' engagement
Rewards

& Recognitions

SumatoSoft has been recognized by the leading analytics agencies from all over the world. Our properly set and transparent processes allow us to provide software development services that deliver value, not just software.
You are here
2 Discuss it with our expert
3 Get an estimation of a project
Sales Leads Researcher
Sales Development Representative
Business Analyst
Linkbuilding Specialist
Node.js Developer
Sales Executive Manager
React.js Developer
Ruby on Rails Developer
Full-Stack (Node.js+React.js) Developer
Thank you!
Your form was successfully submitted!