The Co-Founder of SumatoSoft – Yury Shamrey Shared Meaningful Business Visions with GoodFirms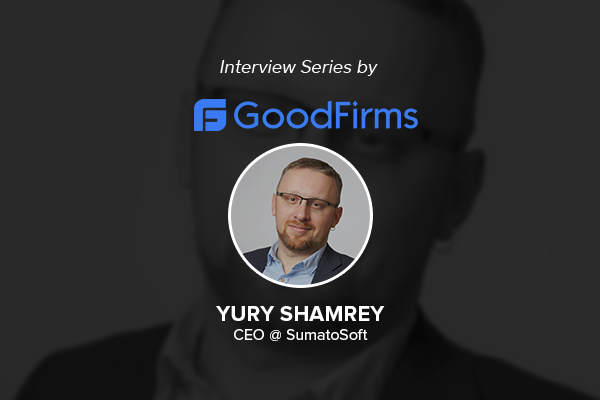 SumatoSoft, which is a leading software and mobile app development company, was initiated by two business partners Mr. Shamrey and Mr. Shidlovsky in 2012.  From day one, the co-partners shaped a vision of delivering premium quality products to its target market. Today, after six years since its inception, the firm has achieved enormous success in the industry with ecstatic clients' raving reviews.
Recently Mr. Yury was interviewed at GoodFirms, wherein the CEO shared his ideology behind the company's formation, and discussed the business model in a nut shell. GoodFirms is a B2B research platform that follows an exclusive research methodology to evaluate various companies and help service providers in choosing the best one for their business requirements.
Interview Summary:
In the exclusive interviews, Mr. Shamrey stated that SumatoSoft has an in-house of tech-savvy developers, designers, project managers, and others who are constantly working in the direction of meeting the client's requirements. The industries catered by the company majorly include – Automotive, eCommerce, and logistics.
Apart from software development, SumatoSoft is also a pioneer in offering services like – business analysis, frontend and backend development, testing, QA, as well as support and management. For such a huge basket of services, the company stands and shares out-of-the-box solutions with its clients. For this, the company has a praise-worthy chunk of clients (up to 95%) coming back to SumatoSoft for a repeat purchase. Such business practices have also made the firm climb on the list of top software developers at GoodFirms.
Doing wonders in the software development category, Sumantosoft has also famed as a leading firm among the most preferred web development companies at GoodFirms.
Mr. Shamrey also mentioned that they help the clients in choosing the right business platform (Android or iOS) for launching their mobile apps that completely depends upon the business requirements and their end-users.
Moreover, the CEO also articulated how much time and resources the company devotes to developing mobile apps codes including its front-end and back-end tasks. To know in detail about the CEO's views read the complete interview at GoodFirms in which he talks about the business model practiced by the company that adds valuable perspectives to its clients' businesses.
About GoodFirms
Washington, D.C.-based GoodFirms is a maverick B2B research and reviews firm that aligns its efforts with finding the top app development and web development companies delivering unparalleled services to its clients. GoodFirms' extensive research process ranks the companies, boosts their online reputation and helps service seekers pick the right technology partner that matches their business needs.
You are here
2 Discuss it with our expert
3 Get an estimation of a project
Thank you!
Your form was successfully submitted!