Internet of Things

in Fleet Management

From real-time tracking and geofencing to advanced analytics and eco-friendly initiatives, we at SumatoSoft build IoT-based software solutions that optimize efficiency, enhance safety, and drive measurable results to all companies involved in fleet management. 

Get in Touch
The simplicity and power of IoT in fleet management
Our IoT solution for fleet management is a comprehensive ecosystem that caters to a wide range of fleet types—from commercial trucking and public transportation to specialized fleets like agriculture and rentals. At its core, the system integrates a variety of connected sensors that capture essential metrics such as location, fuel level, temperature, and more. This raw data is securely transmitted to the cloud, where advanced algorithms perform real-time data analysis. Users can access these insights through intuitive interfaces, leading to actionable recommendations for operational efficiency, safety, and cost-saving.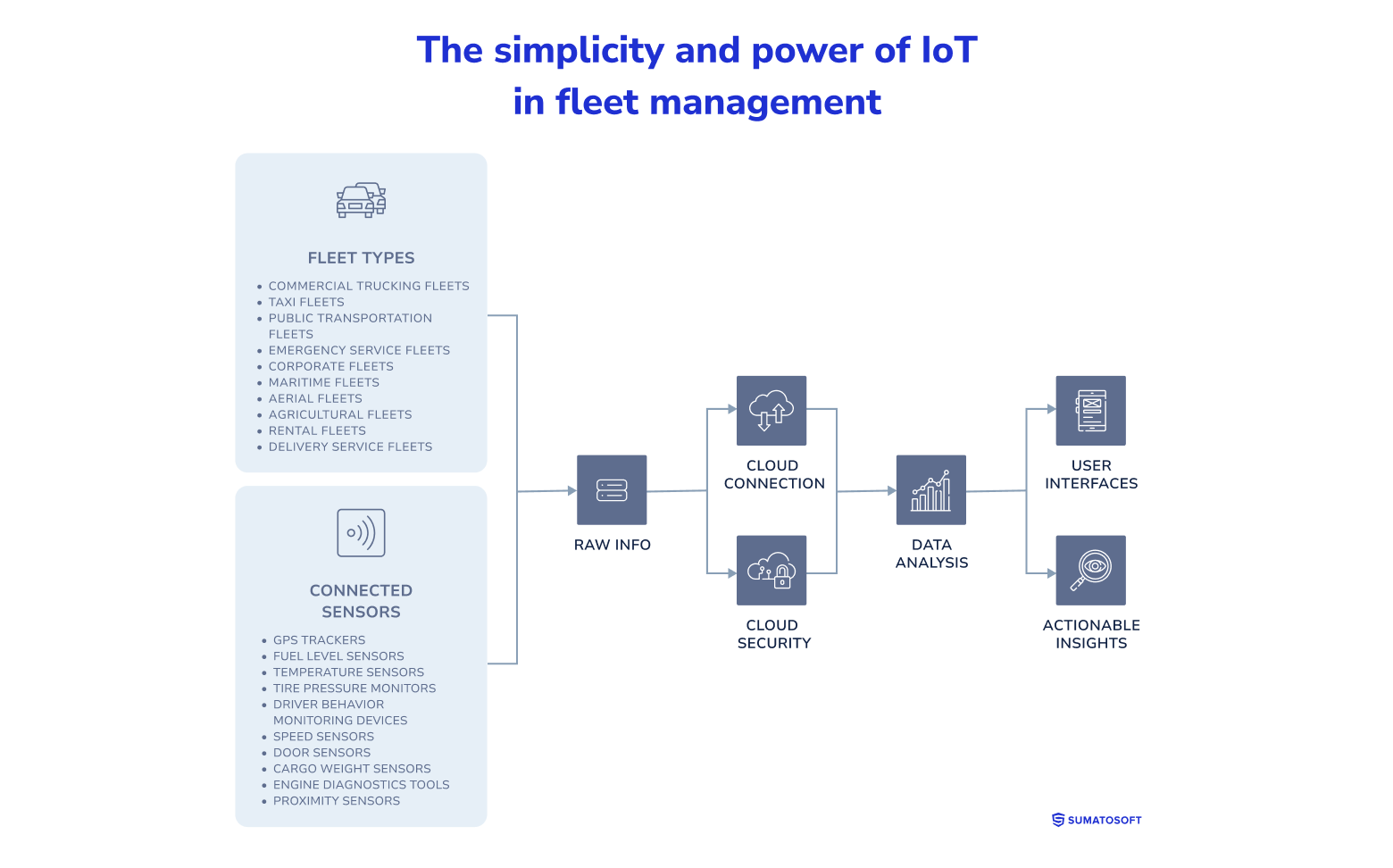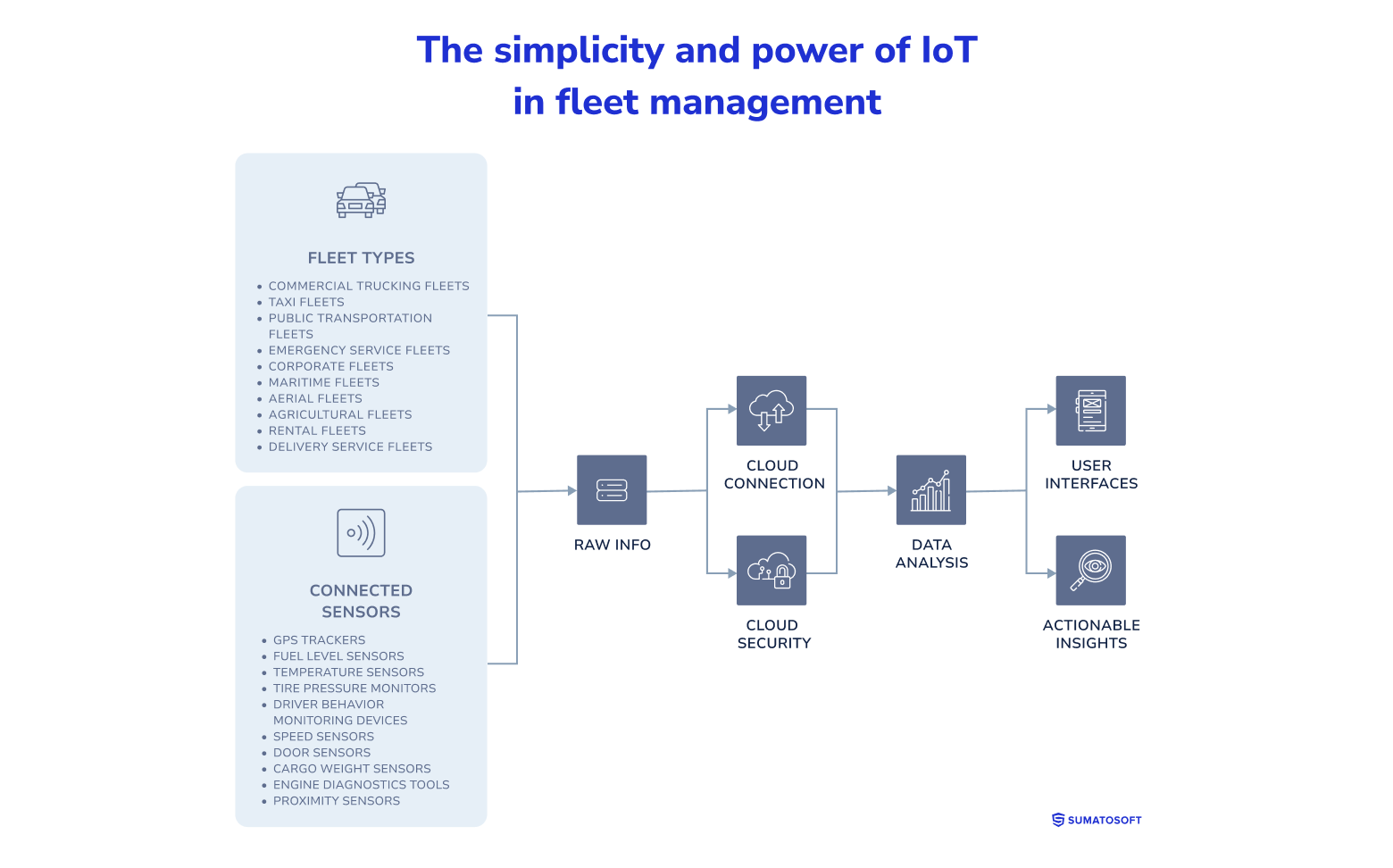 Your industry, our expertise:

a collaborative approach
Logistics and transportation
Platforms we develop streamline fleet operations with real-time vehicle tracking, route optimization, and predictive maintenance alerts.
eCommerce
Enhance your delivery performance with package tracking, optimized routing, and real-time customer notifications.
Construction and heavy equipment
Simplify job site management with remote monitoring, location tracking, and scheduled maintenance features.
Field service and maintenance
Optimize your service operations with intelligent dispatch scheduling, real-time vehicle tracking, and work-order management.
Agriculture
Our solutions offer precision farming, real-time equipment monitoring, and actionable crop data analytics.
Public transportation
Improve commuter satisfaction with real-time vehicle tracking and dynamic passenger information systems.
Emergency services
Accelerate incident response with fast vehicle deployment, real-time location sharing, and comprehensive incident management tools.
Shipping and maritime
Optimize maritime operations with real-time cargo and vessel tracking and intelligent route planning.
Rental car companies
Streamline your rental operations with real-time vehicle tracking, scheduled maintenance alerts, and fleet utilization reports.
Healthcare and medical supplies
Ensure timely and secure transportation of medical supplies with real-time tracking, temperature monitoring, and route optimization features.
Retail
Enhance your supply chain efficiency with real-time vehicle tracking, inventory monitoring, and delivery schedule.
Tourism and hospitality
Improve guest experiences with real-time shuttle tracking, route optimization, and predictive maintenance features.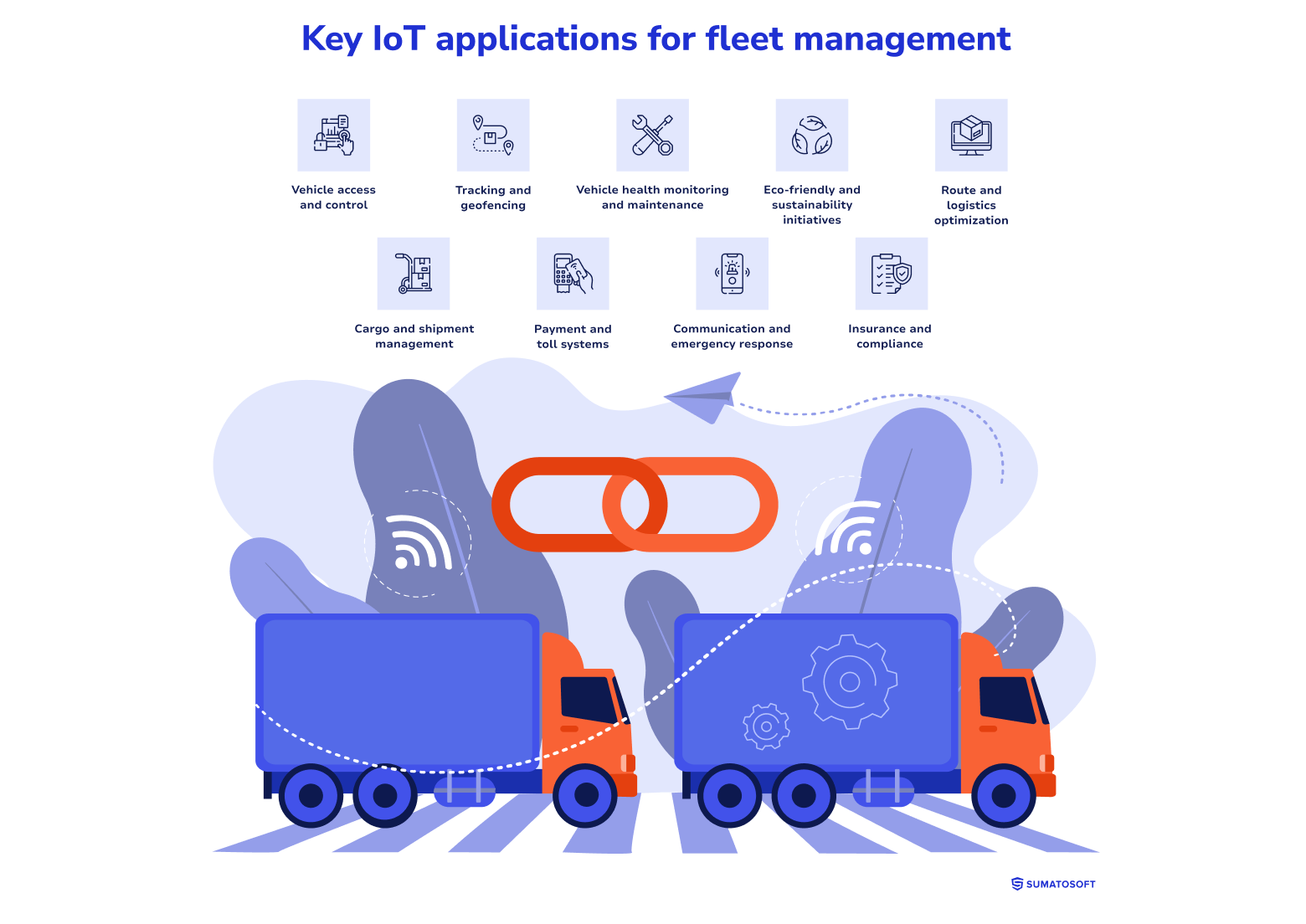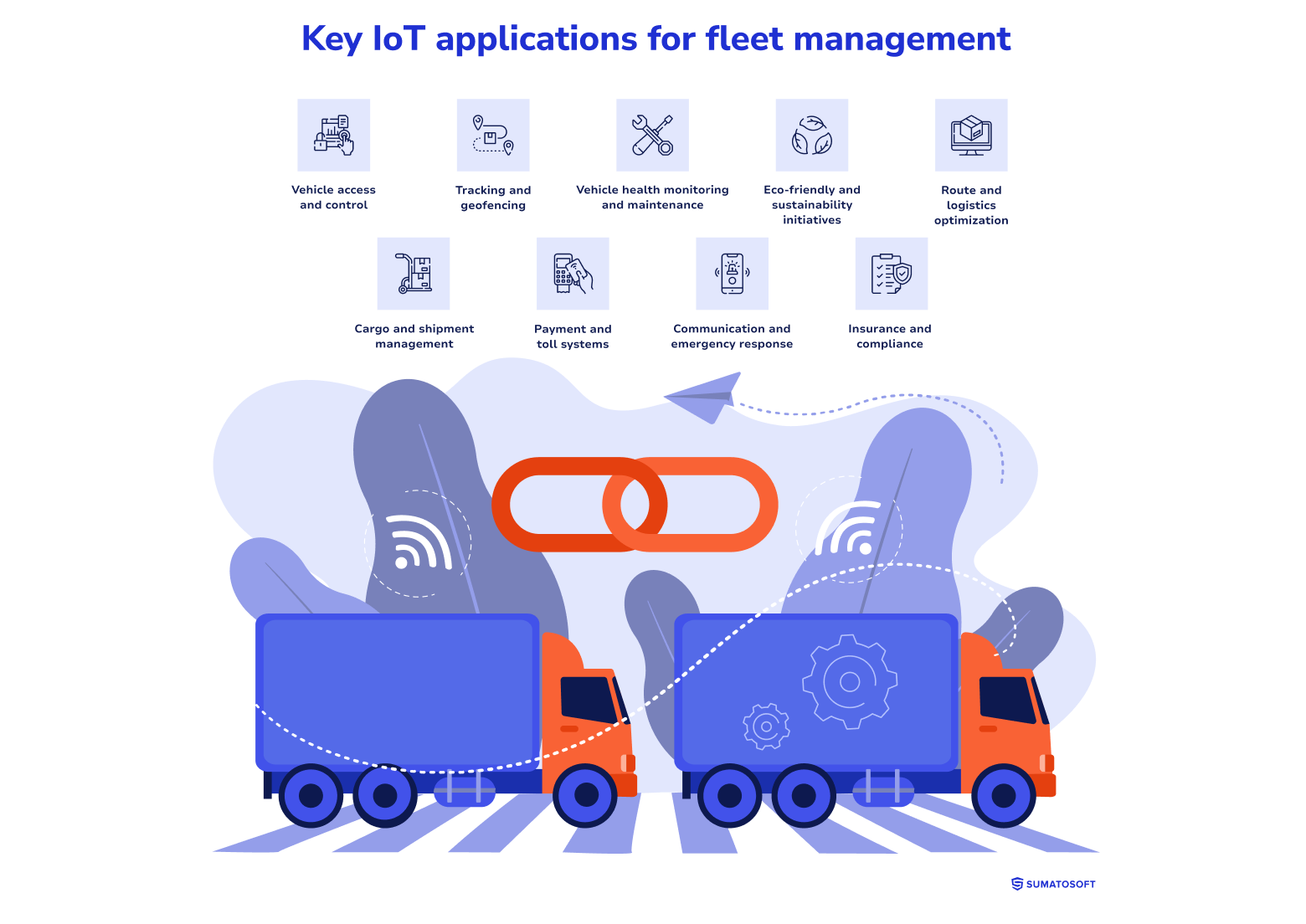 Key IoT applications:

unlocking the full potential of IoT fleet management

Vehicle access and control
RFID/NFC

-based access control; 

remote lock/unlock

via mobile or web app;

remote engine start or shutdown

to prevent unauthorized use or in case of theft;

biometric authentication

like fingerprint or facial recognition for secure vehicle access.
Tracking and geofencing
real-time vehicle location tracking

via GPS;

geo-fencing

to define permissible vehicle operational zones;

unauthorized movement alerts

based on geo-fencing parameters;

tracking history

to analyze past routes and stops;

speed monitoring

with real-time alerts for exceeding set limits.
Vehicle health monitoring and maintenance
predictive maintenance alerts

based on engine diagnostics;

real-time monitoring

of tire pressure and temperature;

service interval notifications

for routine maintenance;

battery status monitoring

with low-charge alerts

.
Eco-friendly and sustainability initiatives
green initiatives

to encourage sustainable driving practices;

eco-driving analytics

for monitoring driving behavior affecting fuel consumption;

fuel-efficiency monitoring

to optimize routes and reduce waste;

carbon footprint calculation

for environmental impact assessment;

idle-time monitoring

to reduce unnecessary fuel consumption and emissions.
Communication and emergency response
SOS button integration

that when pressed, sends an immediate alert to the central command;

real-time video streaming

during emergency situations for real-time assessments;

voice-command systems

that allow drivers to send messages, make calls, or request assistance without taking their hands off the wheel;

automated accident detection;

 

vehicle-to-vehicle (V2V) communication.
Cargo and shipment management
temperature-sensitive shipments

to maintain optimal conditions for perishable goods;

cargo security monitoring

for theft prevention;

load stability

to detect shifts in cargo;

fragile goods alerts

to detect excessive force or impacts.
Payment and toll systems
automatic toll payments

;

in-vehicle payment options

for onboard transactions for services or amenities;

automated invoice generation

;

expense tracking

for monitoring and recording of all fleet-related expenses.
Route and logistics optimization
multiple vehicle coordination

;

dynamic route planning algorithms

; 

last-mile delivery optimization

;

load distribution algorithms

for optimizing the weight and volume of goods in a vehicle;

machine learning-driven ETA predictions

.
Insurance and compliance
usage-based insurance (UBI)

that uses real-time telematics data to adjust insurance premiums;

automatic compliance reporting

such as Hours of Service (HOS) for drivers, directly to regulatory bodies.

accident reconstruction

;

driver scoring and monitoring

of driving behavior on various parameters like speed, harsh braking, etc.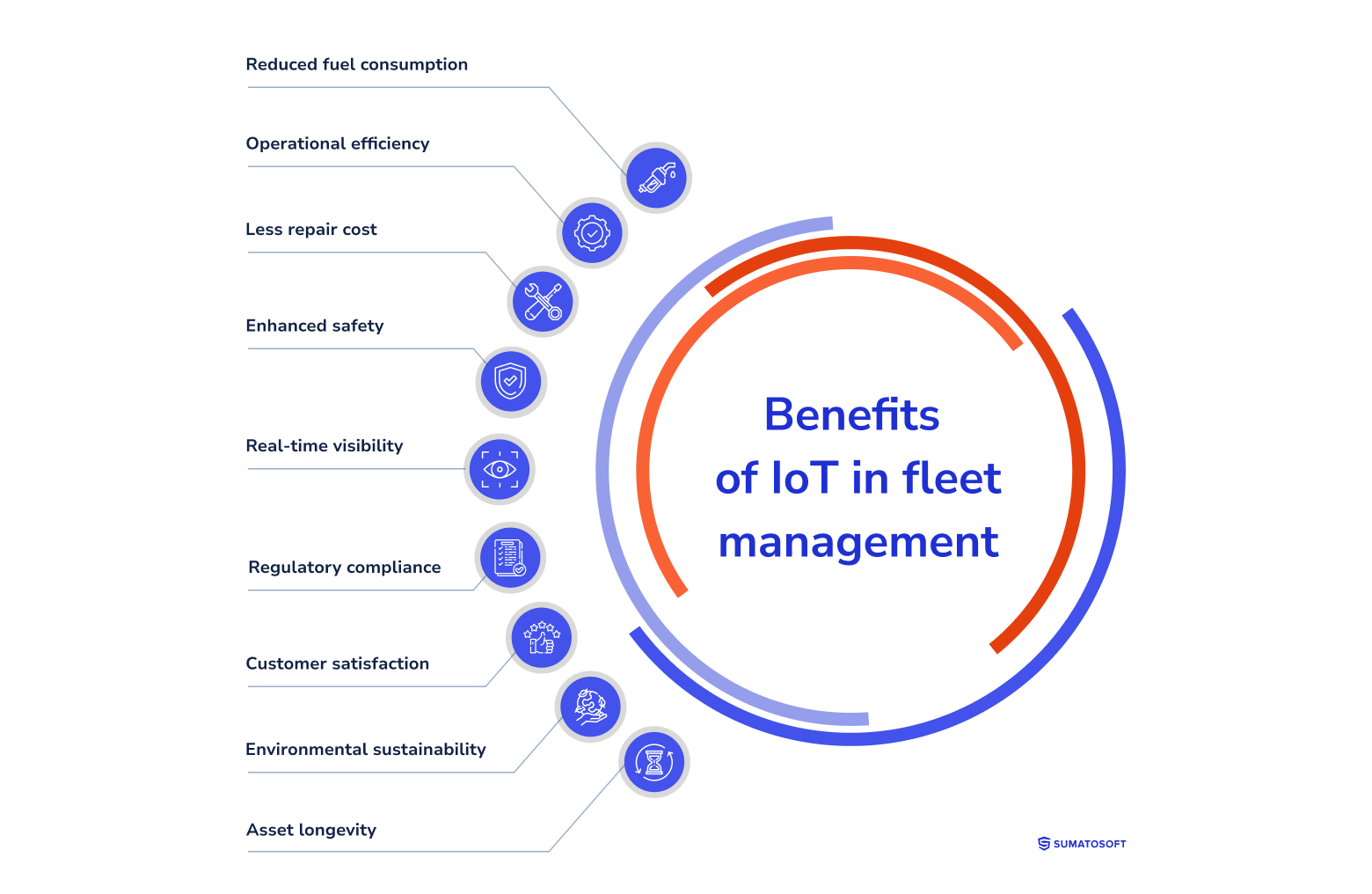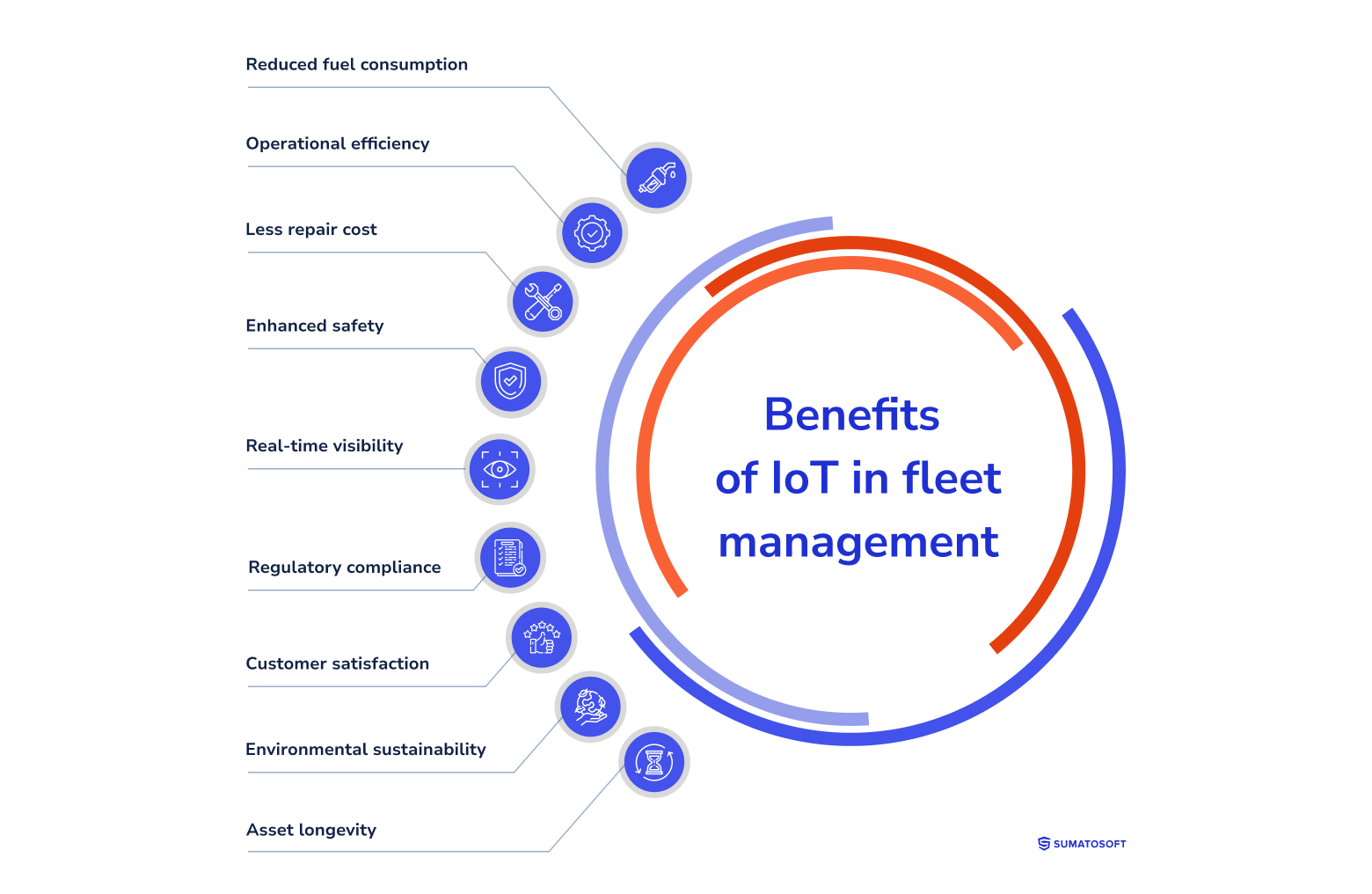 How healthcare
benefits

from IoT
Reduced fuel consumption
Smart route planning and idle-time monitoring contribute to significant fuel savings.
Operational efficiency
IoT technology streamlines administrative tasks, thereby reducing overall operational costs.
Less repair cost
Predictive maintenance alerts prevent small issues from becoming major repairs, reducing long-term costs.
Enhanced safety
Real-time driver behavior monitoring and vehicle health alerts minimize the risk of accidents.
Real-time visibility
GPS tracking and real-time data allow for instantaneous decision-making and asset management.
Regulatory compliance
Automated data logging and reporting simplify the process of adhering to industry regulations.
Customer satisfaction
Real-time tracking and quicker service lead to higher customer satisfaction rates.
Asset longevity
Вata-driven predictive maintenance extends the usable lifespan of vehicles in the fleet.
The system has produced a significant competitive advantage in the industry thanks to SumatoSoft's well-thought opinions.
They shouldered the burden of constantly updating a project management tool with a high level of detail and were committed to producing the best possible solution.
I was impressed by SumatoSoft's prices, especially for the project I wanted to do and in comparison to the quotes I received from a lot of other companies.
Also, their communication skills were great; it never felt like a long-distance project. It felt like SumatoSoft was working next door because their project manager was always keeping me updated. Initially.
We tried another company that one of our partners had used but they didn't work out. I feel that SumatoSoft does a better investigation of what we're asking for. They tell us how they plan to do a task and ask if that works for us. We chose them because their method worked with us.
Together with the team, we have turned the MVP version of the service into a modern full-featured platform for online marketers. We are very satisfied with the work the SumatoSoft team has performed, and we would like to highlight the high level of technical expertise, coherence and efficiency of communication and flexibility in work.
We can say with confidence that SumatoSoft has realized all our ideas into practice.
The Rivalfox had the pleasure to work with SumatoSoft in building out core portions of our product, and the results really couldn't have been better.
SumatoSoft provided us with engineering expertise, enthusiasm and great people that were focused on creating quality features quickly.
SumatoSoft succeeded in building a more manageable solution that is much easier to maintain.
Thanks to SumatoSoft can-do attitude, amazing work ethic and willingness to tackle client's problems as their own, they've become an integral part of our team. We've been truly impressed with their professionalism and performance and continue to work with a team on developing new applications.
We are completely satisfied with the results of our cooperation and will be happy to recommend SumatoSoft as a reliable and competent partner for development of web-based solutions
Quick
facts

about SumatoSoft

Years of Сlients' engagement
Rewards

& Recognitions

SumatoSoft has been recognized by the leading analytics agencies from all over the world. Our properly set and transparent processes allow us to provide software development services that deliver value, not just software.
You are here
2 Discuss it with our expert
3 Get an estimation of a project
Sales Leads Researcher
Sales Development Representative
Business Analyst
Linkbuilding Specialist
Node.js Developer
Sales Executive Manager
React.js Developer
Ruby on Rails Developer
Full-Stack (Node.js+React.js) Developer
Thank you!
Your form was successfully submitted!