IoT In the
Education Industry  
Explore IoT solutions in education for smarter learning environments.
Advanced analytics;
interactive learning tools;
automated administration;
customizable platforms.
Get in Touch
Stats:
"Schools using smart IoT solutions report a 40% increase in student engagement and a 25% improvement in resource efficiency. These innovations not only make learning more interactive and personalized but also significantly reduce operational costs and environmental impact."
IoT-based
solutions

for education
Attendance and student tracking
The manual process of attendance can be time-consuming and error-prone. With wearables or smart ID cards integrated with IoT, attendance can be automated. Beyond just attendance, it also offers peace of mind to parents and authorities by tracking student's entry and exit times.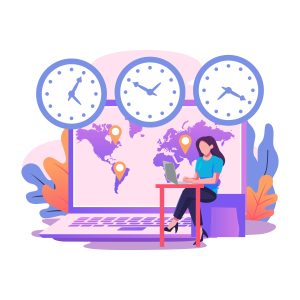 Interactive learning tools
Augmented Reality (AR) glasses or tablets can transport students to different eras, geographical locations, or even inside biological systems, offering a rich, immersive learning experience. It can make complex topics engaging and easy to understand.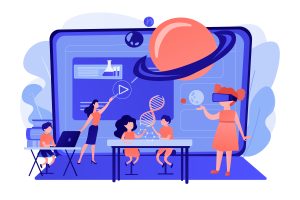 Library management
Gone are the days of manually checking out books. With smart shelves and RFID tags, book tracking becomes a breeze. It can instantly notify staff about misplaced books, and students can easily check the availability of a book remotely.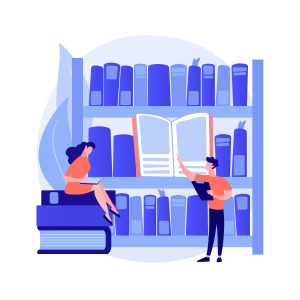 Remote learning tools
Especially pertinent in the current times, IoT devices are pivotal for online education. These tools can monitor student participation, facilitate virtual group activities, and even proctor online tests, ensuring the integrity of remote examinations.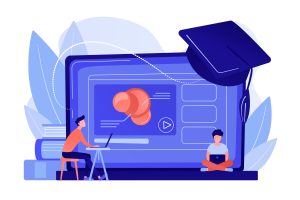 Collaborative learning environments
Collaboration fosters creativity and better understanding. With IoT devices, students can work on projects in real-time, sharing data and insights, making group projects more efficient and effective.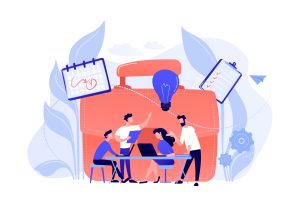 Real-time feedback systems
Immediate feedback is invaluable in the learning process. With IoT, teachers can get instant reactions to their lessons, allowing them to modify their approach on-the-go. This dynamic teaching approach ensures that students' needs are consistently met.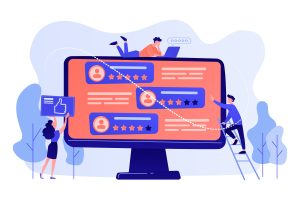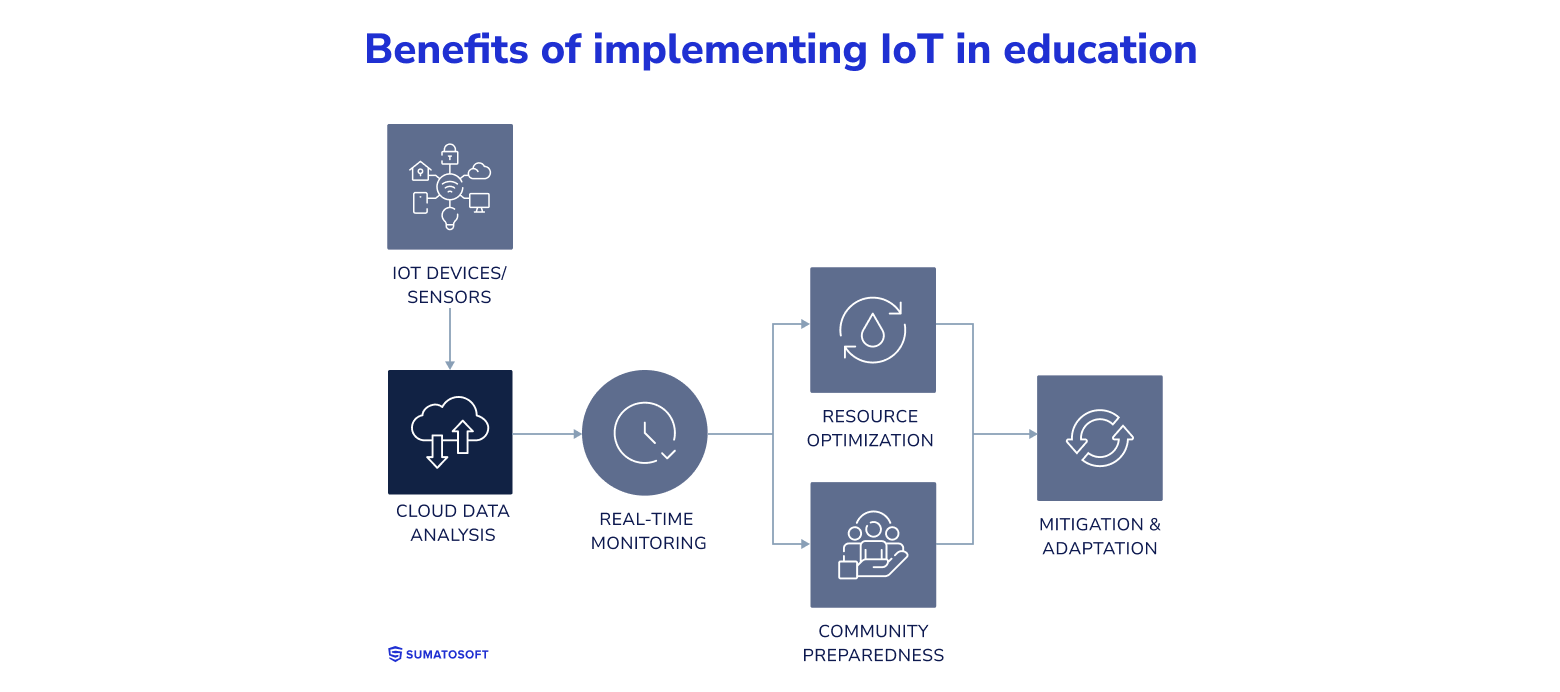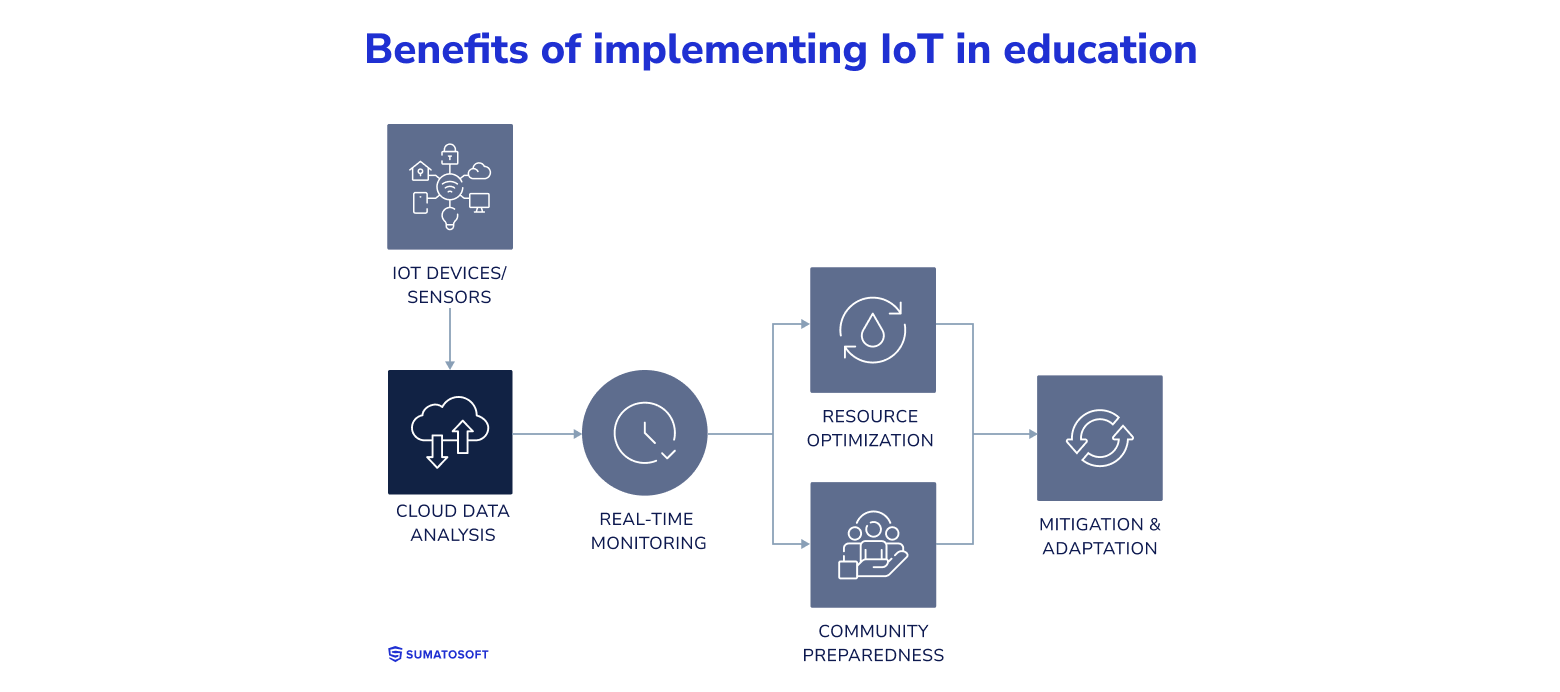 How does IoT help

 in education
Personalized learning
IoT allows for the creation of personalized learning paths. Devices adapt content based on a student's learning speed and style, ensuring they receive instruction best suited to their needs.
Enhanced engagement
interactive tools, such as smart tablets, augmented reality (AR) glasses, and smart boards, captivate students' attention, making lessons more engaging and memorable.
Efficient administration
automated attendance tracking, real-time feedback systems, and streamlined administrative processes result from implementing IoT devices, saving time and reducing human error.
Resource optimization
smart campuses can lead to significant energy savings through the efficient management of lighting, heating, and cooling, reducing an institution's carbon footprint.
Improved accessibility
IoT enables remote learning, beneficial for students who might not attend physical classes due to various reasons, ensuring quality education is accessible to all.
Cost savings
over time, the efficiencies gained from IoT can lead to cost savings for educational institutions, despite the initial investment in technology.
Digital organizational processes
IoT automates tasks like lectures and curriculum sharing, promoting global educational consistency.
Efficient documentation
IoT solutions digitally handle vast institutional data, streamlining management and reducing costs.
Our expertise

in IoT development for the education industry

Drawing from 12 years of hands-on experience and specialization in IoT development, SumatoSoft offer a wide range of services for the education sector.
Custom IoT application development
We build custom IoT systems such as interactive learning platforms, attendance systems, resource allocation systems for schools, colleges, and universities. We tailor our solutions to enhance both teaching and administrative processes.
System integration
Integration of IoT devices with current educational systems or platforms. This process facilitates uninterrupted data interchange, enhancing the capabilities and extending the functionalities of pre-existing systems.
Data analytics and visualization
Converting the vast data gathered from IoT devices into meaningful insights. Through advanced analytical tools, data is refined and then presented in easily digestible visual formats, aiding decision-making and strategy formulation.
Cloud infrastructure development
We leverage cloud platforms to guarantee secure data storage, processing, and access. This not only allows for scalability as more devices are integrated but also ensures data is readily available whenever required. Our expertise cover cloud platforms like AWS (including IoT Core), Microsoft Azure (including IoT Suite), Oracle Cloud.
Mobile application development
Crafting intuitive mobile applications that serve as the control center for various IoT devices. These apps enhance the user experience, allowing administrators, teachers, and even students to interact with IoT devices on-the-go.
IoT consultancy
We provide specialized consulting services ranging from feasibility analysis and proof of concept development to security assessment and DevOps guidance, ensuring your IoT initiatives are optimized for success and align with your strategic goals
Maintenance and support
We provide ongoing support and maintenance to keep your IoT system up-to-date, secure, and performing at its best. We also help you with continuous product evolution, incorporating new features and improvements based on user feedback and changing business needs.
Training and workshops
We equip staff, administrators, and other stakeholders with the necessary knowledge and skills to utilize the IoT solutions to their fullest potential. We run hands-on sessions and demos where participants get acquainted with the system, ensuring smooth adoption and utilization.
The system has produced a significant competitive advantage in the industry thanks to SumatoSoft's well-thought opinions.
They shouldered the burden of constantly updating a project management tool with a high level of detail and were committed to producing the best possible solution.
I was impressed by SumatoSoft's prices, especially for the project I wanted to do and in comparison to the quotes I received from a lot of other companies.
Also, their communication skills were great; it never felt like a long-distance project. It felt like SumatoSoft was working next door because their project manager was always keeping me updated. Initially.
We tried another company that one of our partners had used but they didn't work out. I feel that SumatoSoft does a better investigation of what we're asking for. They tell us how they plan to do a task and ask if that works for us. We chose them because their method worked with us.
Together with the team, we have turned the MVP version of the service into a modern full-featured platform for online marketers. We are very satisfied with the work the SumatoSoft team has performed, and we would like to highlight the high level of technical expertise, coherence and efficiency of communication and flexibility in work.
We can say with confidence that SumatoSoft has realized all our ideas into practice.
The Rivalfox had the pleasure to work with SumatoSoft in building out core portions of our product, and the results really couldn't have been better.
SumatoSoft provided us with engineering expertise, enthusiasm and great people that were focused on creating quality features quickly.
SumatoSoft succeeded in building a more manageable solution that is much easier to maintain.
Thanks to SumatoSoft can-do attitude, amazing work ethic and willingness to tackle client's problems as their own, they've become an integral part of our team. We've been truly impressed with their professionalism and performance and continue to work with a team on developing new applications.
We are completely satisfied with the results of our cooperation and will be happy to recommend SumatoSoft as a reliable and competent partner for development of web-based solutions
Quick
facts

about SumatoSoft

Years of Сlients' engagement
Rewards

& Recognitions

SumatoSoft has been recognized by the leading analytics agencies from all over the world. Our properly set and transparent processes allow us to provide software development services that deliver value, not just software.
You are here
2 Discuss it with our expert
3 Get an estimation of a project
Sales Leads Researcher
Sales Development Representative
Business Analyst
Linkbuilding Specialist
Node.js Developer
Sales Executive Manager
React.js Developer
Ruby on Rails Developer
Full-Stack (Node.js+React.js) Developer
Thank you!
Your form was successfully submitted!