IoT consulting services

for businesses

Whether you have a pre-existing device or are looking for a way to implement IoT, we offer end-to-end services that drive measurable outcomes. SumatoSoft provides expert advice on the selection, integration, and management of IoT devices and platforms. 

selecting and integrating appropriate IoT devices;

streamlining operations for cost efficiency;

utilizing real-time data for improved customer experiences;

identifying new avenues for revenue;

ensuring security and regulatory complianceю

Get in Touch


Our
IoT consulting services
Potential use cases identification
We thoroughly evaluate your business operations to identify opportunities where IoT solutions can bring transformative benefits, setting the stage for a successful IoT deployment.
IoT product roadmap development
Our experts craft a comprehensive IoT roadmap tailored to your business objectives, offering a strategic guide from initial planning to full-scale implementation and beyond.
Security and compliance consulting
We offer specialized expertise in fortifying your IoT ecosystem against security vulnerabilities while ensuring full compliance with industry regulations, thereby mitigating risks and legal complications.
IoT network architecture development
Our team designs and develops the foundational network infrastructure required for your IoT devices, focusing on reliability, scalability, and optimal performance.
Proof of concept
We validate the feasibility of your IoT vision by creating a proof-of-concept model, offering tangible evidence of the potential benefits and ROI before you commit to full-scale development.
Custom IoT app development
Our skilled developers create custom web and mobile applications to seamlessly interact with your IoT devices, delivering a unified and user-friendly interface for data processing and device management.
Advanced analytics implementation
Leverage the power of cutting-edge analytics, driven by artificial intelligence and machine learning, to glean actionable insights from the data collected by your IoT devices, improving decision-making and operational efficiencies.
Data management and governance
We offer solutions for the secure and compliant handling of data generated by your IoT devices, encompassing storage, retrieval, and governance policies to safeguard information and uphold regulations.
Cloud integration services
Our cloud integration services provide a robust, scalable platform for your IoT solutions, ensuring seamless data storage, analytics, and security features, optimized for your specific needs.
IoT solutions

across diverse

sectors
Healthcare
IoT technologies enable real-time health monitoring and remote consultations, providing crucial data to healthcare providers. This leads to more accurate diagnoses, personalized treatment plans, and better patient outcomes. It also streamlines hospital operations by automating routine tasks, thus reducing costs and increasing efficiency.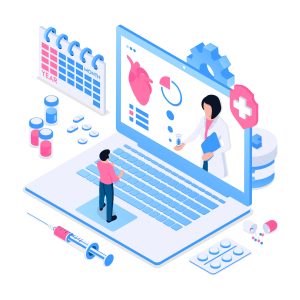 Manufacturing
IoT solutions offer real-time tracking and analytics for manufacturing processes, enabling predictive maintenance and reducing downtime. Automation features can handle repetitive tasks, allowing for a more efficient use of human resources. Collecting data across the manufacturing chain also supports continuous improvement initiatives, reducing waste and increasing productivity.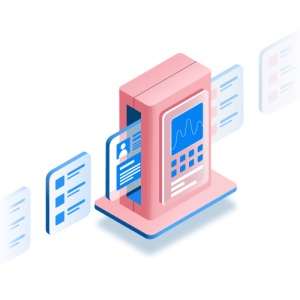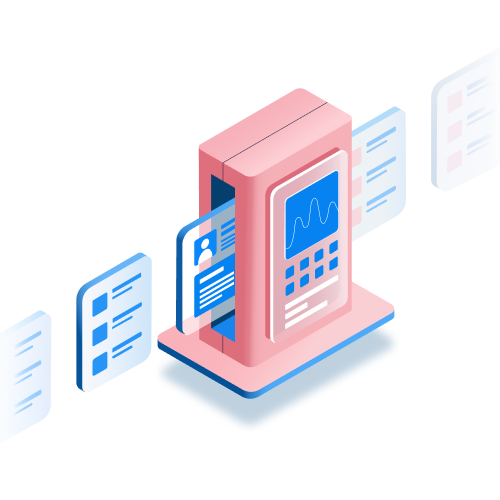 Agriculture
IoT applications in agriculture help farmers monitor crucial variables like soil quality, temperature, and humidity in real-time. Precision farming techniques can then be applied to optimize crop yields and reduce resource usage. Additionally, automated systems can perform tasks such as irrigation, reducing labor costs and enhancing sustainability.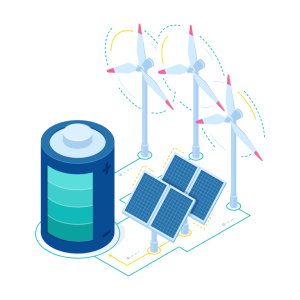 Transportation
IoT enhances transportation systems through real-time tracking and data analytics, improving route optimization and fuel efficiency. Sensors and smart technology can also monitor vehicle health for timely maintenance, reducing the risk of breakdowns and accidents. Furthermore, IoT solutions can facilitate smart ticketing systems, streamlining the passenger experience.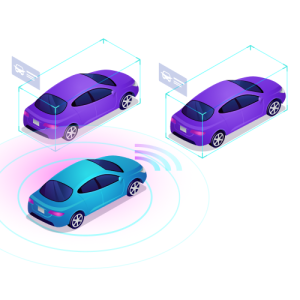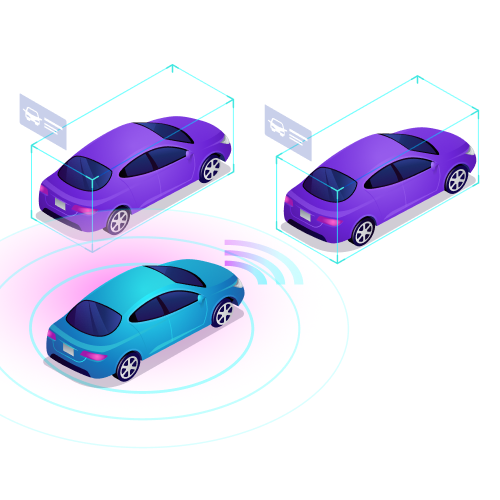 Smart cities
IoT provides the technological foundation for smart city initiatives, integrating various data sources for better urban planning. Intelligent traffic management and waste disposal systems are among the benefits, improving overall quality of life for residents. Security is also enhanced through IoT-enabled surveillance and emergency response systems.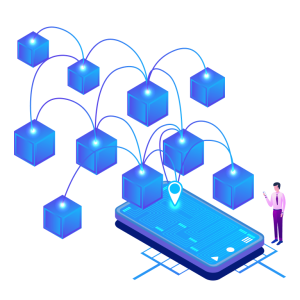 Supply chain
IoT solutions offer real-time tracking of goods throughout the supply chain, from manufacturing to delivery. Environmental monitoring ensures that products are stored and transported under optimal conditions, reducing waste and improving quality. Analytics gathered from these processes provide insights for future optimizations, saving costs and increasing efficiency.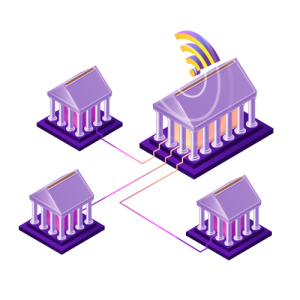 Hospitality
IoT can elevate the hospitality experience through smart room systems that customize settings according to guest preferences. Real-time maintenance alerts help staff address issues promptly, improving customer satisfaction. IoT can also enhance operational efficiency, from streamlined check-in processes to optimized energy consumption in facilities.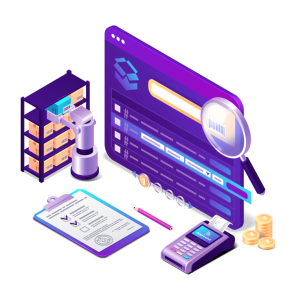 Education
IoT technologies in education pave the way for smart classrooms that adapt to students' learning styles. Real-time monitoring of student engagement helps educators tailor instruction for better academic outcomes. On the operational side, IoT can assist in resource allocation and security, making campuses safer and more efficient.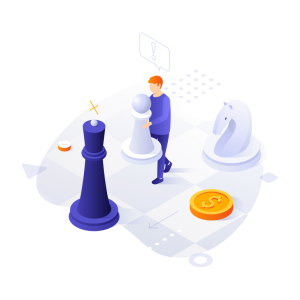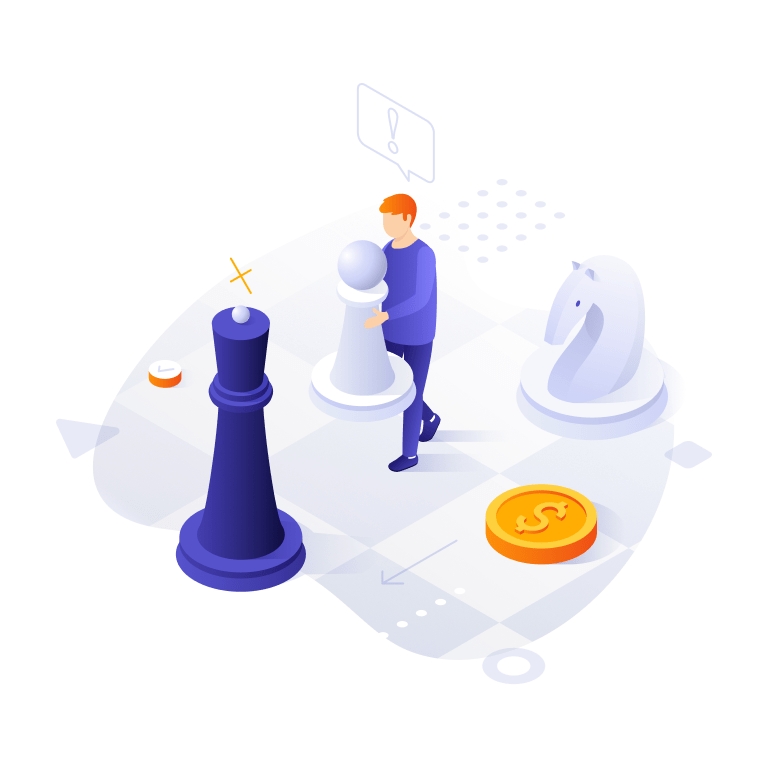 Our
IoT consulting services
Industrial IoT (IIoT)
Our team at SumatoSoft offers expert consulting for IIoT implementations, enabling industries to leverage predictive maintenance, advanced ana
Agricultural IoT
Our agricultural IoT consulting at SumatoSoft assists farmers and agribusinesses in adopting advanced solutions such as precision farming, livestock monitoring, and smart irrigation systems, ensuring sustainable and efficient agricultural practices.
Infrastructure IoT
We at SumatoSoft consult on IoT solutions for smart cities, smart buildings, and environmental monitoring. We cooperate with urban developers and city planners in integrating technologies like smart traffic management, waste management systems, and automated public utilities, driving the realization of truly smart cities.
Healthcare IoT
SumatoSoft's consulting expertise in IoT helps healthcare providers and institutions harness wearable health monitors, remote patient monitoring, telemedecine, and real-time health data analytics to transform patient care and elderly care.
Transportation and mobility IoT
SumatoSoft provides in-depth consulting for IoT applications in transportation, guiding businesses and municipalities in implementing smart fleet management, real-time public transit tracking, and automated toll collection systems.
Advanced analytics implementation
Leverage the power of cutting-edge analytics, driven by artificial intelligence and machine learning, to glean actionable insights from the data collected by your IoT devices, improving decision-making and operational efficiencies.
Retail and commerce
From offering strategies for smart retail applications that encompass inventory management and customer behavior analysis, to streamlining supply chain processes with advanced inventory management systems, we ensure that businesses leverage IoT for optimal operational efficiency and enhanced customer experience.
Safety and security
We help organizations to integrate state-of-the-art surveillance systems, including connected camera setups and intrusion detection devices. Furthermore, our expertise extends to developing emergency response solutions, utilizing IoT to promptly alert relevant authorities or services during crucial situations.
Education and institution
At SumatoSoft, we target the transformation of educational institutions through IoT. Our services target connected campuses that offer enhanced student tracking, resource utilization, and security, and smart labs equipped with the latest IoT devices for advanced research and development.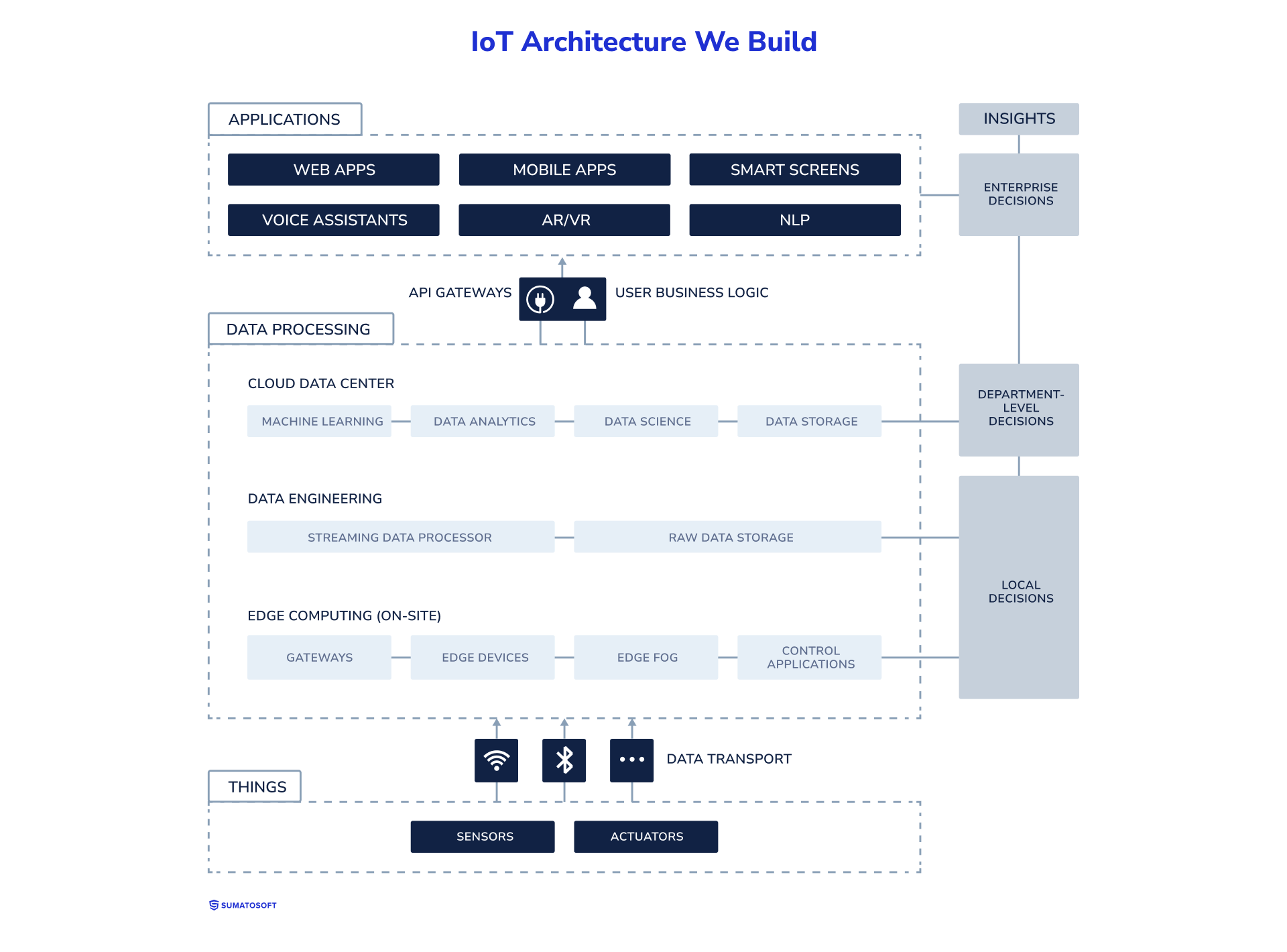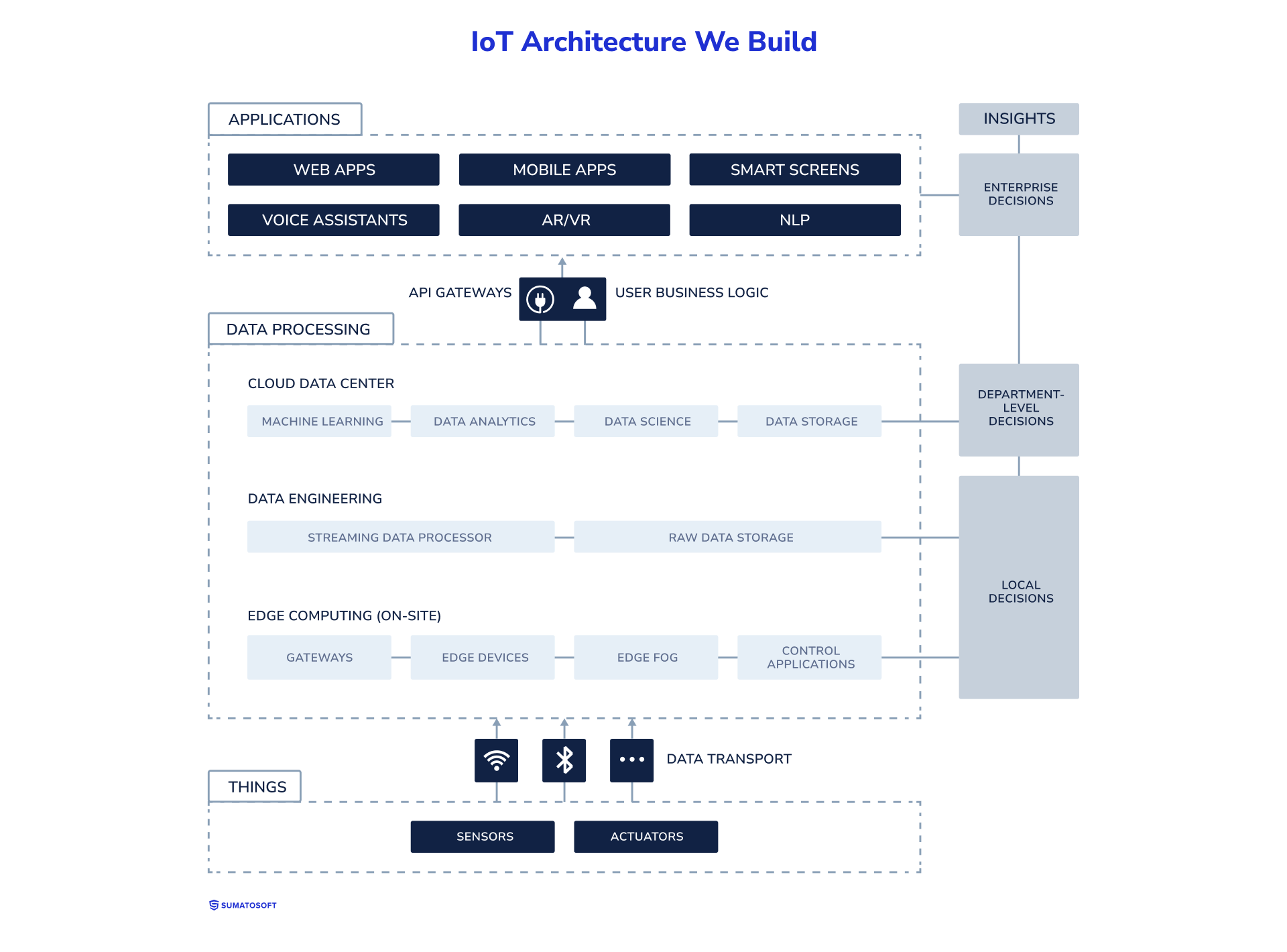 When to engage SumatoSoft's IoT consulting services
Digital transformation refers to the process of integrating digital technologies into all areas of a business, resulting in fundamental changes to how businesses operate and deliver value to their customers. If your organization is considering such a transition, here are the key moments when SumatoSoft can help:
Pre-implementation planning and strategy development
When you know your business needs to digitize but are unsure about where to start or what technologies to adopt. SumatoSoft helps you translate vague aspirations into a concrete digital transformation roadmap.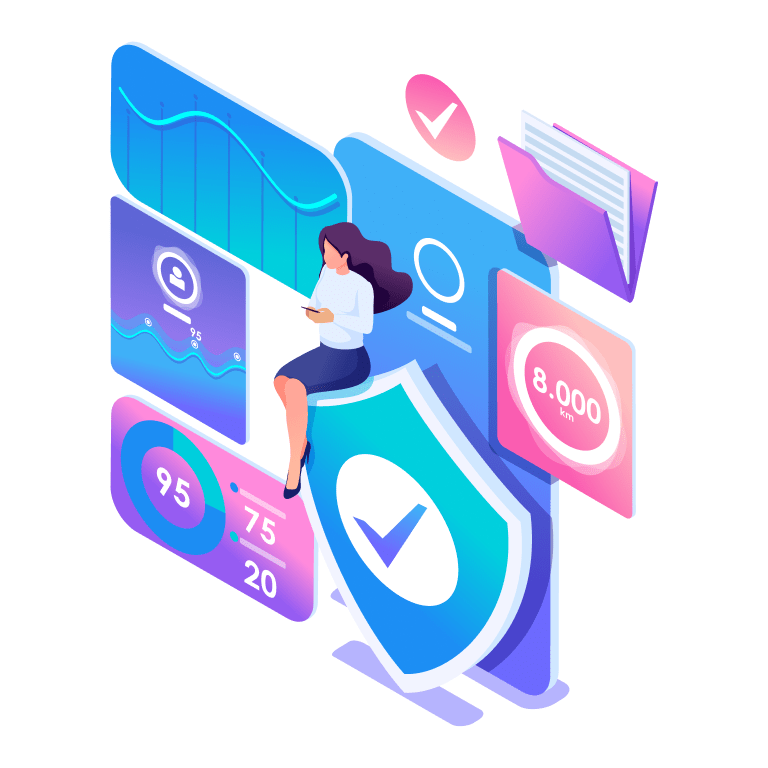 Feasibility analysis
When you have a potential IoT solution in mind but are uncertain about its practicality or long-term financial implications. At this stage, expert input can prevent costly mistakes and ensure that your investment pays off.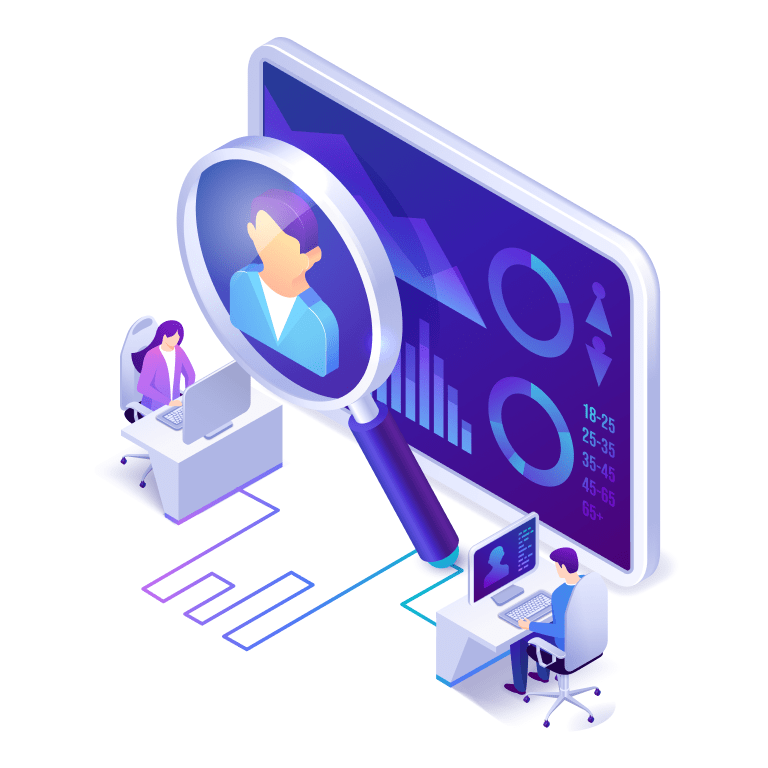 Risk assessment
When you're aware that transitioning to digital and IoT solutions comes with its own set of risks, such as potential data breaches or system failures. Expert guidance can help you anticipate and mitigate these risks effectively.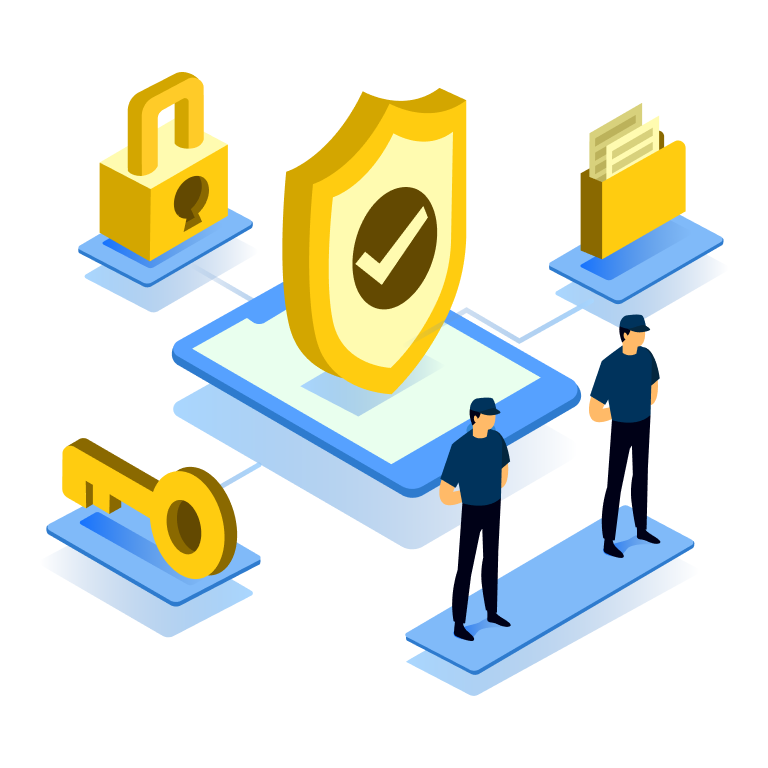 Full cycle IoT development
When you recognize the need for a specialized IoT solution but lack the in-house expertise or resources to create it. SumatoSoft can be your go-to for end-to-end development, from conception to deployment.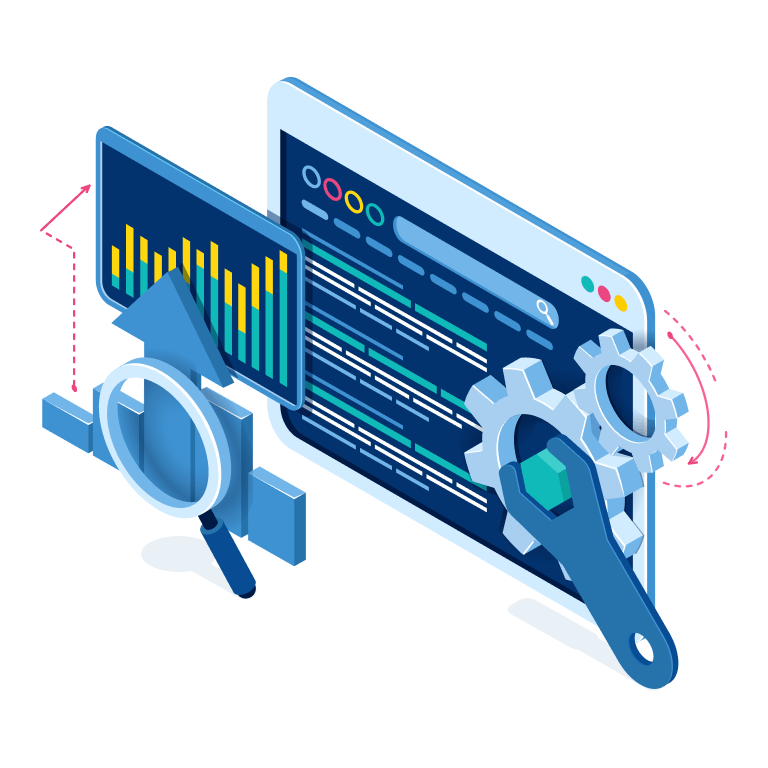 Post-implementation staff training
When your IoT system is up and running, but your staff lacks the knowledge or confidence to utilize it fully. Proper training can maximize the return on your IoT investment by ensuring the technology is used to its full potential.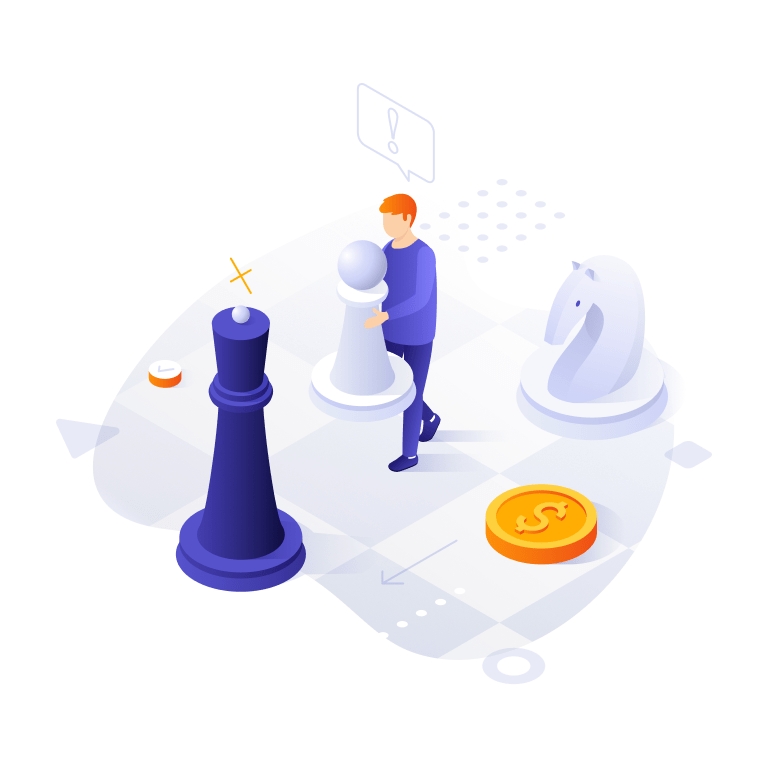 The system has produced a significant competitive advantage in the industry thanks to SumatoSoft's well-thought opinions.
They shouldered the burden of constantly updating a project management tool with a high level of detail and were committed to producing the best possible solution.
I was impressed by SumatoSoft's prices, especially for the project I wanted to do and in comparison to the quotes I received from a lot of other companies.
Also, their communication skills were great; it never felt like a long-distance project. It felt like SumatoSoft was working next door because their project manager was always keeping me updated. Initially.
We tried another company that one of our partners had used but they didn't work out. I feel that SumatoSoft does a better investigation of what we're asking for. They tell us how they plan to do a task and ask if that works for us. We chose them because their method worked with us.
SumatoSoft is great in every regard including costs, professionalism, transparency, and willingness to guide. I think they were great advisors early on when we weren't ready with a fully fleshed idea that could go to market.
They know the business and startup scene as well globally.
SumatoSoft is the firm to work with if you want to keep up to high standards. The professional workflows they stick to result in exceptional quality.
Important, they help you think with the business logic of your application and they don't blindly follow what you are saying. Which is super important. Overall, great skills, good communication, and happy with the results so far.
Together with the team, we have turned the MVP version of the service into a modern full-featured platform for online marketers. We are very satisfied with the work the SumatoSoft team has performed, and we would like to highlight the high level of technical expertise, coherence and efficiency of communication and flexibility in work.
We can say with confidence that SumatoSoft has realized all our ideas into practice.
The Rivalfox had the pleasure to work with SumatoSoft in building out core portions of our product, and the results really couldn't have been better.
SumatoSoft provided us with engineering expertise, enthusiasm and great people that were focused on creating quality features quickly.
SumatoSoft succeeded in building a more manageable solution that is much easier to maintain.
Thanks to SumatoSoft can-do attitude, amazing work ethic and willingness to tackle client's problems as their own, they've become an integral part of our team. We've been truly impressed with their professionalism and performance and continue to work with a team on developing new applications.
We are completely satisfied with the results of our cooperation and will be happy to recommend SumatoSoft as a reliable and competent partner for development of web-based solutions
Why

SumatoSoft mHealth software development services
Experience
Using the best software development practices
Experienced after 20K+ hours of custom healthcare software development
Open to sharing knowledge and experience
Speed
Agile (Scrum, Kanban) methodology
100% processes transparency
Control
Clear timelines & cost estimates
Sprint / monthly reports, custom reports
Regular communications: calls, emails, chats, personal meetings
Rewards

& Recognitions

SumatoSoft has been recognized by leading analytics agencies from all over the world. Our properly set and transparent processes allow us to provide IoT software development services that deliver value, not just software.
You are here
2 Discuss it with our expert
3 Get an estimation of a project
Sales Leads Researcher
Sales Development Representative
Business Analyst
Linkbuilding Specialist
Node.js Developer
Sales Executive Manager
React.js Developer
Ruby on Rails Developer
Full-Stack (Node.js+React.js) Developer
Thank you!
Your form was successfully submitted!