How to Grow Your Dental Business with SEO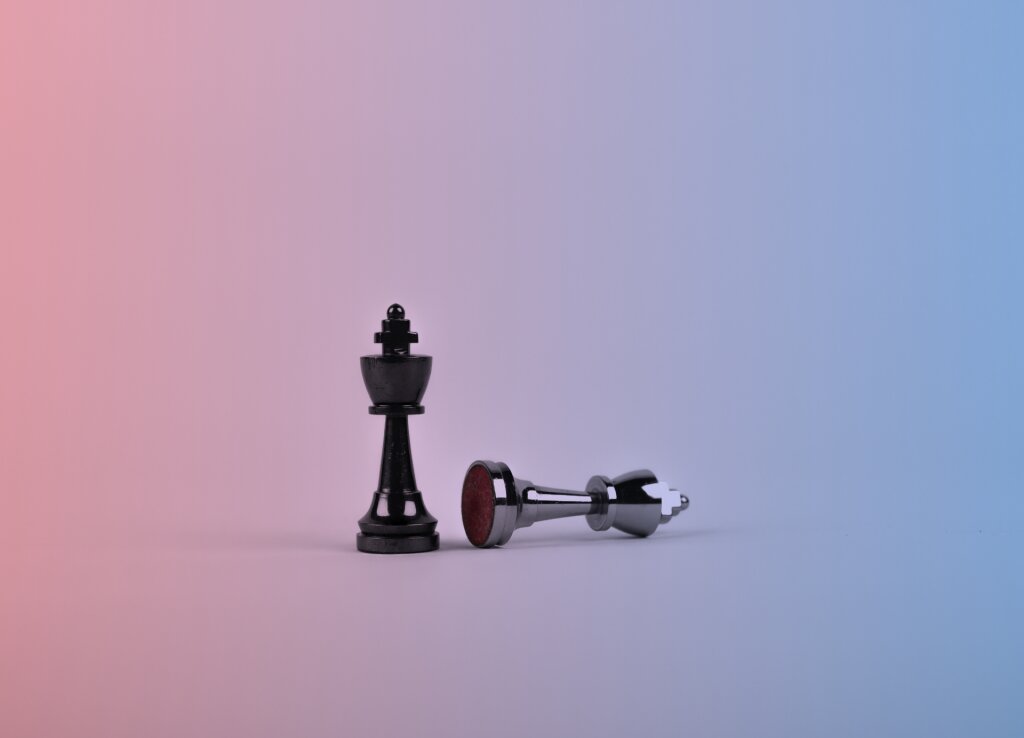 Editor's note: In this article, Ekaterina explores a wide range of topics related to SEO for dental businesses. She begins with general information about search engines and the benefits of SEO, then progressively delves into detailed tactics and marketing activities necessary for achieving high-ranking positions. Despite being concise, the text remains highly informative.
Are you wondering how to grow your dental business and increase the number of valuable clients? If so, this article is for you!
Dental businesses must use local SEO optimization practices to maintain a good-ranked online presence and availability. As with any other business, SEO (search engine optimization) is crucial for dentists and dental firms.
Google data shows that since 2004 the number of mobile searches with phrases like ("dentist near me" or "orthodontist near me") has been continuously rising. This demonstrates that people actively use Google to find a dentist. Top-ranked websites, in turn, receive more visitors since they rank higher. How to get higher?
The best option is to work with a dental SEO service provider like SumatoSoft which has a broad range of SEO services like SaaS SEO, Dental SEO, eCommerce SEO. Another option is to do everything by yourself. Whatever path you prefer, we would like to assist you in this journey by sharing our expertise.
In this article, you'll get to know how dental SEO works, its useful techniques and hidden secrets that can help you to perform effective dental SEO. Additionally, you'll discover some of the top dental SEO-winning tactics applied by the SumatoSoft team that can expand your dental practice.
This Article Contains Practical Advice From Practitioners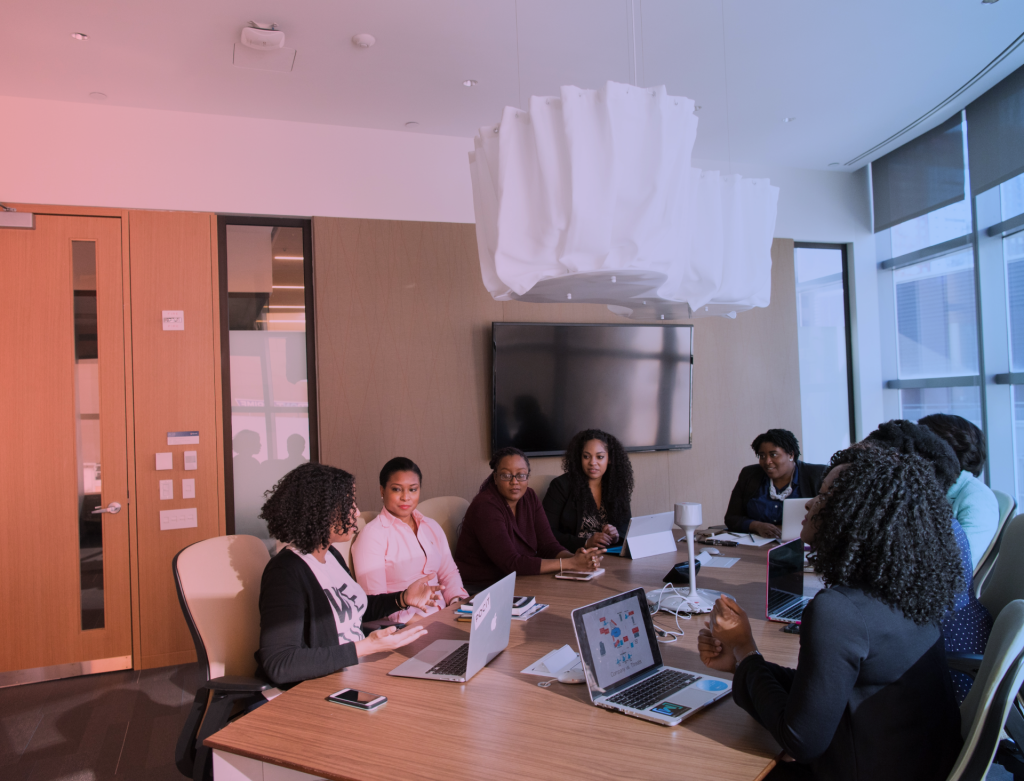 To achieve visibility and draw targeted website visitors, dentists must possess a vision to build SEO-friendly websites and invest in local dental SEO services. We at Sumatosoft, are SEO providers with 10 years of market experience in numerous business spheres, including dentistry. In the article, we want to share our expertise with those who do dental SEO in-house. We believe this article's information helps your dental business drive more traffic and clients just like it helps us to do so for our clients.
Our expert team helps to boost business by escalating organic traffic at a rate of 5-20% per month. Moreover, we help to accelerate website conversion rates, raise brand awareness, and much more.
In the case study of existing solutions, SumatoSoft boosted conversion rates on landing pages from 0.4% to 1.6% and blog sites from 0.1% to 1.2% in six months. These results were achieved by redesigning and revising landing page content and using a hub and spoke content marketing strategy.
You can do the same for your dental business. Let's start with a general part: what dentist SEO is about.
Dentist SEO: What Is and How to Benefit From It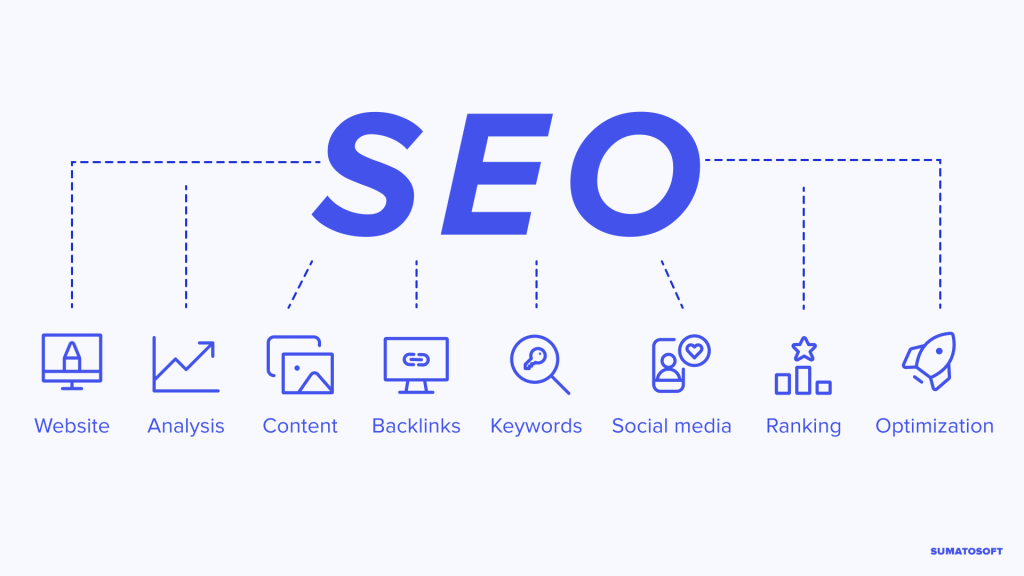 Search engine optimization or SEO entails optimizing website content and online presence to ensure that search engines show that website/platform on top when someone searches for a query or a service.
When a user searches for dental services, dental SEO raises the visibility of your dental business in the (SERPs) search engine results. Your chances of bringing visitors and consumers to your site increase as your ranking rises. According to a research study by Chitika, about 94% of all web traffic lands on the first page of results from major search engines.
It is infrequent that prospective patients, who are looking for a dental office online, scroll past page one of the search results. Therefore, complete online visibility is crucial for your dental business, and dental SEO is a powerful solution to achieve this.
Search Engine: What You Should Know
The website with the finest SEO would appear on search engine results pages if a person in a specific location type "Dentists nearby" or "best places for dental implants" into a search box on Google, Bing, or Yahoo. 
Search engines use crawlers (virtual spiders) to quickly scan your page. They explore your site's internal links and sitemaps and look for code or content for every URL they come across to understand what it is about and how user-friendly the website is. They examine the page's text, metadata (meta description and page title), relevance to various target keywords, domain authority and rating, backlink profile for both the page and the domain, and other factors.
Search engines constantly strive to provide their users with the finest solution and do not permit giving out inaccurate, out-of-date, or hazy information. Therefore, your dental business must persuade search engines that your website and content are the best available and that visitors should see them on the first results page.
For each query/search by a user, search engines aim to produce the best outcomes by taking both on-site and off-site ranking elements into account.

Off-Site Ranking Factors
The number of websites and online locations that connect to or discuss your website through backlinks is mainly the off-site ranking factor for dental SEO. Some of the most significant off-site ranking factors are:
The number of Referral Domains: This factor considers how many other websites have links to your website. Search engines consider each referral domain as a sign of trust and confidence for your website. More referrals result in higher SERPs rank.
Anchor Text: Any hyperlinked word or phrase that lead to a webpage is known as an "anchor text." Using pertinent keywords in your anchor text may enhance your ranking for such keywords.
Link Relevancy: Link relevancy is Google analyzing the content of websites that add links to yours. For example, if you are an SEO provider and acquire a link from a cooking website, this link will be considered irrelevant.
Social Shares: Search engines highly value social media involvement (likes, shares, comments) since it is a reliable sign of high-quality content. Higher engagement of people with your content improves your ranking.
Brand Mentions: Acquiring brand mentions from other businesses or websites expands your business credibility and results in a higher ranking. Brand awareness campaigns and collaboration with companies can help gain more brand mentions.
Citations: Other websites publishing your company's name, address, and phone number (NAP) are referred to as citations. Google analyzes these listings to assess the popularity and legitimacy of your NAP information.
Backlinks: Backlinks are formed when a website links to another webpage, website or domain. Search engines can assume that information is worth linking to and, thus, worth seeing on a SERP if numerous websites link to the same web page or domain.
Google My Business: For crucial details about any business, potential clients frequently consult Google My Business (GMB). This platform is connected to information about trading hours, location, reviews, business names, contact numbers, etc.
Reviews: According to a Brightlocal's local consumer review survey, 81% of local consumers utilized Google reviews to decide whether or not to try out a local service. Therefore, your business should strive to acquire good reviews.
On-Site Ranking Factors
On-site ranking considerations refer to all the data Google examines on your web platform. Search engines continuously gather data to create a profile of a website's offerings, response to inquiries, level of reliability, etc. It includes the following essential factors:
UX: Strive to maintain a good user experience. Dwell time, pages visited, click-through rate, return, and website bounce rate are all factors that Google considers when determining the on-page experience of your site.
Metadata: Title tags, alt tags, meta descriptions, and a plethora of other components make up metadata, which provides search engines with context and relevant information about your business.
High-Quality Content: Supercharge the dentistry website with high-quality content and the best-targeted keywords. Use the SEO writing assistant to ensure that keywords are used appropriately and that the writing tone is constant. Analyze how readily your material may be accessed, comprehended, and indexed by search engine robots.
Additional reading you may fight useful:
How Your Dental Practice Can Benefit From SEO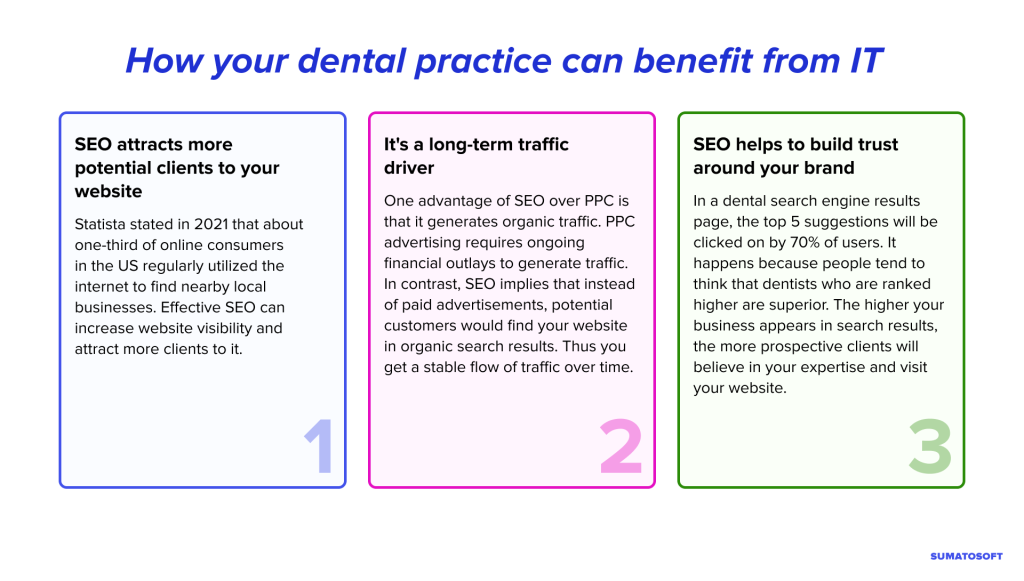 Dental SEO is the foundation to create a digitized cutting-edge marketing plan for dentistry businesses. Without SEO, dentists won't be able to market their practice efficiently in the future. Some of the significant benefits of dental SEO are:
1. SEO Attracts More Potential Clients to Your Website
Statista stated in 2021 that about one-third of online consumers in the US regularly utilized the internet to find nearby local businesses. It means that a good user experience of a website must be highly prioritized by applying effective SEO methods. The website content must be optimized for better ranking through an adaptable interface, effortless navigation, quality content, and fast loading time. SEO techniques from our article raise your SEO standing and make it simpler for potential patients to access the information they require, thus attracting more clients.
2. It's a Long-Term Traffic Driver
One advantage of SEO over PPC is that it generates organic traffic. PPC advertising requires ongoing financial outlays to generate traffic. In contrast, SEO implies that instead of paid advertisements, potential customers would find your website in organic search results. According to BrightEdge Research, 53% of all website traffic is generated by organic (unpaid) search.
A Backlinko study on 4 million Google search results analyzed that compared to the 10th result on the result page, the number 1 result has a 100x higher chance of receiving a click. Therefore, a carefully thought-out dental SEO approach can assist you in increasing traffic.
3. SEO Helps to Build Trust Around Your Brand
In a dental search engine results page, the top 5 suggestions will be clicked on by 70% of users. It happens because people tend to think that dentists who are ranked higher are superior. Before making an appointment, a patient must have confidence in the legitimacy of your service. Dental businesses cannot deny that the higher your business appears in search results, the more prospective clients will believe you and visit your website.
Why Dental SEO Differs from Usual SEO
Two things make dental SEO different:
EAT and YMYL
Due to the stringent quality control of Google's Search Quality Evaluator Guidelines, dentistry SEO adds an additional level of complication. EAT stands for expertise, authoritativeness, and trustworthiness. Whereas YMYL stands for "Your money or your life."
YMYL content is the kind of information that, if provided incorrectly or untruthfully, could negatively affect the reader's well-being, security, or financial stability. The pages that qualify as YMYL content by Google receive a higher level of EAT. The website for dental business may offer medical recommendations or services that could severely impact a person. That's why you have to be extremely precise about the content you provide. Google is more strict on YMYL content.
ADA and HIPAA Compliance
According to the Web Content Accessibility Guidelines (WCAG) 2.1, websites that comply with the ADA (Americans with Disabilities Act) are usable by people with impairments. Whereas, regarding HIPAA (Health Insurance Portability and Accountability Act), your business must ensure that any sensitive information you collect through your website is private, safe, logged, and secured. For example, the confidential health information of potential clients.
ADA and HIPAA compliance factors do not directly affect dental SEO, but breaking either may force you to take your site offline after a lawsuit.
Winning Tactics: The Way how SumatoSoft Improves Dental SEO
High customer acquisition rates, low conversion rates, a lack of a link-building and content strategy, no referral traffic, and unsatisfactory organic traffic are all issues that cause frustration for businesses.
employs techniques such as enhanced organic CTR through pay-per-click testing, digital PR, optimization, keyword gap analysis, hub & spoke, and skyscraper to provide exceptional SEO services to their clients.
From General to Specific: Dental Marketing Activities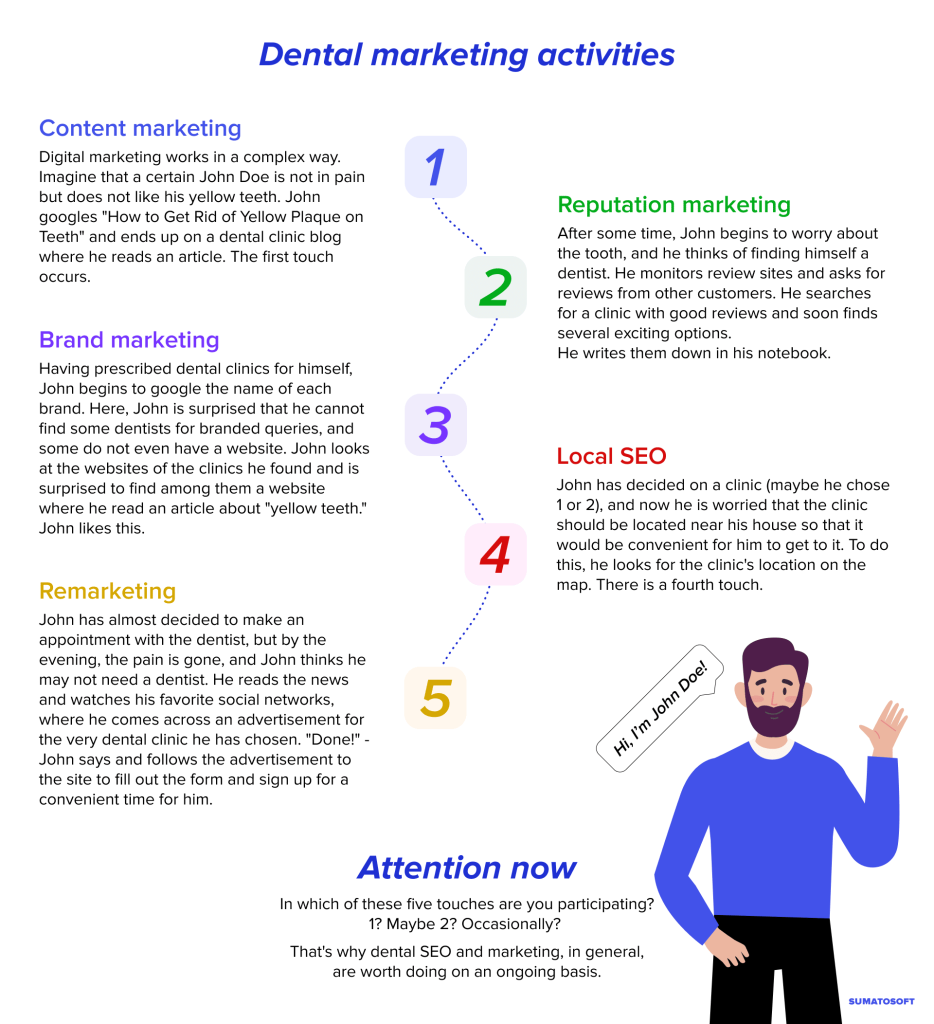 Digital marketing for the dental business helps to draw people in search of a new dentist into long-term patients.
First Touch: Content Marketing
Digital marketing works in a complex way. Imagine that a certain John Doe is not in pain but does not like his yellow teeth. John googles "How to Get Rid of Yellow Plaque on Teeth" and ends up on a dental clinic blog where he reads an article. The first touch occurs.
Second Touch: Reputation Marketing
After some time, John begins to worry about the tooth, and he thinks of finding himself a dentist. He monitors review sites and asks for reviews from other customers. He searches for a clinic with good reviews and soon finds several exciting options. He writes them down in his notebook.
Third Touch: Brand Marketing
Having prescribed dental clinics for himself, John begins to google the name of each brand. Here, John is surprised that he cannot find some dentists for branded queries, and some do not even have a website. John looks at the websites of the clinics he found and is surprised to find among them a website where he read an article about "yellow teeth." John likes this.
Fourth Touch: Local SEO
John has decided on a clinic (maybe he chose 1 or 2), and now he is worried that the clinic should be located near his house so that it would be convenient for him to get to it. To do this, he looks for the clinic's location on the map. There is a fourth touch.
Fifth Touch: Remarketing
John has almost decided to make an appointment with the dentist, but by the evening, the pain is gone, and John thinks he may not need a dentist. He reads the news and watches his favorite social networks, where he comes across an advertisement for the very dental clinic he has chosen. "Done!" – John says and follows the advertisement to the site to fill out the form and sign up for a convenient time for him.
Attention now: In which of these five touches are you participating? 1? Maybe 2? Occasionally? That's why Dental SEO and marketing, in general, are worth doing on an ongoing basis.
Beyond Standard Advice: Parts of Successful Marketing for Dental SEO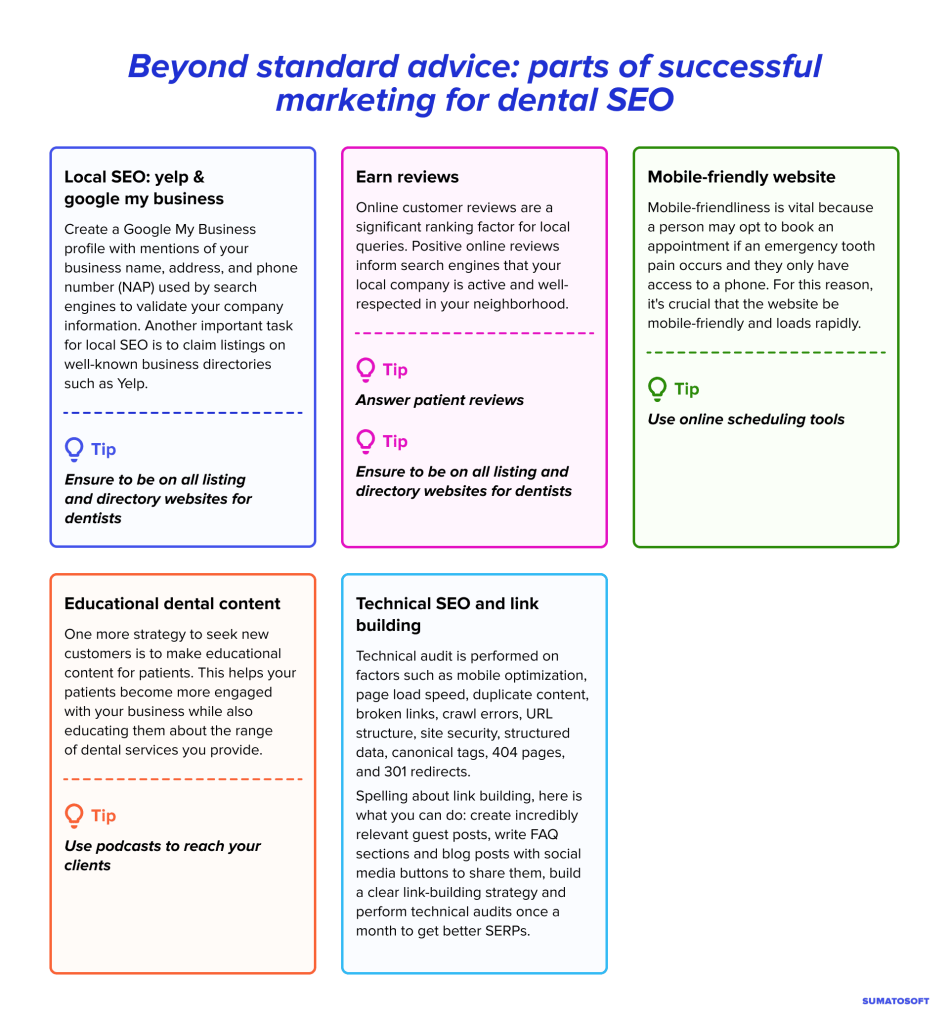 With the right local SEO strategy, you can dominate your desired search engine results pages (SERPs) and attract your ideal clients. Let's look at some of the tips to consider for dental SEO implementation.
Local SEO: Yelp & Google My Business
Create a Google My Business profile with mentions of your business name, address, and phone number (NAP) used by search engines to validate your company information. Another important task for local SEO is to claim listings on well-known business directories such as Yelp. You can edit your company's NAP information, website, business description, operating hours, business categories, and more through Yelp Business Page. Your listing must be pertinent to what you are selling. For example, for "Dentist in St. Charles," you should optimize your Google Business Profile and website respective to the targeted location.
Earn Reviews: Online customer reviews are a significant ranking factor for local queries. A survey of brightlocal in 2022 stated that 81% of local consumers utilize Google reviews to decide whether they will try out local service providers. Positive online reviews inform search engines that your local company is active and well-respected in your neighborhood.
Build a robust strategy for review generation. An email newsletter can be an option to encourage potential customers to write reviews.
Tip: Answer Patient Reviews
As a dental professional, rather than just strategizing to acquire customer reviews, you should track and respond quickly to the reviews you receive to improve the efficiency of your dental practice. When customers leave a session, encourage them to discuss their experience online.
Tip: Ensure to Be On All Listing and Directory Websites for Dentists
If you are listed in the local directories, potential clients may find you since many people use them to search for local businesses. So, build a strategy to list your business in your area's significant local directories to attract the right customers. These include online directories like:
MerchantCircle
Angie's List
Glassdoor
Yellow Pages
Dentists4children.com
Wellness.com
Dentagama.com
Businesses should look for local directory websites first to receive local listings from them. For example, if your dental business is situated in New York, you can uncover internet directories that exclusively feature firms explicitly located in New York state.
Mobile-Friendly Website
Businesses must check their dentistry website through Google's mobile-friendly test to see if it is simple to use on a mobile device. Make sure your website loads quickly because the latest research stated that if a site loads more than 5 seconds on the mobile version, then it has every chance that no one will wait for it to load.
Mobile-friendliness is vital because a person may opt to book an appointment if an emergency tooth pain occurs and they only have access to a phone. For this reason, it's crucial that the website be mobile-friendly and loads rapidly.
Google takes a website to be mobile-friendly for the following criteria:
It fits on the device's screen
You can read the text without zooming
Links are spaced apart sufficiently that clicking on them
Several tools, such as Google Page Speed Insight, Pingdom, and GTmetrix, can be used to gauge the speed of your dental website.
Tip: Use Online Scheduling Tools
When making an appointment, 67% of individuals think that online booking is their top choice for appointment scheduling. With the use of an appointment scheduler, your patients can quickly and conveniently book appointments whenever they want, with just a few clicks. It also eliminates your staff's hassle of following up with appointment reminders. NexHealth, LocalMed, ZocDoc, and Hubspot Free Meeting Scheduler are popular appointment scheduler platforms.
Educational Dental Content
One more strategy to seek new customers is to make educational content for patients. This helps your patients become more engaged with your business while also educating them about the range of dental services you provide.
Dental businesses should focus on creating content such as:
Websites: Make sure to include all the details about all dental services and treatments on the website to inform patients.
Blogs: You can write blogs with optimized keywords that address various dental issues.
Videos: You can create videos/films that inform your customers about your services.
Social Media Posts: Social media posts boost user engagement. Moreover, add links to your website in social posts so that users can engage with your website through it.
The SumatoSoft experts use the hub and spoke technique to boost ranking around key topics (Hub) for dental SEO. Hub is the primary topic on which we wish to establish a more substantial authority and higher ranking, such as "Dental SEO." Spokes are the supporting material related to the main topic (Hub). By conducting keyword research, you can discover your potential clients' search terms to find you when they need dental services. Use a keyword planning tool. Google Keyword Planner, SEMrush, and Moz Keyword Explorer are a few recommended ones.
Tip: Use Podcasts to Reach Your Clients
A recent podcast statistic for 2021 showed that 60% of listeners also find podcasts to be popular. Instead of only marketing the dentistry business, build podcasts that provide helpful information to your audience. Podcasts allow your business to produce content for your audience so they can subscribe to it and continue to use your service. With podcasts, you can inform potential clients about new goods or services to create brand awareness. You can provide opinions through podcasts and conduct interviews with dental experts.
Additional reading you may find useful:
And Finally: Technical SEO and Link Building
Technical SEO
Technical SEO deals with optimizations such as speeding up websites, validating robot.txt files, and ensuring that redirects function properly. Technical SEO raises a website's rating by making sure that search engines can access, crawl, and rank your website. Technical audit is performed on factors such as mobile optimization, page load speed, duplicate content, broken links, crawl errors, URL structure, site security, structured data, canonical tags, 404 pages, and 301 redirects.
Link Building
Imagine you have a large number of pages with excellent and valuable content about your dentistry services and treatments but no links. Businesses must intensify their link-building efforts. Internal links connect the different pages of your website in a context-appropriate manner. External links lead from your web pages to other websites. The four link-building strategies mentioned below can help to increase website authority from every possible viewpoint.
Create incredibly relevant guest posts. Guest posts can be quite helpful if your dental business is still young and you are trying to establish your reputation.
Use your content to create a user base. Create a FAQ section and blog posts with social media buttons from which your audience can share your blog posts to their profiles.
The most linkable themes should be chosen, and they should be improved to be more thorough, longer, more entertaining, and provide a better user experience.
You may show visitors that the information is well-supported by including links to reliable sources on your website. Additionally, having links to your website placed on other websites exposes you to a broader audience and enhances your online reputation.
It is beneficial to build a clear link-building strategy and perform technical audits once a month to get better SERPs.
Final Words
We believe that now you would have a good understanding of why dental SEO is so crucial for dental businesses, how dental SEO works, and the winning tactics that can be implied to gain fruitful results. Keep in mind the above-explained factors that can affect the SEO of your dentistry website and gives you the confidence to ensure its success. If you wish to maintain a competitive edge for your dental practices through successful dental SEO, then contact us at Sumatosoft.
You are here
2 Discuss it with our expert
3 Get an estimation of a project
Thank you!
Your form was successfully submitted!