Trends in E-commerce Software Development You Should Consider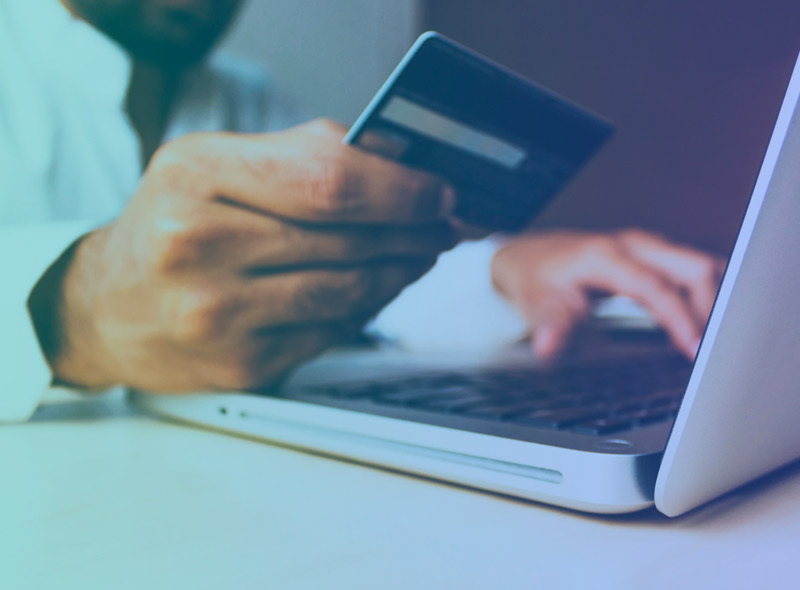 E-commerce market is showing steady growth: global e-commerce sales in retail are expected to reach $4.5 trillion by 2021. If you run an e-commerce business, you might be aware how tough the competition is. So, to stay in line, you need to take into account the current trends in e-commerce software development and implement best practices in your e-commerce store.
To make it easier for you, we have put together only the most significant online shopping software development trends affecting the whole industry.
Chatbots Interacting with Customers
For starters, e-commerce stores of all sizes will become more and more aware of the benefits of virtual customers' assistants – chatbots. Interactive bots are already incredibly helpful: they assist customers in dealing with issues, answer their questions, and suggest what products customers need.
In fact, AI chatbots perform tasks that previously were performed by people. There is nothing bad in it; rather, businesses automate processes and save their financial resources, while real sales assistants are facilitated to work on more interesting tasks and solve complex problems.
Chatbots respond to the most frequently asked questions, with the help of machine learning they are trained to provide competent answers. Especially if you sell something specific like custom dog portraits, customers will definitely have a lot of questions.
If you are looking for an example, here it is: a bot developed by H&M clothing company for Kik messenger recommends clothes based on users' personal preferences, while using images and asking leading questions about a customer's style.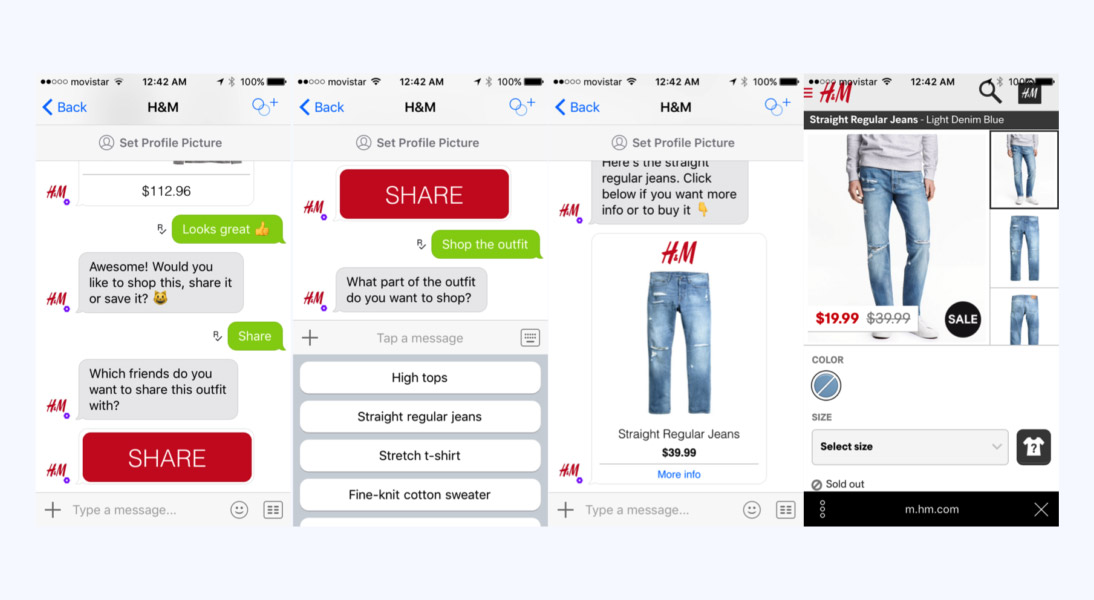 This example clearly illustrates how interactive bots directly affect shopping decisions and enable e-commerce businesses to provide high-quality customer service, enhance brand loyalty and boost sales.
More Storefront Apps
The storefront app is a web app that runs an e-commerce website. A number of large e-commerce brands provide storefront apps to their customers, and they, in turn, take advantage of these apps and often shop on the go using mobile devices.
Now even small, family-owned e-commerce businesses are able to offer their customers storefront applications. Such apps send promotional notifications and targeted recommendations to customers, enable convenient product search with a variety of filters, as well as fast and secure payments.
All this opens up new opportunities to e-commerce businesses, especially small and medium-sized ones, allowing to increase brand awareness, and customer loyalty and drive sales. Also, don't forget to create a logo or use free logos available online to be remembered by app users and customers. "Other than that, you can use a logo maker for completing such tasks successfully.
In addition, storefront apps are faster than websites when accessed from mobile devices, and, what is more, can work both online and offline. So, if you are still wondering, now it is the time for dedicated app development.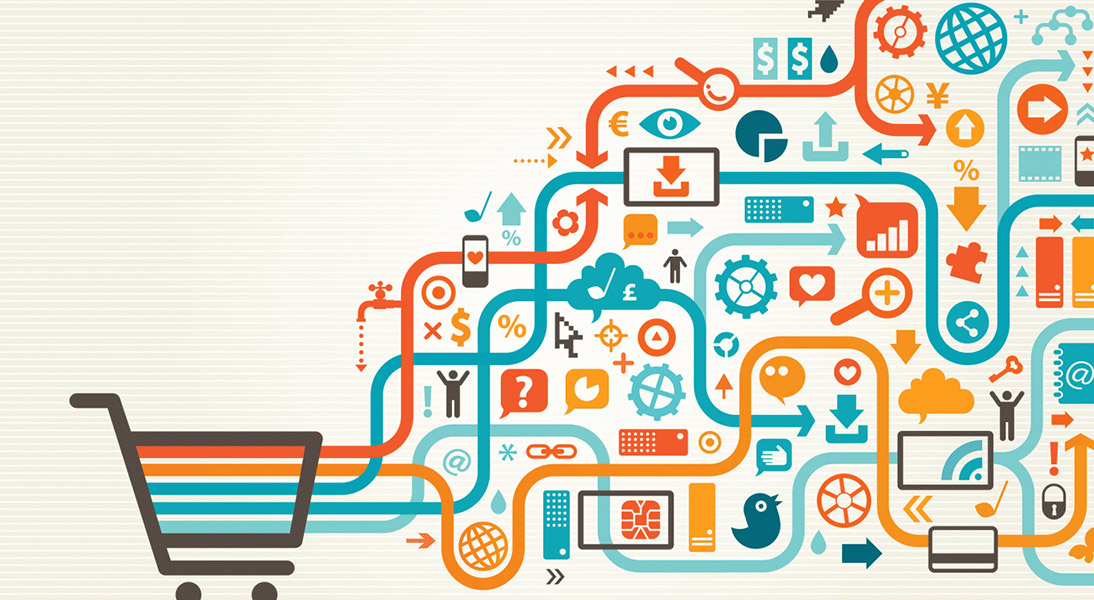 Setting e-commerce prices based on the lunar phase or your gut feeling is definitely a bad idea. Predictive pricing is the best solution for data-driven decisions. It utilizes powerful machine learning algorithms and big data to suggest optimum prices that would satisfy both customers and e-commerce, business owners.
Predictive pricing addresses various factors:
market situation;
estimated product demand according to the market situation;
customer data;
sales history for a particular product
and many others.
Predictive pricing is flexible and able to offer the best price for a product in the same manner as hotels and accommodation services establish prices for individual users at a point in time.

Augmented Reality (AR)
Augmented reality is for sure a power to be reckoned with. Its potential to transform the whole e-commerce industry is huge.
First of all, with the help of augmented reality, customers are able to experience your product or service through their smartphone or computer, visualize it and make a purchase decision faster. That happens because customers get an opportunity to try goods before buying them (as in the case of offline stores) and thus eliminate all doubts and ambiguity. This is akin to test drives before buying a car: you first drive it and then buy it.
A good example is IKEA's AR application called IKEA Place, which enables customers to imagine how the furniture they would like to buy will look in their apartments.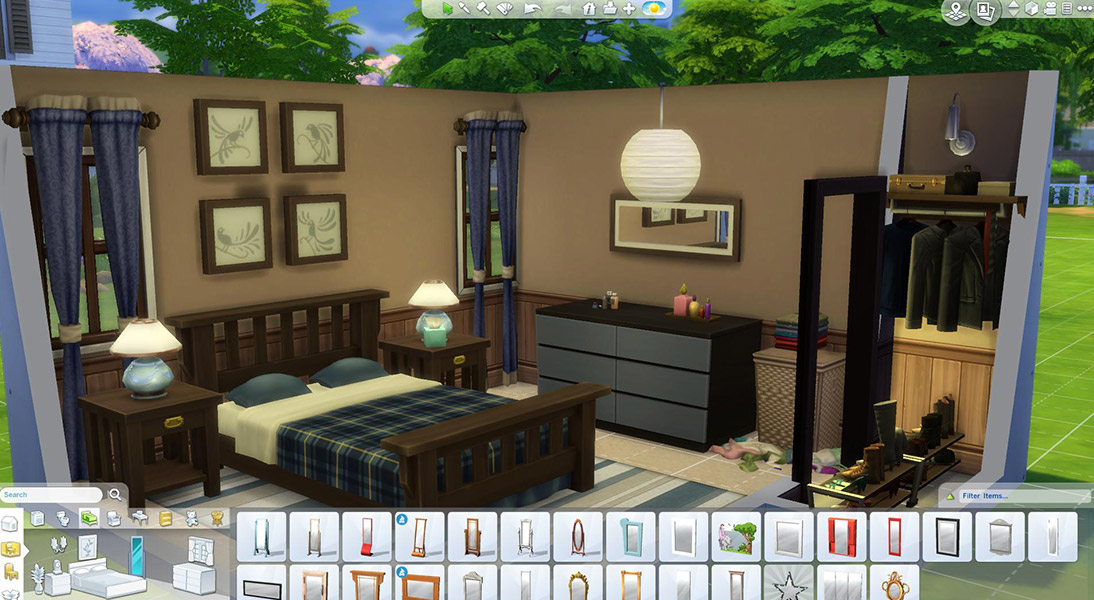 Secondly, augmented reality incorporated in your e-commerce store allows personalizing the shopping experience for your shop visitors. If you sell clothes, customers will get the opportunity to visualize how one or other item will look on them instead of viewing soulless pictures that may be confusing.
And finally, augmented reality e-commerce introduces an element of the game and thus increases customer engagement. Your customers will be amused with such shopping when they can interact with a product, and "play" with its options – they will most likely spend more time on your website and maybe buy something else.
Smart Search and Voice Search in Particular
Search in e-commerce stores has evolved from the simplest to the most complex, smart, with elements of artificial intelligence. If consumers cannot find a product they are looking for on your website immediately, they will most likely go to your competitors. Smart search solves this problem and, furthermore, allows e-commerce businesses to understand their customers, get insights into customer needs & shopping habits and adjust their strategies based on this information.
What really stands out is voice search, which is steadily gaining popularity in e-commerce. According to a recent study, the voice shopping market is expected to reach an impressive $40 billion by 2022.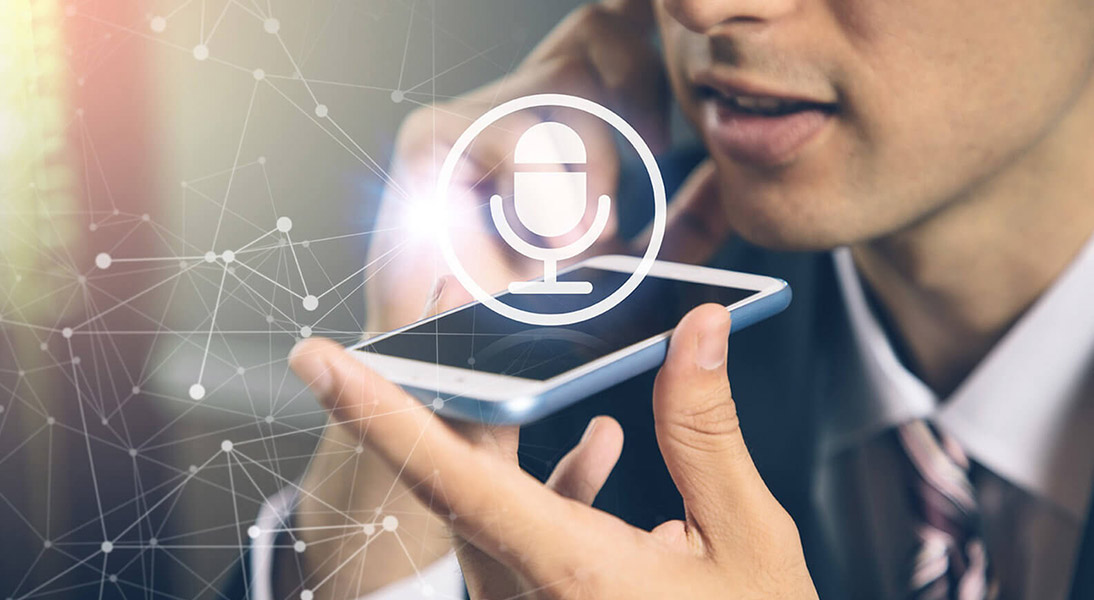 Smart Search and Voice Search
Today about 20% of all search queries account for voice searches. That is not surprising: many consumers prefer to save their time and delegate shopping tasks to virtual assistants like Alexa, Amazon's Echo, or Google Home.
According to Consumer Research Intelligence Partners, customers who utilize Amazon for online shopping spend approximately $1,700 each year, which is 66% more than the annual spending of regular Amazon users.
Voice commands allow consumers to make purchases without distracting from work and other important matters. Thus, you might want to consider voice search implementation for your e-commerce store.
Security as a Priority in E-commerce Development
Online shopping is inextricably linked to online payments. At the same time, today credit card data are often stolen and used by fraudsters, and, in the end, you as an e-commerce business owner suffer losses in such cases.
In order to reduce reputational risks and avoid financial losses, you should ensure a high level of information security and customer data protection in your e-commerce store.
The best solution in such circumstances would be to take care of specific financial software that will guard you against fraudsters, relieve you of the responsibility for unreliable transactions and consequently protect your e-commerce business from financial losses.
You are here
2 Discuss it with our expert
3 Get an estimation of a project
Thank you!
Your form was successfully submitted!