How to Make Good Requirements: Practical Tips From SumatoSoft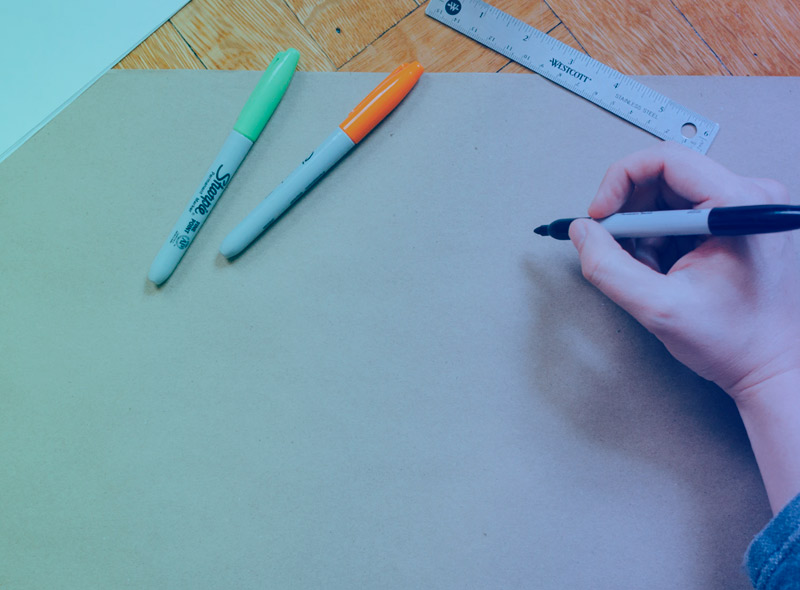 Ever envisioned yourself riding the crest of the tech wave, pioneering groundbreaking apps or trailblazing next-gen systems? Ever dreamt of being the mastermind behind the next Google or Instagram? Suppose you've got an idea that's ignited your passion, coupled with a budget and a timeline. Yet, that might not be the whole equation. So, what's the missing piece?
Navigating the intricate maze of the IT realm can be daunting, especially if you're an outsider looking in. Yet, to bring your digital vision to life, you may need a seasoned IT partner. As you chart your path forward, let us share some wisdom: these tips come straight from the experts at Sumatosoft, practitioners with over 11 years of experience on the market of software development services and business analysis services as a part of them. Many companies today offer project estimation to gauge the potential costs and comprehensive project development to actualize your dream. But before you approach them, it's crucial to arm yourself with a well-defined plan. Dive in, as we unveil some insider tips to guide you in crafting a clear, comprehensive project blueprint.
Tip #1: Define the Purpose
Before diving into the intricacies of your project, it's imperative to address three foundational questions:
WHAT is needed? Clearly delineate the functionalities and features you want.
HOW will it be implemented? Consider the technologies, platforms, and methodologies.
FOR WHAT PURPOSE? Understand the primary objective behind the project.
Whether you're opting for a mobile app, a web platform, system integration, or any other solution, align it with the intended outcome, be it business performance improvement, social networking, sales enhancement, entertainment, or information dissemination.
Tip #2: Consider Interface Requirements
User experience is the linchpin of any successful product. Therefore, it's paramount to consider how the end-user will interact with and perceive your product. Ponder on these aspects:
Layout & Design: What will the main interfaces look like? Think about the user journey through the application or system.
Intuitive Navigation: Ensure that users can easily find what they're looking for without unnecessary hurdles.
Responsiveness: In today's multi-device world, your product should cater to various screen sizes and devices seamlessly.
Feedback Systems: How will the system inform users of successful actions, errors, or required inputs?
Remember, an intuitive and engaging interface can significantly enhance user retention and overall satisfaction.
Tip #3: Categorize the Requirements
Structure brings clarity. As you list down your requirements, it's invaluable to categorize them to ensure a seamless development journey. Consider organizing them as follows:
Overall Description: This includes the general scope, user environment, and broader functionality outlines.
External Interface Requirements: Dive into specifics like user interfaces, software-to-software interfaces, and any third-party system integrations.
System Features: Zoom in on the functional requirements, detailing individual features and how they interrelate.
Non-functional Requirements: Don't overlook the behind-the-scenes essentials, such as performance standards, security measures, and accessibility considerations.
By compartmentalizing your requirements, you'll provide developers with a coherent roadmap, streamlining the development process and ensuring no critical detail gets overlooked.
Tip #4: Compose a Requirements Document
While it might seem like an optional step, creating a comprehensive requirements document is a crucial aspect of the planning process. Here's why:
Centralized Information: By gathering all requirements in one place, you create a single point of reference for the entire team.
Visual Aids: Include diagrams, tables, and illustrations to make the information more digestible. Visual aids can convey complex ideas more efficiently.
Accessibility: Ensure that the document is easily accessible to all stakeholders so everyone is on the same page.
Revision Control: Maintain a version history of the document to track changes and updates.
By documenting your requirements systematically, you create a valuable resource for developers and allow for transparency and traceability throughout the project's lifecycle.
Tip #5: Make a Prototype
A picture is worth a thousand words, and a prototype is worth even more in the world of software development. Here's why prototyping is invaluable:
Visualization: It turns abstract ideas into something tangible that stakeholders can see and interact with.
Testing Concepts: Prototyping allows you to test out design concepts, user flows, and functionality before committing to full-scale development.
Feedback Gathering: It's a fantastic tool for collecting user feedback early in the process, enabling refinements before things get too far along.
Tools at Hand: Tools like InVision, Justinmind, Marvel make prototyping easy and efficient, even if you're not a design expert.
By creating a prototype, you bridge the gap between idea and implementation, allowing for a more collaborative and effective development process.
Tip #6: Ask for Felp
Embarking on a development project can be an intricate and multifaceted endeavor. Here's why seeking professional assistance can be a game-changer:
Expert Guidance: If the requirements-making process seems daunting, experienced business analysts can translate your ideas into developer-friendly language.
Avoiding Pitfalls: Professionals can help you steer clear of common mistakes and unprofitable decisions, saving time and resources.
Objective Perspective: An outside expert can provide an unbiased view, aligning the project with industry best practices and market needs.
Collaborative Approach: Engaging with specialists fosters collaboration and helps crystallize your vision into a feasible plan.
By reaching out to those with expertise in the field, you ensure that your idea is sculpted with precision, aligning with both your vision and industry standards.
Graphically, the set of tips on the requirements making described above can look like this: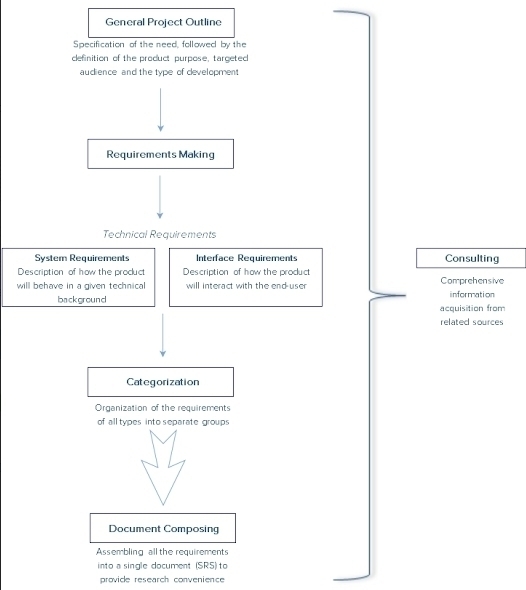 As soon as the requirements are defined, the work on the requirements analysis begins which also plays a significant role in delivering a high-quality product. Now, equipped with the set of requirements that can be formed into a single document – project specifications – you can turn to any company to request a project estimation based on your needs described in the document. The estimation will reveal the project development scheduling and the total cost, so you will be able to compare several options to each other and find the best deal.
You are here
2 Discuss it with our expert
3 Get an estimation of a project
Thank you!
Your form was successfully submitted!