Top 4 Marketing Automation Software for SMBs: Pros and Cons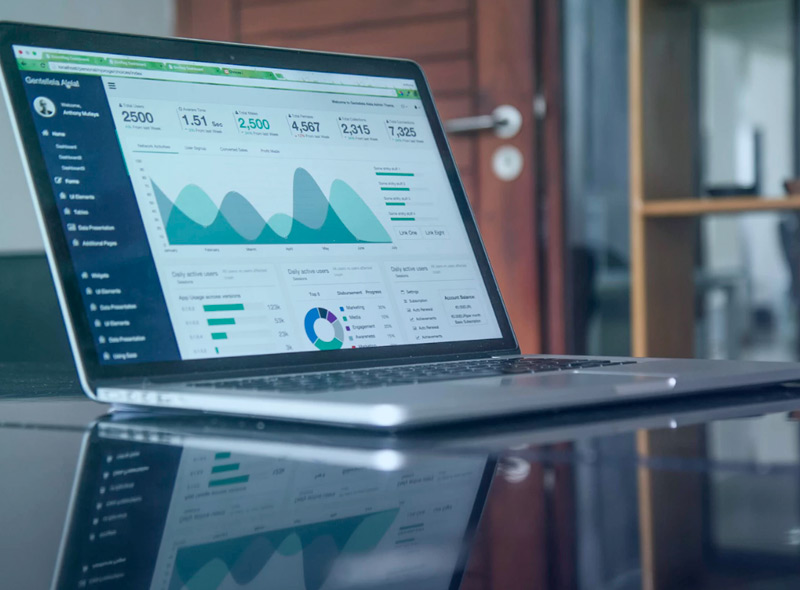 The universe of Marketing Automation is gigantic. It's filled with a big variety of tools for different purposes and each of them comes with its own unique style and flavor. Being a lot more than just a handy time-saver, Marketing Automation opportunities can make a huge difference for any type of ventures if used wisely.
As a small or medium business owner, your resources are limited due to the multitude of daily tasks. At the same time, you need to find ways to grow your company and solve a number of business challenges:
Email finding and verifying email addresses of potential prospects for cold outreach;
nurture leads with drip marketing and automated workflows;
adopt an efficient lead generation technique;
improve your conversion rate and increase the value of each of your customers;
understand your audience better and personalize your emails;
and, eventually, make as many sales as possible;
Marketing Automation is a great way to achieve these milestones. Its key benefits are:
productivity – economize the time and efforts you spend to get your marketing endeavors running at optimal levels;
timesaving– it's possible to plan multiple campaigns and launch them according to your settings;
customer relationship management – never lose sight of your leads, without worrying about them vanishing because of previous unsuccessful contacts;
cost-efficiency – you can manage your campaigns in a fast manner, make various changes, and make them roll beneficially speedier.
To start your Marketing Automation journey, all you need is your email list and software. What software? Let's check our Top 4 list of MA software worth your attention.
When picking up the solution, one of the main challenges for businesses is to find an affordable, yet effective small business tool. However, the pricing list is heterogeneous, because there are expensive ones out there. The following list is a range of various options in terms of price and functionality.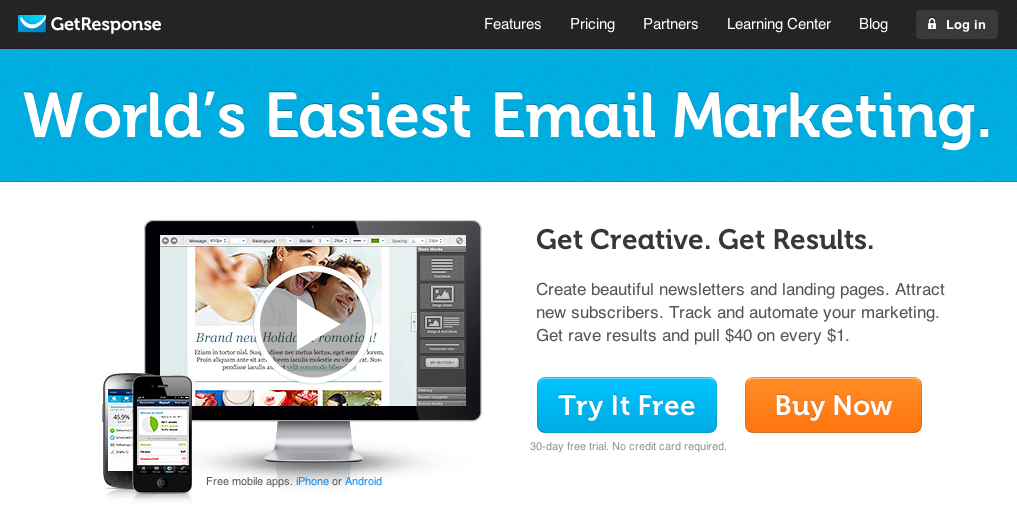 The company was one of the early startups for email marketing campaigns in the late 90s. Nowadays, GetResponse serves about 250,000 active users with brands like Carrefour, GlaxoSmithKline, Intercontinental, and many others. GetResponse is known for its premium customer service: the company received Gold, Silver, and Bronze Stevie Awards back in 2014. The company has relatively recently ventured into marketing automation with its all-in-one marketing solution for SMBs GetResponse.
As a matter of fact, one of the issues that marketers are facing in the process of creating a marketing automation campaign is the obstacle of getting started, especially if you have any previous experience. On the contrary, this software is quite easy to use for beginners. This tool simplifies the creation of a conversion funnel in a great way: one can click and drag filters, actions, and conditions into place. Once the workflow has been set up, the workflow builder will start to send welcome emails, social media links, newsletters, and coupons in response to certain triggers.
Moreover, you can create your personal workflows with their ready-to-use blocks. All you have to do is select some proper conditions (or triggers), then select the targets you want to reach and finally pick up the action. There are all kinds of conditions such as certain groups of subscribers, users who have opened a certain email (or clicked on a link), customers who have abandoned their shopping carts, etc.
Pros
If you intend to use their 'Email' plan, Getresponse offers adequate functionality and it's cheaper than most of its key competitors. In certain cases, you can even save considerable money.
webinar functionality (a USP really);
reporting and comprehensive split testing features;
responsive emails and it makes it possible to preview smartphone versions of your campaigns;
a powerful landing page creator;
you can try out all its features free for 30 days without entering credit card details;
the level of support is remarkable and includes phone support;
Cons
the drag and drop interface for designing emails is not their strong suit;
a limited range of RSS-to-HTML e-newsletter templates;
both user interface and backend need improvements;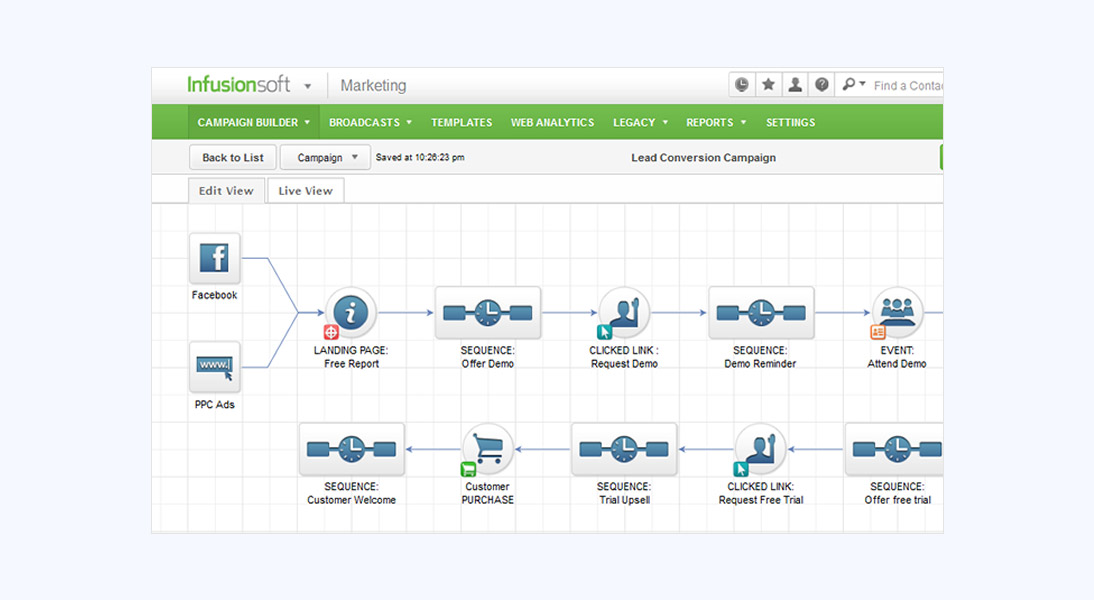 Infusionsoft is a private company offering an e-mail marketing and sales platform for small businesses. In 2013, Inc. has named Infusionsoft a Hire Power Awardee and ranked number 4 in the software category with over 240 jobs created in a year.
With over 125,000+ active customers, Infusionsoft has gained the reputation of being one of the most popular marketing automation tools for SMBs companies. Moreover, there are more than 300 apps and integrations in their marketplace, which makes it possible to integrate the solution with a large variety of tools. Infusionsoft also has a Zapier integration and an extensive API, allowing you to build your own integrations.
One of the awesome characteristics of Infusionsoft is that it establishes a close connection to your audience. Right after importing and organizing contacts using tags and segmentation, the tool tracks and records leads' behavior (like checking your website or archiving your emails), then scores each lead based on ease of conversion. From there, it's your choice whether to prioritize high-rated leads or reach out to the ones on the cusp of becoming paying customers.
Like in GetResponse's case, Infusionsoft can automatically send personalized emails to contacts who trigger them — if users abandon a shopping cart or fill out a survey, it will result in a message to refresh their interest. Similar emails can be automatically sent to get in touch with customers who make an online purchase. No matter if your contacts are brand-new leads or lifelong clients, you'll be able to maintain your relationship with minimal time and effort.
Pros
great user interface – the visual campaign builder makes crafting even the most complex of nurturing sequences both fun and intuitive;
with over 300+ apps in the marketplace, API, and Zapier integration, you can connect the solution to hundreds of third-party tools;
great support;
сonvinient way to keep track of a contact's behavior through multiple marketing channels;
built-in shopping cart – you can order forms, payment processing, and inventory tracking within the tool;
Cons
high mandatory kickstart fee – $1999;
their deliverability rate isn't as good as some other tools.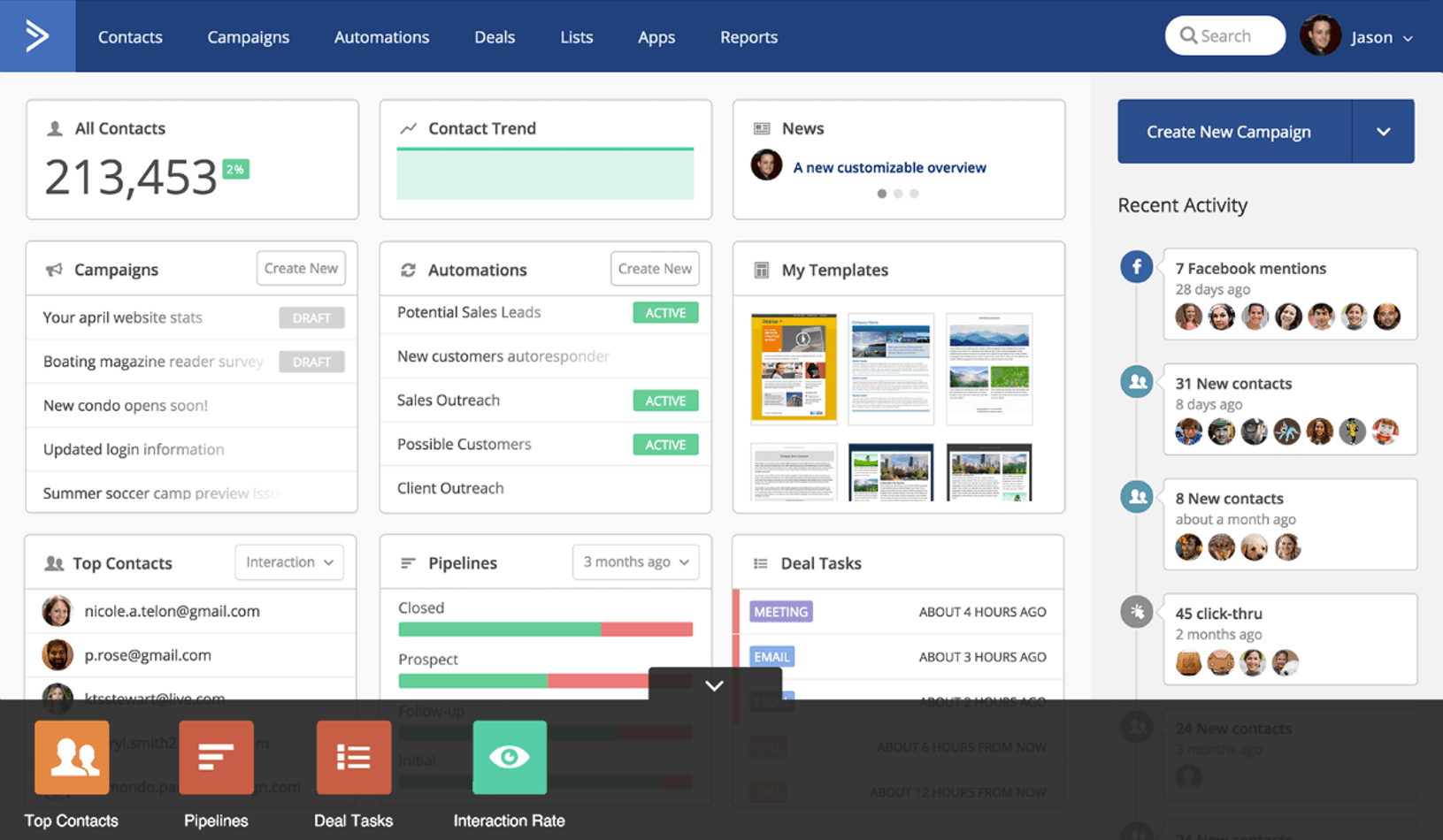 Founded in 2003, according to the comparison platform "Marketing automation insider", ActiveCampaign is "a hidden gem in the marketing automation world". "Hidden" means that quite a few people have heard about the company. However, those who have, may find tons of useful info and communicate with other users thanks to their community.
ActiveCampaign is considered to be one of the most affordable providers for SMBs and the quality of their software is great. The tool provides a convenient set of emails and messaging features, and its features are linked to a user-friendly marketing automation platform, along with built-in CRM and sales automation software functionalities. You can create special marketing workflows and automated follow-up sequences while tracking multiple marketing channels. In addition, ActiveCampaign may be integrated with over 150 apps and services for sales, support, and lead generation.
Altogether, ActiveCampaign is a good piece of software with a small number of flaws. It has one of the best user interfaces for Building automation campaigns, making it easy and enjoyable to use.
Pros
well-designed and intuitive user interface;
integration with over 150 different tools. However, a paid Zapier subscription is required to access certain integrations;
their pricing starts at just $9/month with no upfront setup fees;
Cons
their CRM and email builder need improvements;
any native integrations with third-party tools. Sure, they do have over 300 apps and extensions, but many of them require an additional ongoing cost.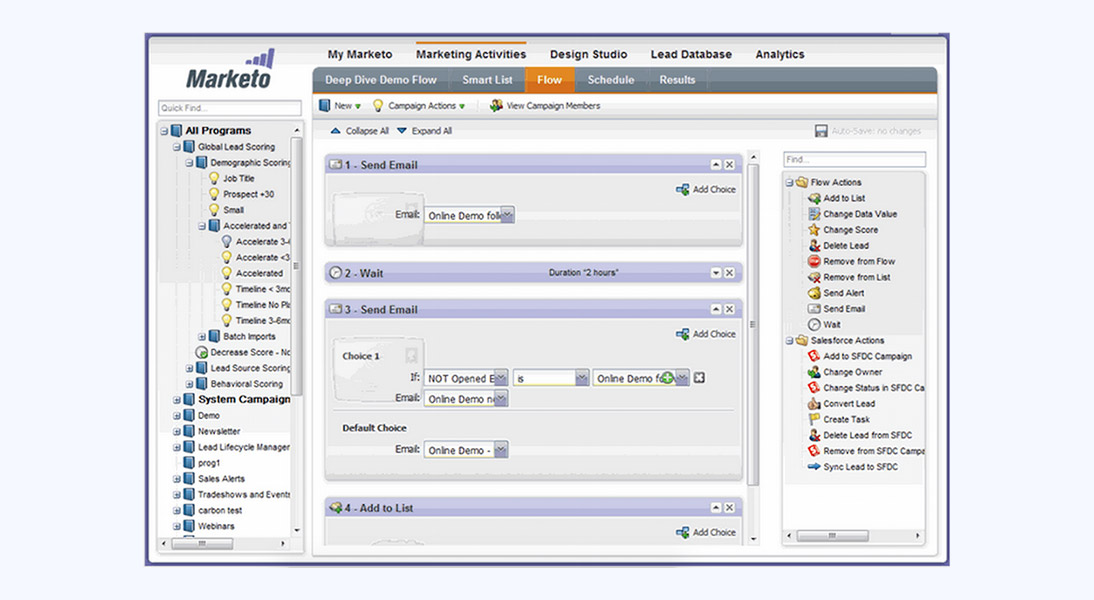 Founded in 2006, Marketo was ranked 78th on the Inc. 500 (2012), number 7 among software companies, and number 1 among marketing software companies. In June 2016, Vista Equity Partners acquired Marketo for approximately $1.79 billion.
With pricing plans starting at $895/month, Marketo is targeted at mid-range 100+ person organizations. However, even big and reputable corporations like Charles Schwab, Chrysler, and Intel among others use this solution. In total, Marketo is praised for its convenience and receives a lot of positive reviews for its ease of use.
Pros
great usability of their platform;
exceptional integration with Salesforce;
quick and easy setup;
great customer support & community;
Cons
landing page & form builder is a bit clunky and difficult to use;
limited analytics and reporting functionality;
three standard pricing tiers: $895, $1,795, and $3,175 per month. Each tier unlocks new features, which means that it might cost an additional $900 – $1,400 a month for several extra features.
Marketing plays a major part in every business. However, keeping up with marketing activities can be hard, especially, for startups. Marketing Automation solutions can streamline a large variety of marketing functions, so it's possible to focus on other daily tasks while effectively nurturing leads and driving revenue.
P.S. Are you interested in getting your own Marketing Automation tool? Contact us and let's discuss your project.
You are here
2 Discuss it with our expert
3 Get an estimation of a project
Thank you!
Your form was successfully submitted!