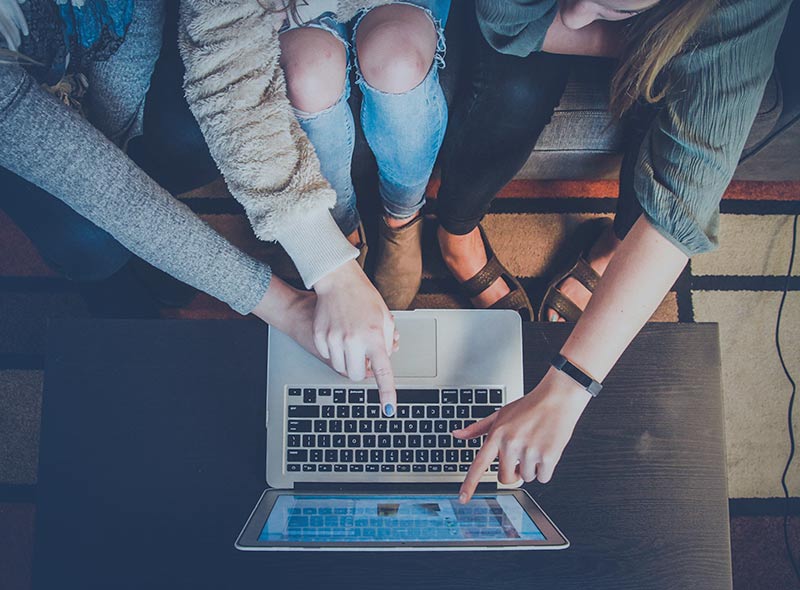 As the e-commerce platform market is full of choices, it might be difficult to figure out which platform suits your needs in full measure. The thing is that every platform claims to be "easy to deploy and manage". However, in reality, it's not that easy, especially if you have little experience in the field.
At first sight, all platforms have the same features and functionalities. The basic principle – you make money online, they buy from you – is basic for e-commerce in general, no matter which platform you have chosen. So how can you be sure you do the right choice? What are the points to consider? Let's find out.
#1. Marketplace vs. Own e-Store
Initially, there are two alternatives for starters. You may either build your own store or join a marketplace (eBay, Amazon, Newegg, Rakuten, etc.).
The first option gives you an opportunity to add a personal look to your store and work on your brand identity when you get used to your new activity as a seller. Plus, you have total control over your business. You're the owner, so it's you who makes the rules. On the other hand, a customized store is much more difficult to set up if you don't have any skills or experience. In this case, you'd better contact an experienced development company to help you.
If you choose to join a marketplace, you'll have an easy start as everything is already set up for you. You don't even have to worry about bringing traffic (customers) to your store. Just pay your monthly fee, pick up a product and go selling. Sounds appealing, right? What's the trick then? Firstly, your store will be much similar to your competitors. Unfortunately, you'll have little chance to improve your business identity. Secondly, you have to work hard on customers acquisition as visitors understand that they deal with a marketplace comprised of various sellers. For instance, in 2015, Amazon reported that it had over 2 million third-party sellers on its marketplace. As numbers speak loud and clear, the competition is more than huge.
So our advice is to pick up the harder road as it has more advantages in the long term. That is why we'll check the platforms providers in the rest of this article, not marketplaces.
#2. Overview (Ease of Use, Pros & Cons, Support, and Pricing)
Being a neophyte store owner, there's nothing more important to you than your platform's ease of use, starting from the setup process. Surely enough, the chosen platform may have all the greatest features you need, but what's the point if you can't figure out how to use them?
Magento
Magento has a well-designed and elaborated user interface, but – alas! – it's rather difficult to sort things out if you're a novice. Well, perhaps, it's not a weapon of choice for startups anyway (or, alternatively, it's for startups with a budget), as the company itself positions its product as enterprise-level software. However, seasoned veterans praise Magento's interface. It's reasonable and it has a quick and unchallenging self-hosting setup. Plus, everything is in its right place on the navigational menu: customers, products, sales and reports, promotions, etc.
Pros: the architecture of Magento makes it possible to customize templates and develop functionality according to your needs.
Cons: Magento needs a dedicated "Magento-focused" server. Standard hosting platforms cannot handle it due to its massiveness resulting in a slow and bad user experience.
Support
Magento is famous for its large ecosystem. It has a decent knowledge base and a large active forum for communicating with other users. However, they do not provide direct support for community edition, you can find a third-party Magento support provider. Also the good news is that they offer a list of helpful resources on their website to solve your issues.
Usually, the pricing may vary depending on the plan you choose. In most cases, you'll have three-four options to choose from. Note that most of the platforms provide a free 14/15 days trial, so you can try it out for yourself. Now let's check the figures for the most widespread platforms:
Magento Community Edition: free
Magento Enterprise edition: you should contact the company to get the details, but the overall price is around $18,000 a year.
Shopify
Unlike Magento, Shopify is praised for its easy setup. You can launch your online Shopify store within minutes. The platform has a convenient dashboard area, so you can customize the look of your store. Managing products is also clear, with fields for titles, descriptions, prices, and more. This way, if you are an absolute beginner in web design and you look for the fastest way to set up an online store, give Shopify a try.
Pros: nicely designed and professional storefront, a massive library of apps (over 1500) in their marketplace.
Cons: Shopify charges a transaction fee for every sale (which you can lower if you use Shopify Payment).
Support
This vendor has all it takes to provide top-notch support: email, open chat, telephone, and help center. Alternatively, you can use Shopify Online – an online database covering common questions.
Basic: $29 / month
Standard: $79 / month
Advanced: $299 / month
SpreeCommerce
Similar to Shopify, but free and customizable, this platform offers great possibilities for those who adopt it. However, If you decide to launch your store using Spree, you better find a development company to build the online store you want. But, hopefully, this is the only major obstacle as once your store is online, the backend (where you'll spend lots of time dealing with orders and maintaining inventory) is one of the most handiest and properly designed on the market.
Pros: lots of useful features such as multiple stock locations, transfers, and split shipments.
Cons: at the moment, only a few themes are available.
Support
This platform hasn't got any support in the traditional sense, but still, you can find a forum and tons of useful documentation on the web. Plus, there's a Ruby on Rails community that maintains Spree, making it stable, multifunctional, and ….free:)
This e-commerce solution is 100% free.
BigCommerce
Bigcommerce has a nice dashboard and clear setup instructions. Funny enough, but its dashboard looks quite similar to Shopify – BigCommerce's main competitor. However, it will take you a certain time to learn the ropes, but in the end, you'll be rewarded with a powerful shopping cart. Another advantage is that all the functionality you might need comes out of the box, thus you won't have to pay for extensions like with Magento or Shopify. Still, obviously, they have their app store with more than 250 apps at your service.
Pros: You can integrate your BigCommerce store with Facebook, eBay, Google Shopping, and a whole range of product comparison sites like Shopzilla, Bizrate, Beso, etc.
Cons: only seven free templates are available.
Support
Like Magento, a large BigCommerce Community is there for you 24/7. Various guides and documentation are also there. Plus, BigCommerce University – is a place where you can watch educational videos online.
Standard: $29.95 / month
Plus: $79.95 / month
Pro: $199.95 / month
Enterprise: you should contact the company to get the details.
Prestashop
The common opinion in the world of eCommerce defines PrestaShop as an easy tool to use. PrestaShop hosting has lots of features and settings and it integrates necessary instruments to a user-friendly and intuitive interface. Besides, the admin panel can be accessed via your smartphone or tablet, so you won't need to reach for the computer to make quick adjustments to your inventory or check order status.
Pros: you can find more than 25000 plugins and extensions to upgrade your store.
Cons: there's no official support, only community forums.
Support
Prestashop does not have an official support team. Nevertheless, they offer two ways of support: either you choose free community help and support via the forum, or you can try out paid support with the following prices: 33.25, 58.25, and 115.68 euros/month respectively.
Pricing
This solution is free.
3dcart
While the 3dcart product setup page is a bit odd-looking for 2016 in terms of design, they offer informative tutorials and setup steps to help you pick a theme, define the payment method or set up shipping options for your store. So, like Shopify, it's a great option for starters. This platform also has a drag and drop editor (the feature missing from BigCommerce), and it's a big advantage, as it helps you click and drag components without messing with CSS or HTML code.
Pros: 3dcart offers more than 100 responsive, mobile-friendly themes, plus over 100 ready-to-use payment solutions.
Cons: no built-in recurring billing system.
Support
Much like BigCommerce, 3dcart has various support modes. Live chat, knowledge base, tickets, forums – seems that you won't be left alone with your issue.
Mini: $19.99/month
Professional: $65.99/month
ProfessionalPlus: $99.99/month
#3. Features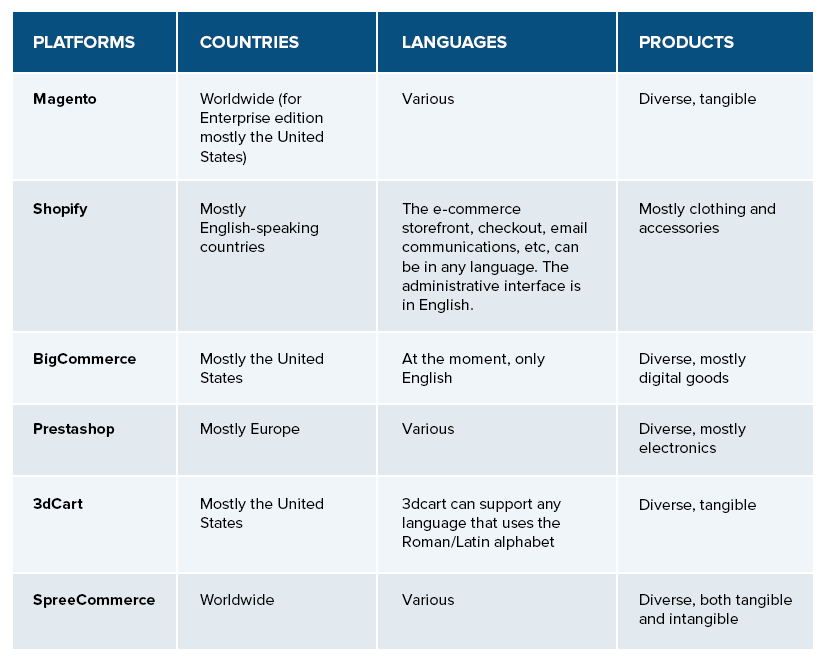 #4. Conclusion
Considering all the aspects above, it's impossible to define the "best eCommerce platform". However, your goals, resources, and preferences should tell you what platform is better. And we hope that this article will help you to make an informed choice. What eCommerce platform do you use, or are you considering, for your business and why?