37 Best SaaS Ideas Examples (2023 Updated)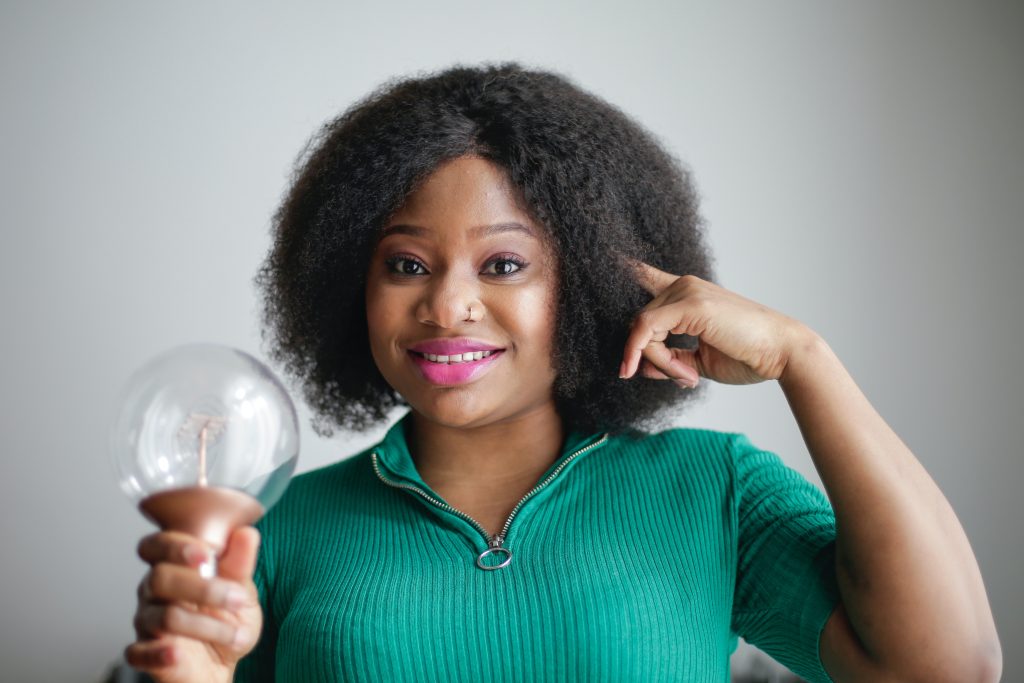 Thinking of starting a software business? The timing is definitely right. Gartner forecasts worldwide public cloud end-user spending to reach nearly $600 billion in 2023.
Before you start building, however, make sure you pick the right niche. The Software as a Service world is extremely competitive and increasingly more regulated nowadays. Therefore, picking the wrong market or audience to target could waste months (if not years) of your time and lots of money.
This article will share 37 of the best SaaS ideas examples. Before that, we'll discuss what SaaS ideas are, the type of software SaaS is, where you can find SaaS ideas, and SaaS trends and market research. Below you can see a full list of ideas for software solutions that will be discussed in the article:
Telehealth
Marketing Automation
Social Media Management
Content Planning
(CRM) Customer Relationship Management
Email & SMS Marketing Software
Video Creation and Editing
Team Communication
Virtual Assistant
E-Invoicing
Accounting
(KPI) Key Performance Indicator Tracking

Bookmark Managers
Cloud (ERP) Enterprise Resource Planning
CRM for Freelancers
Workforce Management
In-Detail Pricing Plans
Lessons on Tech Skills
(OKR) Objectives and Key Results Tracker
Property Management Platform
Sales Tracking App
Virtual University Campus
SaaS Training Courses
SaaS Blog
Payment Gateways
Feedback Management Tool
Employee Engagement Platform
Workplace Productivity Platform
Roadmap Publishing Tool
Interview Tracking System
Stock Market Valuation Tool
Investor Journal
Virtual AI Chatbot Solution
Travel Itinerary Platform
Email Delivery Solutions
Password Manager
Digital Asset Management (DAM) software
What Types of SaaS Exist
There are 3 types of SaaS solutions. They can be horizontal, vertical, or hybrid. The categories vary in scalability options, target niche, the resources necessary to build MVP of the type, the necessity f mobile app, the length of software development, used SaaS business model, and more.
Microsoft, Salesforce, and other well-established service providers use a horizontal SaaS structure. It's a model that lets businesses to a generic and broad customer base. Business owners of this type are big companies that offer a diverse range of SaaS application and services.
Meanwhile, vertical SaaS targets a specific niche of people, so the number of potential customers is limited and grows slowly. An example of this is from an idea mentioned below, American Well — a solution exclusively for the healthcare industry. A small team is enough to manage such types of SaaS solutions. To survive, the business owner should invest in proper marketing and define metrics to track the progress like the custom growth rate.
And if it's a hybrid SaaS, it caters to a targeted customer base while it offers solutions for a broad audience, too. It's the most flexible type of SaaS solution since the business owner isn't limited by a specific region or group of end-users.
For an example of SaaS hybrid solutions, refer to discussions on marketing automation and email delivery solutions. While they want to streamline email marketing, they're also open to improving the broad scope of areas that fall under marketing.
Where Can I Find SaaS Ideas?
If you observe your environment, you can identify a problem and then offer a solution.
For example, if you're around people who often forget their passwords, offer a solution. You can design a password manager to rival LastPass — one of the SaaS ideas listed below. Or you can think outside of the box and offer a different and unique solution.
Another way is to use your area of expertise. For example, if you're a blogger with an excellent understanding of SaaS-related topics, you can begin maintaining a SaaS blog.
SaaS Trends and Market Research
As noted earlier, there are predictions about the SaaS market size reaching $800 billion in 2030. The opportunity is huge, but to tap into it, you need the right product idea.
Below, we listed the best SaaS ideas for the upcoming couple of years, together with inspiring examples of companies already operating in the space. By looking at what they do (and how they do it), you might identify market opportunities to exploit.

37 Best SaaS Ideas Examples
1. Telehealth
The industry of telemedicine is expected to grow to $396 billion in 2027.
And American Well and Teledoc Health Inc. are two of the giant companies that know this information can disrupt the healthcare industry.
As a result, they can provide doctors and healthcare specialists with software support to help with teleconsultancy or virtual consultations.
But it doesn't mean that you can't build your own telehealth SaaS business. It's a particularly good fit for vertical niches, for example, focused on one particular geography.
Pros:
High-growth industry.
The niche is ready to be disrupted.
Lots of funding available.
Cons:
Very regulated.
Complicated entry (lots of funding and support needed).
High risk of litigation.
2. Marketing Automation
One of the reasons startups fail is poor marketing.
Automating emails, SMS, and other channels is helpful in this fast-paced age. And platforms that facilitate marketing automation offer effective solutions that can streamline workflows and tighten marketing strategies.
The competition is brutal in the marketing SaaS space, but so is the market. Owning even 1-3% of the market is enough to build a huge and successful company.
Some inspiring companies in the marketing automation space are Omnisend, Klaviyo, and Mailchimp (which recently made a $12B exit).
Pros:
Huge market. Even a tiny market share is enough for a sustainable business.
Clearly defined user-needs (and pain points).
Straightforward GTM (easy to copy competitors).
Cons:
Very competitive.
Customers demand full-featured products since day 1.
Competing on price is close to impossible (many cheap alternatives out there).
3. Social Media Management
Billions of people use social media. And HootSuite, Buffer, and We Are Social are just a few companies that jumped on the bandwagon of social media management as one of the most brilliant SaaS ideas there is.
With social media management programs, the possibilities with regard to social media content are endless. For one, people can create, edit, and schedule social media content. They can also use the programs to help them analyze ways to make content more effective and reach out to the right audiences.
Starting a social media SaaS company is relatively easy, but the space is extremely saturated these days.
Pros:
Simple from the product perspective.
Well-educated users with clear expectations from the product.
Cons:
Very competitive.
The product needs to support all social media platforms.
Fast-changing API requirements and limitations.
4. Content Planning
"Content is king" is a familiar saying in the digital marketing sphere. It suggests the utmost importance of content. It also implies the need for rigorous planning and solid execution in the content creation department.
That said, it's no mystery why content planning is one of the genius SaaS ideas out there. Not only does it address the importance of a well-crafted content strategy, but it also offers support for content generation, competitive analysis, and optimization.
Creating a niche content planning SaaS product is definitely a great idea. The execution and marketing are going to be decisive, however, and you'll need to nail down both to succeed.
Pros:
Content marketing niche is exploding (growing demand).
Many early adopters who might be forgiving when it comes to product features.
Cons:
Smaller than other SaaS niches.
Unclear user expectations (easy to replace with free products like Docs).
5. Email & SMS Marketing Software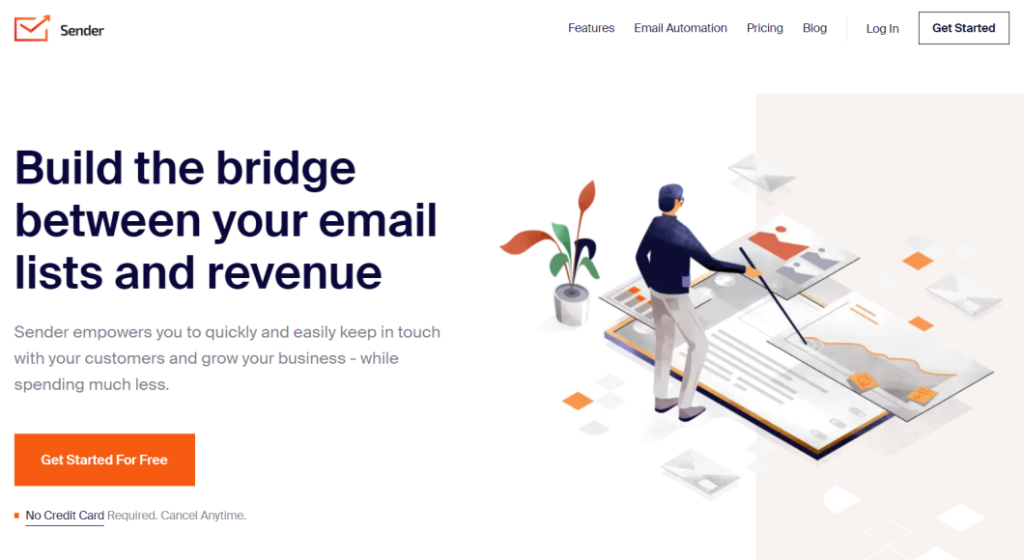 You'd be surprised how many marketers don't leverage email marketing or don't leverage it enough. That's a big mistake since it's so effective and usually brings many sales! And while we're still trying to explain how important email marketing is, there's also SMS marketing which is a total game changer for your business growth.Well, Sender has both.

Sender is one of the best email & SMS marketing tools there is while also offering affordable plans — letting smaller businesses grow without breaking the bank. With such features as marketing automation, segmentation & personalization, popups & forms, drag-and-drop builder with pre-made newsletter designs Sender is candy for most ecommerce businesses.
What's more, you can have all these things and more with a Free forever plan — perfect for starting businesses. And even paid plans start only from $8. What's not to like?
PROS:
Email & SMS omnichannel marketing in one dashboard;
Pre-made templates and user-friendly email builder;
Smart segmentation & personalization;
Popups & forms.
CONS:
Test emails could be sent only to one email address, not a list.
No landing page builder (yet).
6. (CRM) Customer Relationship Management
Inarguably, customer relationships are vital. Without customers, a business is left with nothing.
Big players like Oracle and Salesforce know about this. That's why they offer top-notch CRM programs. Of the many things, their CRM programs can collect, organize, and compile information from multiple communication channels, analyze customer behavior, improve customer experience, and more.
Want to take on the CRM giants? Then this SaaS niche is for you.
Pros:
Large deal-sizes (pricing per seat).
The space is ripe to be disrupted (old products like Salesforce are outdated).
Cons:
Very competitive.
Requires sales-led GTM (enterprise sales).
7. Video Creation and Editing
What makes this one of the best SaaS ideas is the lucrative and reassuring nature of video content marketing. Forbes, a highly reputable business magazine, reports that the viewership for video content will account for 82% of internet traffic.
Examples of well-known companies that shine in the video content marketing industry are NVIDIA and Adobe. Small businesses like VEED, Power Director, and Funimate are leaving their marks, too.
Pros:
Video content continues to explode (more demand).
An opportunity to disrupt the space traditionally dominated by large and complicated software like Adobe's Premier and After Effects.
The number of video rendering options is growing when AI entered this market. Look at the MidJourney or DALL*E 2
Cons:
Very competitive. Many free alternatives out there.
A large chunk of the potential users aren't ready to subscribe/pay money.
8. Team Communication
We live in a digital-led world, and the need for effective data exchange is important. If some matters get lost in the process, miscommunication happens. And if miscommunication happens, it's hard — if not impossible — to get everyone on the same page.
That's why designing one-of-a-kind solutions for team communication is one of the brightest SaaS ideas out there.
For one, there's Slack Technologies, a company that introduced a messaging app that offers hyper-organized chat rooms, private groups, and more IRC features. It's well aware of the imperative role team communication plays to accomplish projects. And it's on a mission to shape its proposed solution for the better.
Pros:
Great fit to experiment with the PLG (product-led-growth) techniques.
Per seat pricing allows for higher average deal sizes.
Cons:
Competitive space that gravitates towards monopolies (Slack and Microsoft Teams being the most popular products).
Data security and privacy concerns and requirements.
This idea requires huge investments in real-time communication technologies.
9. Virtual Assistant Bot
Again, we live in a digital-led world. And it's not always easy to stay in sync with its fast pace. But with the services that a virtual assistant can provide, you can see matters from a different perspective.
Virtual assistant programs like Ada and Enterprise Bot reduce the load of tasks for every digital marketer. For the most part, they interpret human language and help increase engagement with customers.
A good thing about this SaaS niche is that the products are quite simple in the nutshell. A fundamental (and the most challenging) piece of the puzzle, however, is marketing and monetization.
Pros:
The products are relatively easy to build.
Little customer support needed.
Cons:
Challenging monetization.
Saturated space with established products.
10. E-Invoicing
The accounts payable market will reach $1.5 million in 2025. Considering the increasing market size, the sphere of e-invoicing is looking at brighter days. And for this reason, it's one of the most profitable SaaS ideas there is.
Tools like Beanworks, NoBrokerHood, and Swipez Billing are ahead of this market trend. Small companies are also about to follow suit.
Note that in this SaaS niche the customer trust is everything. If your background is directly related to the finance industry, it'd certainly make things much easier.
Pros:
Huge (and growing) market.
High retention and LTV (lifetime value).
Cons:
Most companies would expect enterprise features (single sign-on, data compliance, security certifications).
Requires significant investment into sales and marketing.
Requires constant upgrades since this field is subject to government regulations
11. Accounting
SaaS-based accounting is also one of the promising and outstanding SaaS ideas out there. Because they're designed to handle piles of accountancy tasks, they help businesses gain in-depth knowledge of cash flows and financial data.
Take it from companies that introduced Sage Intacct, SaaSoptics, and QuickBooks. Their programs manage taxes, payments, and financial reports.
Pros:
Possibility to target a smaller and focused niche (for example, build an accounting software for a particular country or an industry).
High retention and lifetime value.
High average revenue per contract.
Cons:
Highly specialized product. Requires industry experience.
This SaaS niche requires a strong sales team to successfully go-to-market.
Requires constant upgrades since this field is subject to government regulations
12. (KPI) Key Performance Indicator Tracking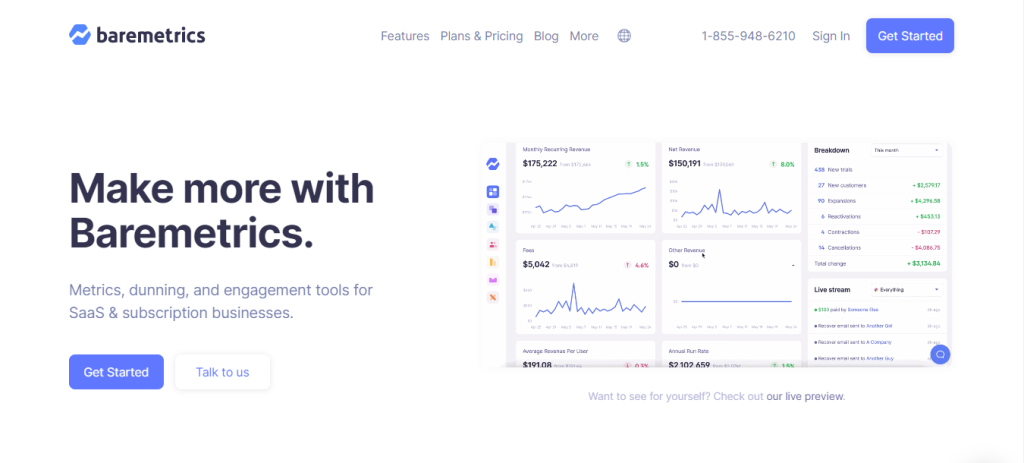 The demand for KPI products is massive. And this shouldn't come as a surprise considering KPIs hold the secret to a company's performance.
The people behind Baremetrics, a subscription-based service that provides actionable insights, dipped their toes into the industry. And by the looks of it, things are going great for them.
Pros:
Easy go-to-market (every organization needs KPI management).
Growing market (as more traditional companies are adopting project management techniques and principles).
Cons:
Enterprise companies would expect very full-featured products and enterprise security features.
13. Bookmark Managers
Nowadays, many people are struggling to organize all their collected information. And not a lot of SaaS ideas or any business proposals are designed to address that issue. This one is an exception.
Bookmark managers like WebCull, other chrome extensions are great micro SaaS ideas that allow users to bookmark websites. Then the programs store the bookmarked websites and pull in relevant information when the user asks.
Pros:
Easy distribution thanks to the marketplaces and app stores.
An easy product to build.
Cons:
Challenging monetization (users unwilling to pay).
Highly saturated space.
14. Cloud (ERP) Enterprise Resource Planning
Market trends show that developing a solution for planning, human resources, and finance departments is a winning idea. The said solution can help provide analytics and manage accounting tasks, on tip of streamlining a company's workflow.
Microsoft and Oracle are two of the big names that recognize the brilliance of cloud ERP. Because they understand the value of ERP systems, they help create more accurate operations, centralize data sources, and weed out unnecessary workers.
Pros:
Very profitable niche, with high average revenue per contract closed.
The space is ready to be disrupted (traditional solutions are quite outdated and might not satisfy the current requirements of the market).
Cons:
Very challenging and long sales cycles with enterprise companies.
Very competitive, with established players owning the space.
Requires a lot of funding and investment to enter the market.
15. CRM for Freelancers
Those in the freelance sector are aware there's a wealth of ideas available in their department. That's why companies that introduced CRM for freelancers (like Insightly and Base) are on the right track.
Freelancers need help with the organization of the kind of data they need. Yes — they would appreciate tools that have features like Import Contacts, 2-Way Emails, and Pipeline Management.
Pros:
More focused SaaS niche (sub-niche of the CRM software).
Easier distribution (directly to customers).
Cons:
Lower ARPU (average revenue per user) than CRM software for enterprise companies.
Not all freelancers need (or use) CRM systems, which means that additional investment might be required to educate the prospects.
16. Workforce Management
After the Covid-19 pandemic hit, managing the workforce has become strenuous. And tools that aid in managing the way people work are useful — nay, essential — to keep employers from struggling.
Thanks to businesses that offer tools like Paylocity and flair.hr. Because of the tools they introduced, they're saviors in the eyes of those employers.
Pros:
Large deals (pricing per employee for SMB and enterprise companies).
Exploding niche due to the remote work becoming a norm.
Cons:
Complicated marketing and sales (lots of competition, long sales cycles).
High enty barrier product-development-wise.
17. In-Detail Pricing Plans
Services are widely available for purchase on the internet.
But while that's a good thing, it also opens the door for a range of new problems when service providers change their prices. So consequently, finding accurate pricing information can be challenging. Some micro SaaS businesses have already built such apps, for example, Data Crops and other tools like it. With them, the problem goes away.
It's a brilliant and not-too-competitive SaaS niche. Build your own product?
Pros:
The SaaS niche isn't too saturated.
No sales team necessary (marketing-led GTM).
Cons:
The product development might be complicated and non-trivial.
You might require a strong customer support team from day 1.
18. E-Learning Platform
"Navigating the digital world is challenging," said no one ever with a solid set of tech skills. Nowadays, if you're not tech-savvy, you'll be left behind.
Want a job in Digital Data Design and Visualization? How about in the Data Science industry? You need tech skills.
So if you develop programs that can help people enhance their tech skills, many people will be grateful. According to The Brookings Institution, a DC-based non-profit policy organization, technology and the IT sector are becoming more and more important to America's economic growth.
Pros:
The e-learning space is exploding.
People are increasingly willing to pay for online education.
Cons:
The space is dominated by large companies that already have a ton of high-quality content.
Marketing and sales is very complicated.
19. (OKR) Objectives and Key Results Tracker
OKR trackers provide actionable insights and measurable progress reports. Because of these programs, employers can reap the benefits of effective employee collaboration, transparency, accelerated performance, open communication, and more.
The people behind OKR software like Ally, Profit.co, and Adobe understand that OKR tools are relatively new to the market. And this is what makes them one of the finest SaaS ideas for new entrants.
Pros:
The niche is growing (OKR methodology becoming more popular year-by-year).
The products are relatively straightforward to build.
Cons:
A sales team is needed to sell to larger companies.
Bigger companies would require enterprise features.
20. Property Management Platform
The real estate market is a massive industry. And of the problems that real estate owners have is managing diverse portfolios. While this could remain a problem, apps like Buildum, TenantCloud, AppFolio and Smart Apartment Data came to their rescue.
Building your own properly management software is a brilliant SaaS idea. Be sure to do a good job at the customer development, however, since your clients are likely to be very particular about their needs and expectations.
Pros:
Very focused vertical SaaS niche.
Relatively straightforward marketing-led customer acquisition.
Cons:
Industry experience is required to build a good product.
21. Sales Tracking App
Keeping tabs on sales may be time-consuming. But it's an essential task for every e-commerce business.
By developing a sales tracking app, you can assist businesses with an essential task. From then on, it's up to you to create an app that can help you outperform competitors. Truth be told — it's a given that you'll always have competitors.
Not to worry, though. HubSpot Sales and Fresh Sales presented sales tracking systems to the public. And they're faring well in this area. Why not create a competing product?
Pros:
Relatively easy to build.
There's a lot of demand on the market (both B2B and B2C).
Cons:
Selling to sales people is complicated.
Great product when part of a larger suite of products.
22. Virtual University
Transforming to a virtual university seems logical nowadays. This grants students the opportunity to access their courses anytime and anywhere.
A fun way to do this is to design an app featuring a unique version — and better yet, a gamification-style version — of a university campus. To increase their level, students will have to use the app to attend classes, participate in events, play university games, and more.
Sounds great? Build this SaaS product now.
Pros:
Large market that's rapidly growing (universities digitalizing at a rapid pace).
Cons:
Selling to universities is complicated (long sales cycles, lots of requirements).
Building a product is likely to be challenging (many features to think about).
23. Online Form Builder
Every business needs to build an online form at some point. That's why online form builders are so popular, and why this niche is one of the largest and most competitive in the SaaS space.
Want to join the race? Build your own product and see if you can take on Google Forms and Paperform.
Pros:
Most market leaders have inferior products with limited functionality (Google Forms or Microsoft Forms).
Marketing is quite straightforward. Sales team is optional.
Cons:
Red ocean SaaS niche (very competitive).
Going upmarket requires enterprise features and special compliance like HIPAA.
24. Design Software App
Design is one of the most lucrative and largest SaaS niches out there. If you now a thing or two about graphics, you might consider creating your own design software app and try to take a slice of Adobe's market share.
A few interesting companies operating in the space are Vectornator and Pixpa.
Pros:
Huge market with various categories of users.
Both individuals and companies are willing to pay for great design software.
Cons:
Very challenging product development (graphics space is notoriously difficult).
Big established players in the space make marketing and sales difficult.
25. Payment Gateways
The subject of payment gateways isn't often talked about. But it's vital. So here's a genius idea: develop an easy-to-use and universal payment system.
Design it in a way that supports various payment methods. If it can guarantee that people will use it to solve their financial issues, you're looking at a gold mine.
Pros:
If executed well, huge financial upside for the founders.
Very hot space.
Cons:
Very regulated and complicated space to operate in.
Requires a large upfront investment into product development and marketing.
26. Feedback Management Tool
SMBs (small and medium-sized businesses) can appreciate feedback management tools like Canny. They can use it to manage positive and negative customer feedback.
What makes developing a feedback management tool a brilliant SaaS idea? It enables businesses to build quality customer relationships.
Pros:
Perfect for niche bootstrapped businesses.
Easy marketing (no sales team necessary).
Possibility to leverage the PLG (product-led-growth) motion.
Cons:
Going upmarket is complicated (sales function becomes a must-have).
Demanding customers.
27. Employee Engagement Platform
According to Gallup, 21% of businesses with engaged employees are more profitable. But while the importance of engaged employees is known, not a lot of employers are investing in it.
So why not consider jumping on the opportunity and building your own product?
Pros:
Large market and a trending topic (employee engagement).
An opportunity to charge high prices on the recurring subscriptions.
Cons:
Data security and other enterprise features are a must-have.
Potentially long sales cycles with larger companies.
28. Workplace Productivity Platform
The matter of workplace productivity is complicated. But it's not something to brush off.
That's why if you're looking for the next big thing where SaaS ideas are concerned, dare to do something about it.
Take it from a company like Sapience. It continues to provide innovative workplace productivity solutions.
Pros:
Workplace productivity is a hot topic nowadays.
Lucrative SaaS niche (large annual contracts).
Cons:
Enterprise customers (longer sales cycles).
High expectations from the product and customer support.
29. Roadmap Publishing Tool
A well-defined roadmap can propel you to success — as long as you follow it and perhaps course-correct along the way. But building a roadmap isn't easy.
Some impressive roadmap publishing tools are Dragonboat and Wrike. You could replicate the footsteps of the people behind them. Better yet, why not set out to design a unique and more effective roadmap publishing tool?
Pros:
The demand for roadmap planning and publishing is increasing (correlates with the growth of the software & SaaS industries).
Cons:
You'll need a sales team to go upmarket.
You'll need deep niche expertise to succeed.
The customers might be very demanding.
30. Interview Tracking System
Recruitment processes are exhausting. If you're the one in charge of recruitment, you need to track each candidate, make appointments, prepare assessments, and more.
Inarguably, the process would be a lot simpler if you have an interview tracking system.
There are plenty of these systems lying around, Pinpoint and flair.hr being two great examples.
Pros:
The product is relatively straightforward to build.
Possibility to target both B2C and B2B customers.
Cons:
Very competitive and saturated space.
Building integrations is crucial to making the product usable.
31. Stock Market Valuation Tool
Many people adore the idea of investing in the stock market. The problem is, they're not the sharpest ones at it. Notably, they don't know if a specific stock is valuable or not.
Fortunately, you can make their problem go away by directly addressing it and developing a stock market valuation tool like Finbox.
Pros:
The niche is on fire as the interest in stock market trading is constantly going up.
The product does not necessarily need to be challenging from the technical perspective thanks to the widely available APIs.
Cons:
Very volatile space.
Dangerous from the standpoints of liability and litigation.
32. Investor Journal
Wanting to take stock market investments seriously means preparing to record buy and sell action — every single one of them. This isn't a concern if you're a long-term investor who buys and sells stocks five or so times a year.
But if you're into arbitrage and execute trades at least 50 times a day, you need an investor journal of sorts.
Pros:
The product is quite simple to build.
No sales or support team necessary.
Cons:
Marketing and spreading the word might be complicated.
Experience in investing required to build a worthy product.
33. Virtual AI Chatbot Solution
According to the United States Census Bureau, the world has a population of 7 billion — and this increases every year. And out of that whopping number, about 2 billion are digital buyers.
That said, there's a market for people who buy online goods and/or services. Accommodating them manually is doable, sure. But that's not a practical idea — letting a virtual AI chatbot is!
Pros:
Perhaps one of the most accessible and easiest SaaS niches product-wise.
A lot of demand from the consumers (B2C) right now.
Cons:
Low pricing and challenging monetization.
Low retention and LTV (lifetime value).
34. Travel Itinerary Platform
People like to travel. The US Travel Association, a collective of member organizations in charge of the $1.5 trillion travel industry in the US, reports that 61% of travelers are happy with their physical well-being.
They admit, though, there's a downside. With the satisfaction that travel brings comes the tiring nature of creating a travel itinerary.
Now, this is your opportunity to shine. You can create a travel itinerary platform like Travefy or Umapped.
Pros:
The industry is growing fast in the post-pandemic world.
Not too many existing solutions on the market.
Cons:
Customer success and sales teams are required for a smooth go-to-market.
Close links to the industry would help a lot to build a better product.
35. Email Delivery Solutions
Email marketing is a lucrative channel. And you can make the most out of it by providing an email delivery solution.
There are gazillions of outstanding service providers in this space. Sendinblue, MailChimp, and ActiveCampaign are a few worth mentioning. Why not build a niche competitor and capture some market share in this niche?
Pros:
Huge market. Owning even 1% is enough to build a thriving software company.
Cons:
Very competitive niche.
High product entry barrier.
36. Password Manager
People rely on their memory when keying in passwords. And according to StatCenter, an app development platform, the average mobile user installs 80 apps on their phone.
This suggests there are 80 login credentials they need to memorize. If they can easily memorize them all, that's great, congrats. But why not inform them that they don't have to?
To offer them a solution, dive into password managers. Businesses that succeeded in doing so are those behind 1Password and LastPass. Why not build an alternative to one of these tools?
Pros:
Hot space since the cybersecurity awareness is on the rise.
Many alternatives with either weak products or weak distribution channels (an opportunity to excel and move into the niche).
Cons:
Very high requirements to the product (security, compliance).
You'd need to build a sales team to move upmarket.
37. Digital Asset Management (DAM) software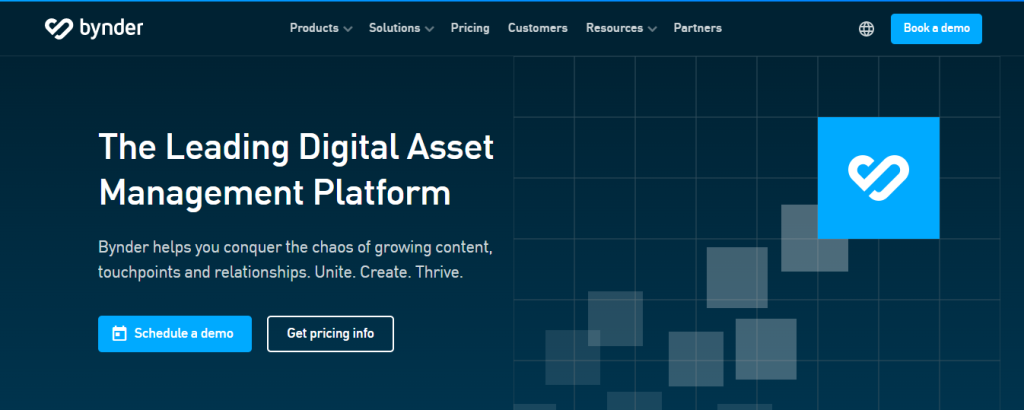 Source: bynder.com
DAM software is a SaaS solution that helps businesses manage and organize their digital assets such as images, videos, and documents. DAM software provides a central repository for businesses to store, manage, and distribute their digital assets. It allows users to search for specific assets, edit and transform files, and share them with others. DAM software is particularly useful for marketing and advertising teams, creative agencies, and media companies that deal with large amounts of digital assets. With the rise of visual content marketing, DAM software has become an essential tool for businesses to streamline their workflow and enhance their brand consistency.
Pros:
DAM software provides a centralized location to store all digital assets, making it easy to organize, search, and retrieve them.
DAM software enables team members to collaborate more efficiently by providing access to the same files and eliminating the need for email attachments or manual file sharing.
By streamlining the process of managing and distributing digital assets, DAM software can save time and reduce costs associated with manual file management.
Cons:
Some DAM software can be expensive, especially for smaller businesses with limited budgets.
DAM software may require some training to use effectively, which can be time-consuming.
Integrating DAM software with other tools and platforms can be challenging and may require technical expertise.
Digital assets can be sensitive, and businesses need to ensure that their DAM software has robust security measures in place to protect against data breaches.
Conclusion
So these are 37 of the best and most promising SaaS business ideas.
If you need help with your ideas, get in touch with the experts at SumaSoft. On our website, you can view our team's portfolio and check out what we do. Our crew can help you with SaaS product conceptualization, strategy development, UI design and development, rapid prototyping, SEO and other related services.
More to read
Have a SaaS idea (or you want to develop another idea) that's not included here?
Go ahead and consider pursuing it. Before anything else, though, understand that you're in the discovery phase. This means that you need to conduct intensive research, create a solid strategy, and strive to be a game-changer in the industry first.
You are here
2 Discuss it with our expert
3 Get an estimation of a project
Thank you!
Your form was successfully submitted!