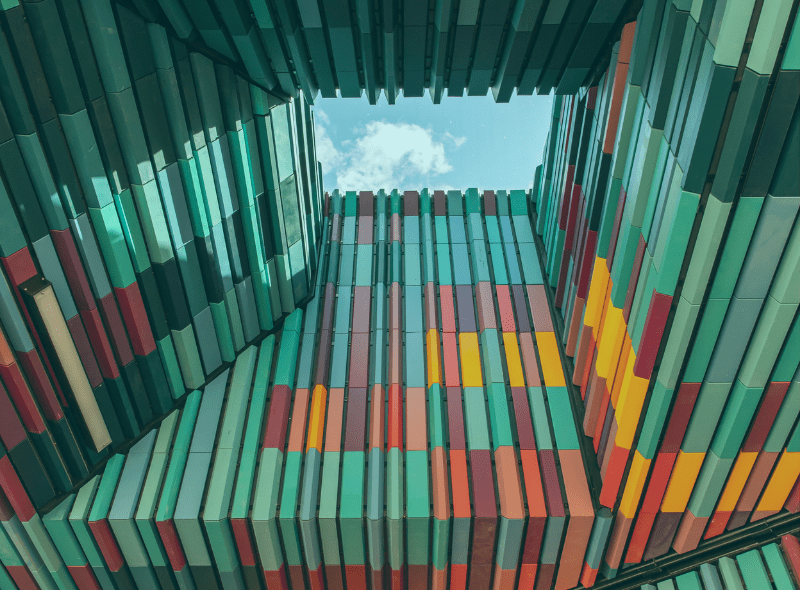 The internet, in recent times, has become an indisposable tool as it can be used for nearly anything, from sourcing educational information or performing business transactions, to simply staying entertained. Most internet users access this useful resource through another novel and equally valuable piece of technology, the mobile phone.
Designs are an important aspect of our lives, we see them in the apps we interact with, the tools we use, and even the way we arrange our food. As mobile phones and mobile apps become more and more commonplace, apps with simple, creative, and easy-to-use designs are in high demand.
This resource has been carefully devised with this in mind. It contains everything you need to know about mobile app design, from the best app designers to the best app design inspiration examples. Our team of skilled and talented designers has selected the most stunning and well-thought-out designs on the Internet. No more words, let's go to the article!
What are the Best App Designers?
This is a common question design enthusiasts and those who seek the service of designers tend to ask, particularly if they have some interest in mobile app design or UI design, or if they have built an app that requires UI design. Luckily, we've curated content showcasing some of the best app design companies in the world.
SumatoSoft is an international software development company that develops stunning software solutions and also builds breathtaking UI and UX design as a separate service. SumatoSoft's talent pool of designers creates human-centered designs for websites, web applications, mobile apps, and complex interfaces. A great example of such design is the design of the SumatoSoft website since it is an award-winning design solution according to CSS Light. Thanks to open and clear communication and well-established processes SumatoSoft always delivers valuable results on time, thus becoming a reliable technological partner for many companies.
Kroon Studio
Based in Belgrade, Serbia, and founded in 2011, Kroon Studio is a software development agency with a focus on UI/UX design. They have designed several apps, including Lykke, Hasler, and class tag. Unlike a typical design agency, they go beyond design to ensure the proper development of products in line with customer expectations. You can check out the rest of their portfolio here.
Appetiser App Development
Appetiser App Development, also known as Appetiser apps, is a mobile app development company founded in 2016. Appetiser Apps is skilled in creating successful products, and boasts an invention reportedly worth about 17 million USD, according to Telstra. They have worked with several companies, such as Good Empire and HiLo. They are currently based in Melbourne, Australia. You can view the rest of their portfolio here.
Hedgehog Lab
Hedgehog Lab is a digital product consultancy based in Newcastle, England. They were founded in 2009 and they specialize in mobile app development and UI/UX design. They have worked with big-name brands such as Kodak and Deliveroo to create lasting solutions in the tech space. Hedgehog Lab also has offices in London and Boston, USA. You can learn more about them here.
UX Studio
UX Studio is a design agency based in Budapest, Hungary. They have worked with several big-name companies including Netflix, HBO, and KBC, as well as several other startups. They are a design-focused agency and believe in using product design and user experience research to solve problems for emerging and established organizations. You can learn more about them here.
What Makes an App Well Designed?
Now you know the top designers in the mobile app design game. But what makes an app well-designed? What are the criteria for judging a great design from a poor one?
According to experts, the defining qualities of a successful UI design include functionality, ease of operation, and aesthetics. Essentially, a good design must perform the function for which it is made, must be easy to use, and must be aesthetically pleasing. Typically, successful app designs will have creative and artistic concepts executed in clean and uncluttered layouts.
These kinds of designs are guaranteed to improve user experience and are thereby always an instant success.
Another key metric in a well-designed app is the features inherent in it. Color choices are also an important aspect of well-designed applications.
A well-designed app should be less cumbersome and very simple. It should make it easy for users to grasp and interact with the interface easily.
Sumatosoft has imbibed these principles and hacks into their design process and can churn out appealing UI designs for mobile, web, and cross-platform solutions. A properly designed app should also be intuitive and easy for users to interact with minimal guidance.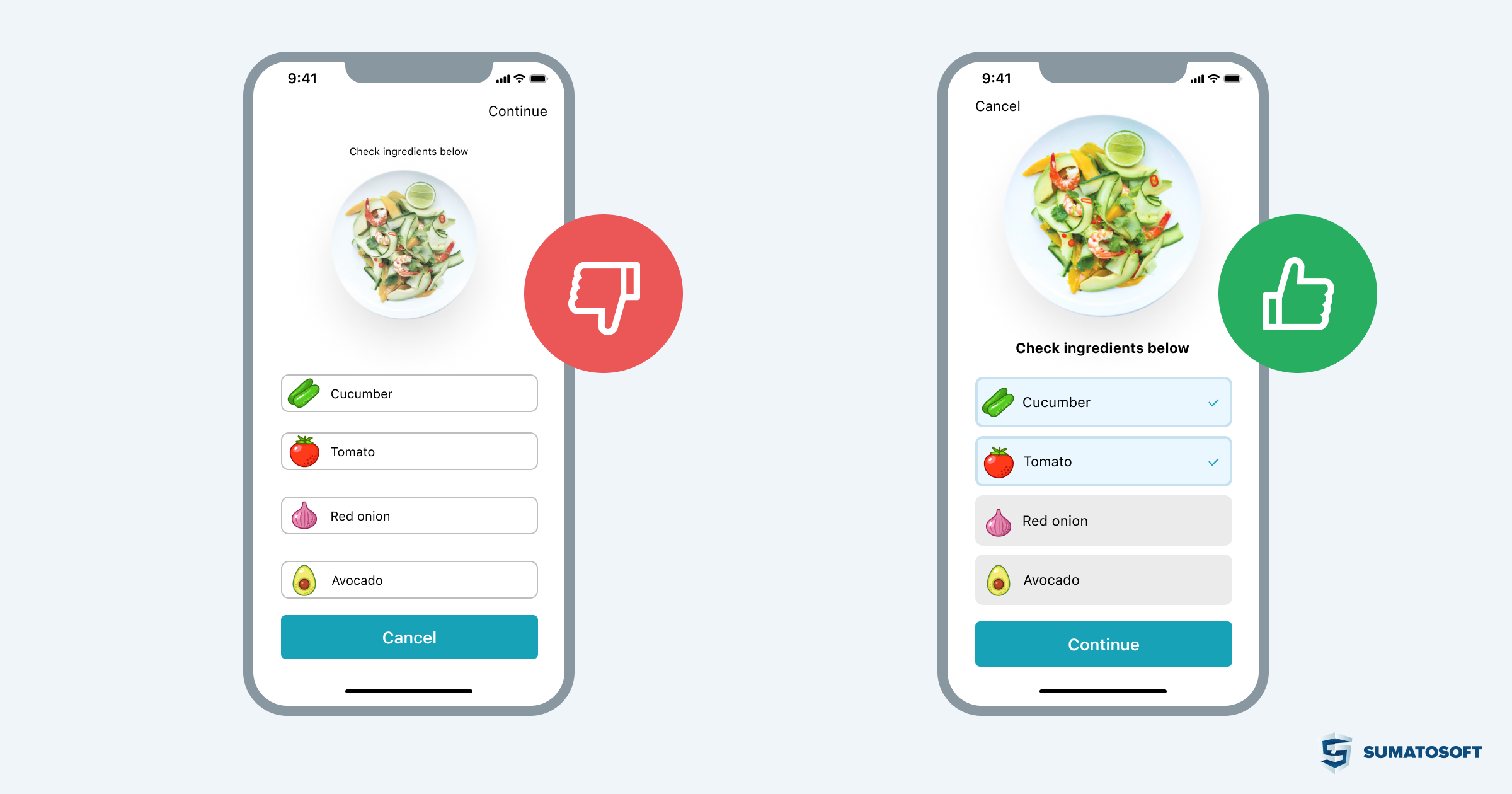 App Design Inspiration Examples
Now that we've covered the basics of what makes a good design, as well as some of the top designers across the globe, it's to explore some of the cleanest, savviest app designs the internet has to offer.
Venmo
Venmo is a digital wallet app used to make and request payments online. Using two main colors, blue and white, Venmo's UI is tidy and simple to use, whilst communicating a sense of dependability. The app has gone ahead to serve over 40 million users and over 220 million customer accounts. They are quite agile in their approach to product development and are focused on servicing a single client per time as opposed to taking up multiple projects.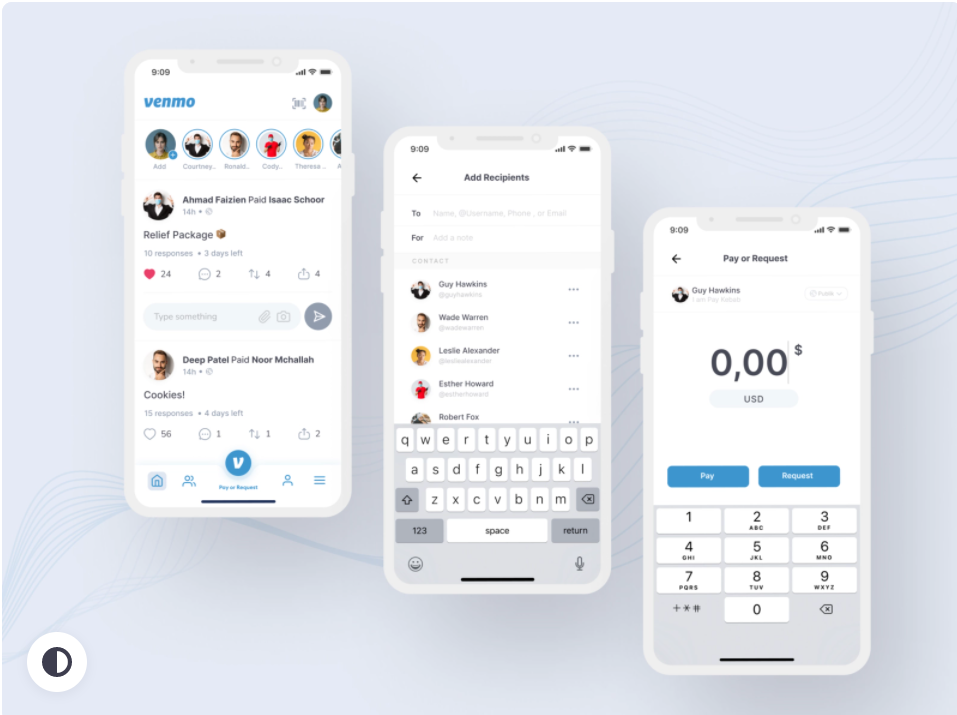 Insleep
Insleep is a mobile app UI/UX design concept designed by Daria Moroz, used for relieving stress and improving sleep quality. The combination of dark blues and light grays creates an instantly calming atmosphere for the user, which synchronizes well with the concept.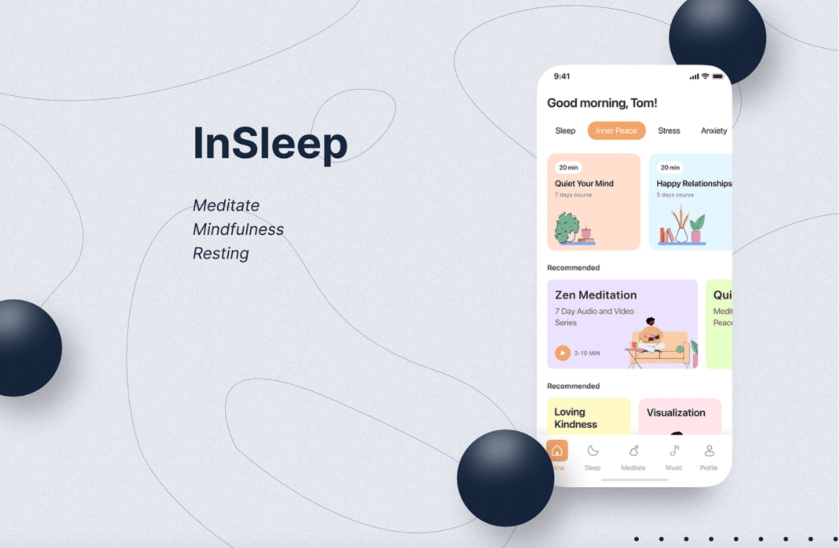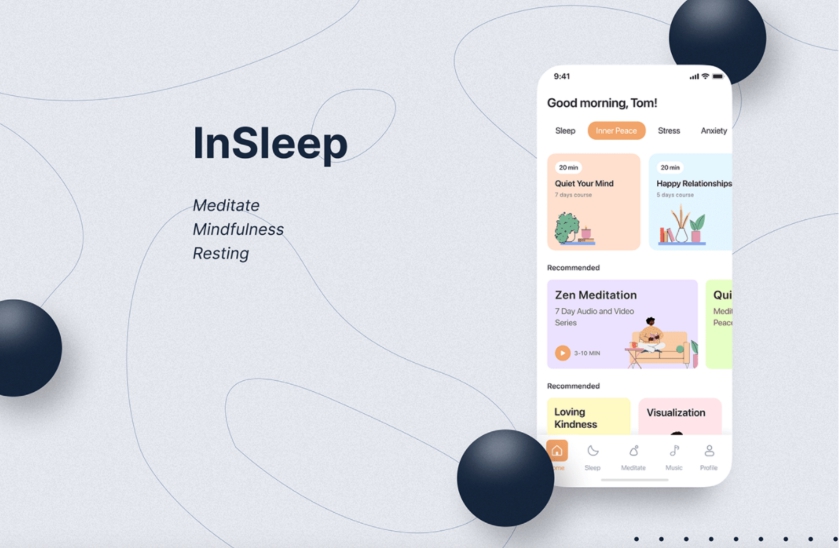 Hydration App
Designed by Andrei Simion, this app was created to help keep track of water drinking habits, ensuring the user stays hydrated. The app enables users to set reminders to help them drink more water via notifications and also monitor their water drinking history. Water is life.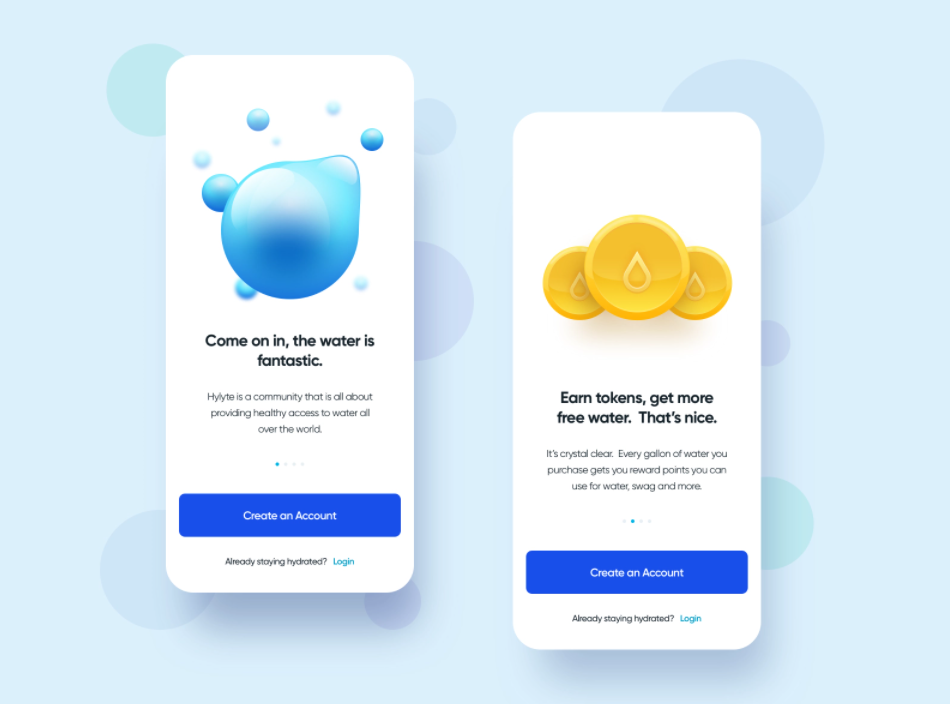 Warby Parker
Warby Parker is an online glasses store created for shopping eyewear, from sunglasses to prescription glasses. The app also allows for virtual vision tests. It is incredibly easy to use and the clean white background makes for a tidy design.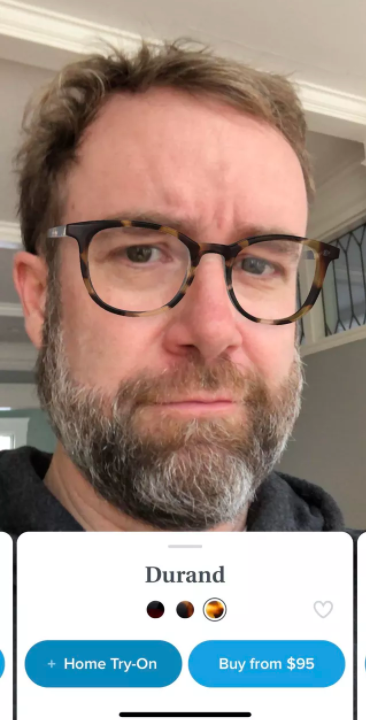 Coursera
Coursera is an online course provider which partners with universities and other institutions to offer online courses. The design is one of the most excellent app design examples that you can find on the Internet. It is aimed at creating interactive and ideal learning for students and participants in MOOCs. The design is optimized for easy navigation for tons of courses that might be of interest. Coursera is a good example of custom educational software.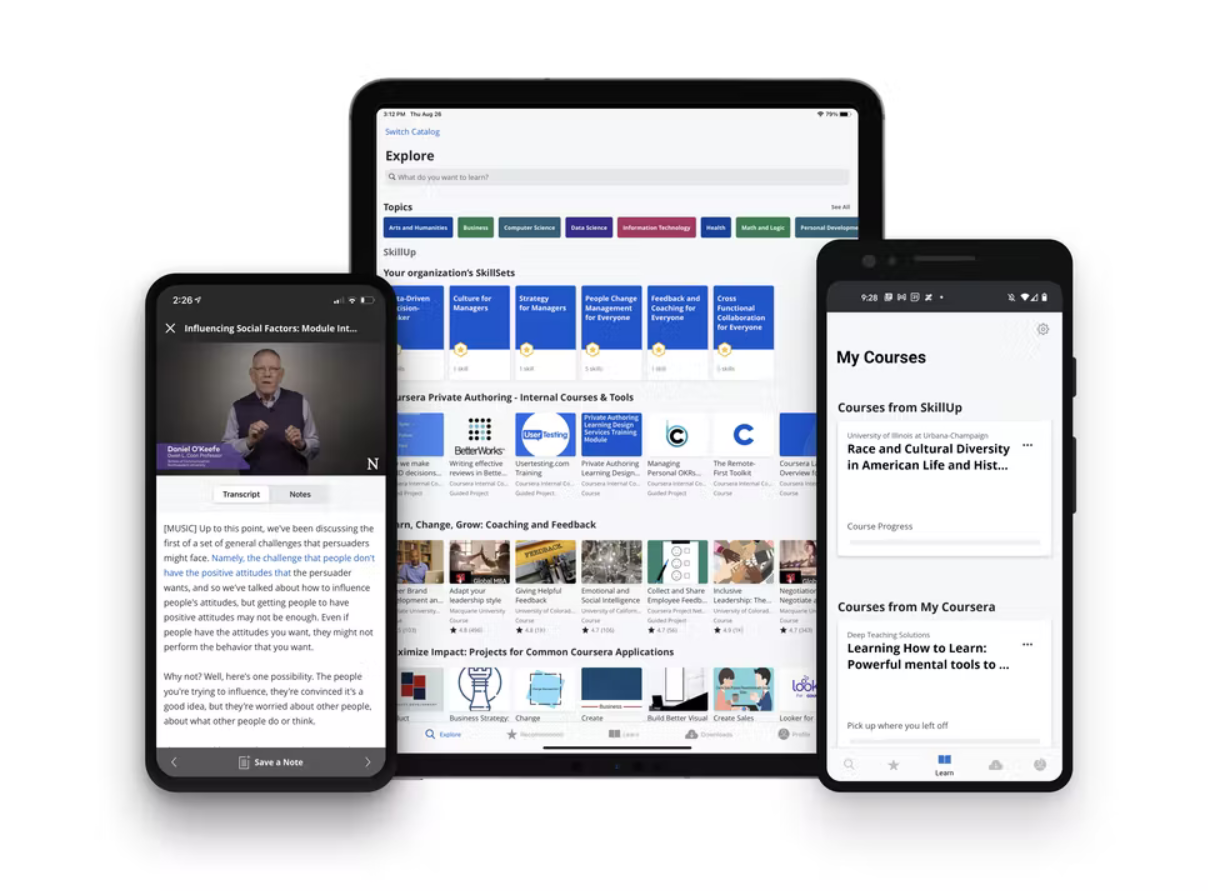 Weather App
Dribbble Designer Vitaliy Dorozhko designed this creative weather app. The app allows you to view weather updates in your preferred location over a period of time.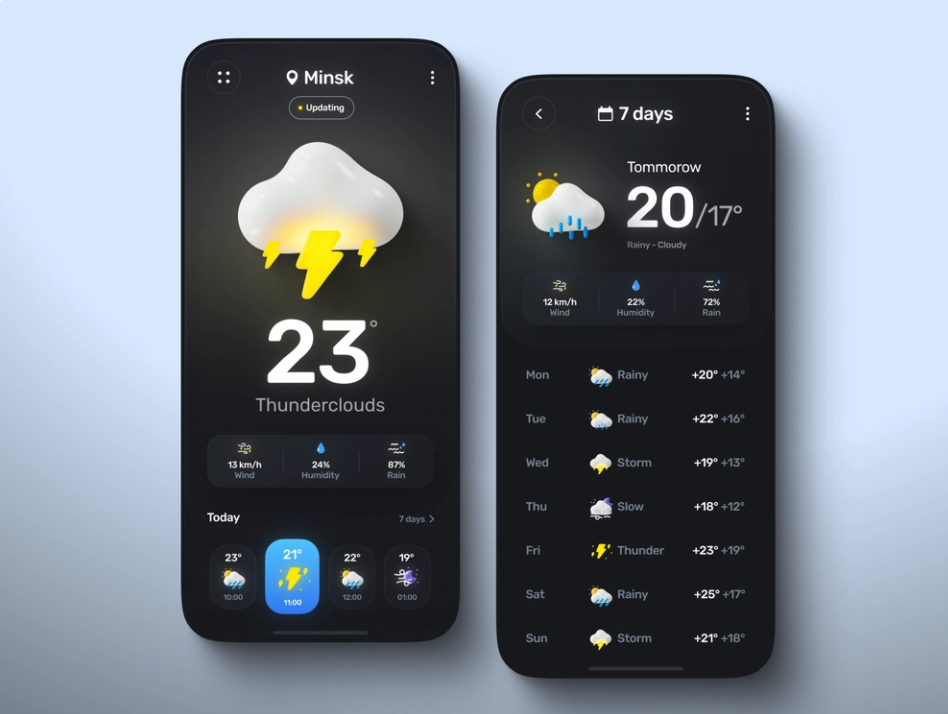 Spotify
Spotify is a music and podcast streaming app created in 2006. It boasts a sleek and modern UI that has been an absolute hit with users. The navigation and search function makes it easy for users to find their favorite songs, artists, and playlists. It's also easier for users to submit their podcast to Spotify thanks to the simplified version of the platform. The inbuilt music player also boasts of an appealing interface that allows you to interact and give you a delectable experience with your favorite songs and podcasts.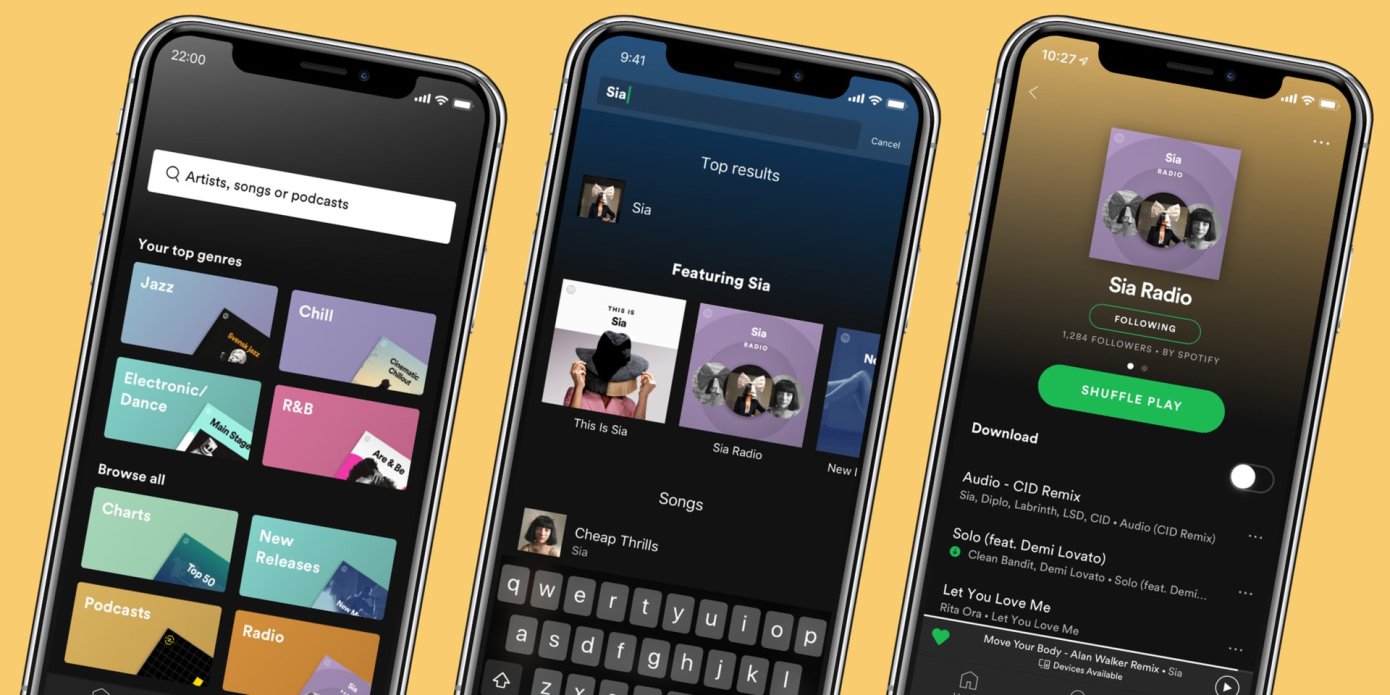 Mint
Mint is an online finance planner app that helps user track their budget. The app's UI is both clean, creative, and functional. The app allows users to seamlessly perform financial activities like bill payments, loans, and other financial aspects of everyday life. Designing for financial services has to be very user-centric and Mint has excelled in this regard.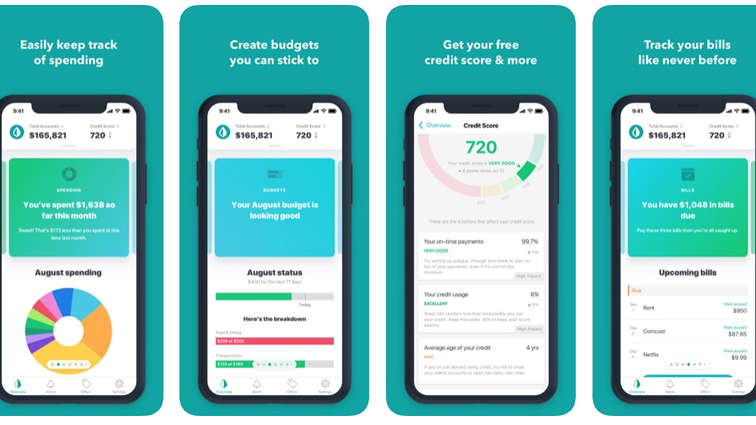 Done! Goals App
This app is a simple app for tracking the user's habits, helping them to complete set goals and improving their lifestyle.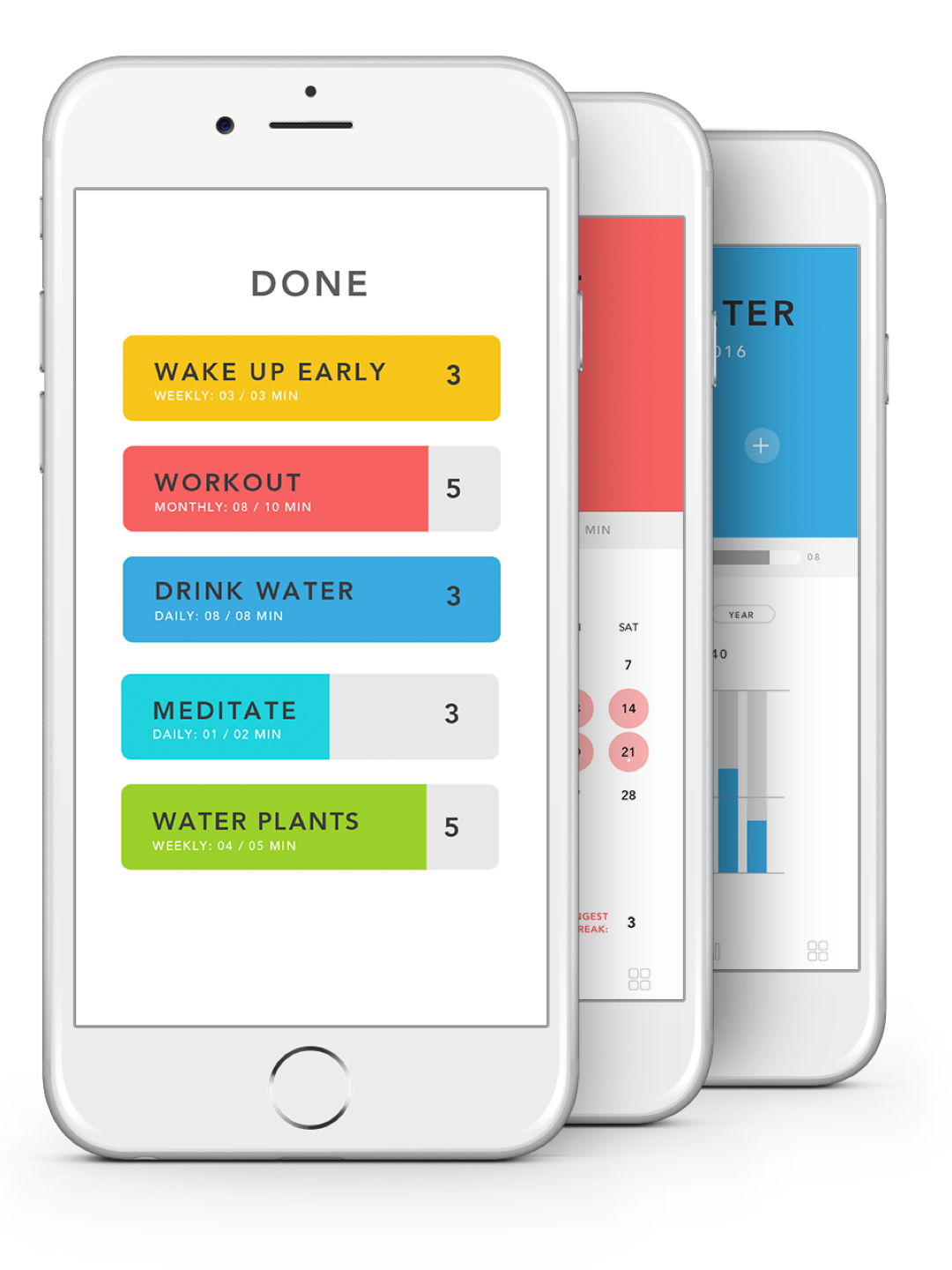 BlockFi App
BlockFi is a cryptocurrency exchange app that allows users to buy and sell cryptocurrency. The UI also incorporates themes of blue and white to communicate dependability and trust. The design embraces functionality by giving users an overview of markets and helps them review the prices of their preferred cryptocurrencies in real-time.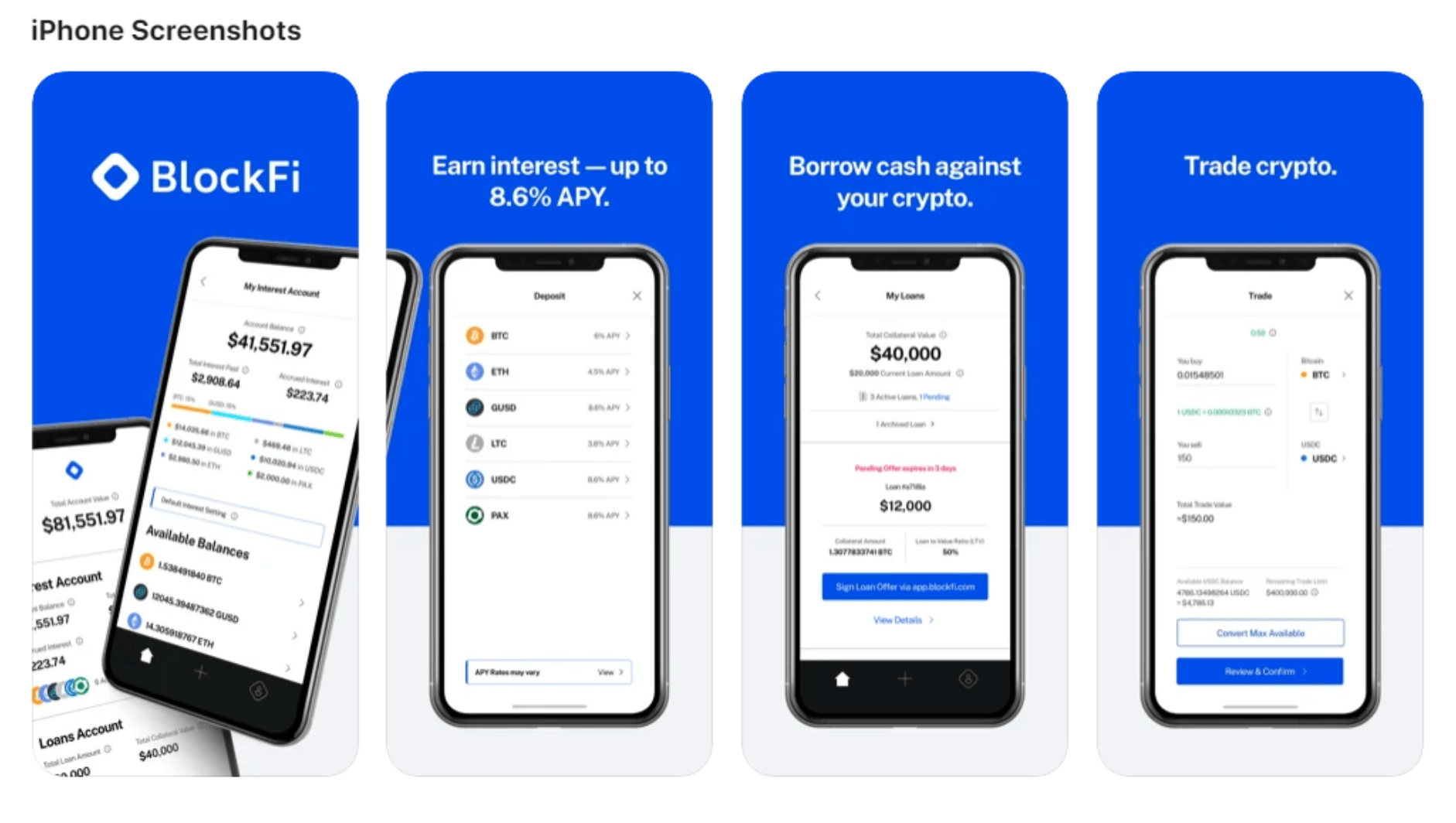 Medicine Reminder App
Dribbble Designer Farrel has designed this creative and aesthetically pleasing app that reminds the user when to take their medicine. The design embodies ease of access, and colors that pop, and also highlights the user's history.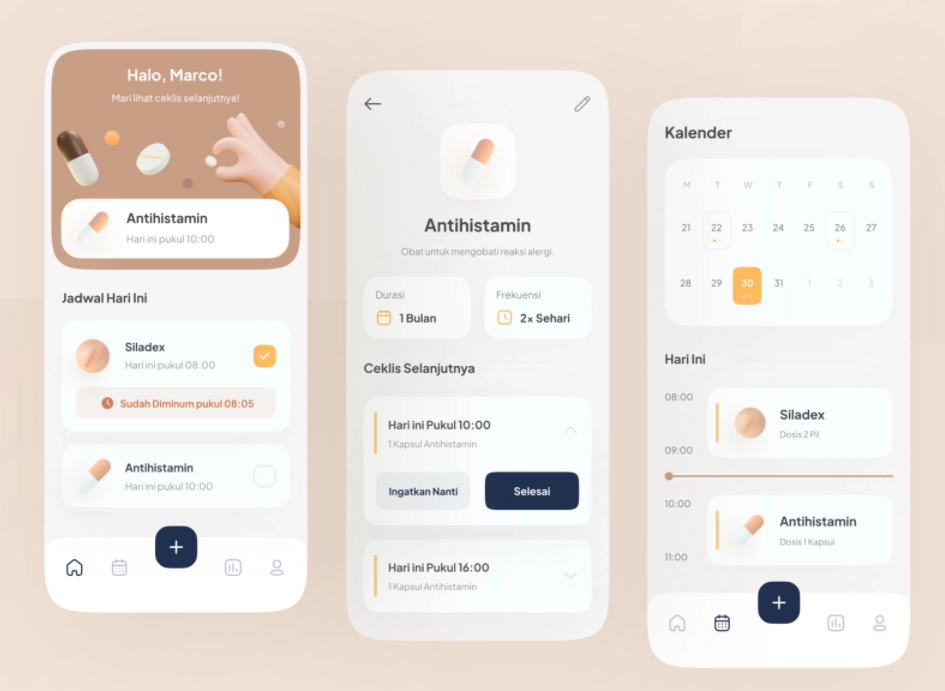 Alto's Odyssey
Alto's Odyssey is a single-player, endless runner video game. The game boasts minimalistic yet beautiful visuals which make for an overall pleasurable experience. The edge it gets is from the fascinating graphics and User Interface that make gaming memorable for individual users. Gaming design has a bit different in dynamics from product/UI design and it is nice to see what is being done with Alto's Odyssey App.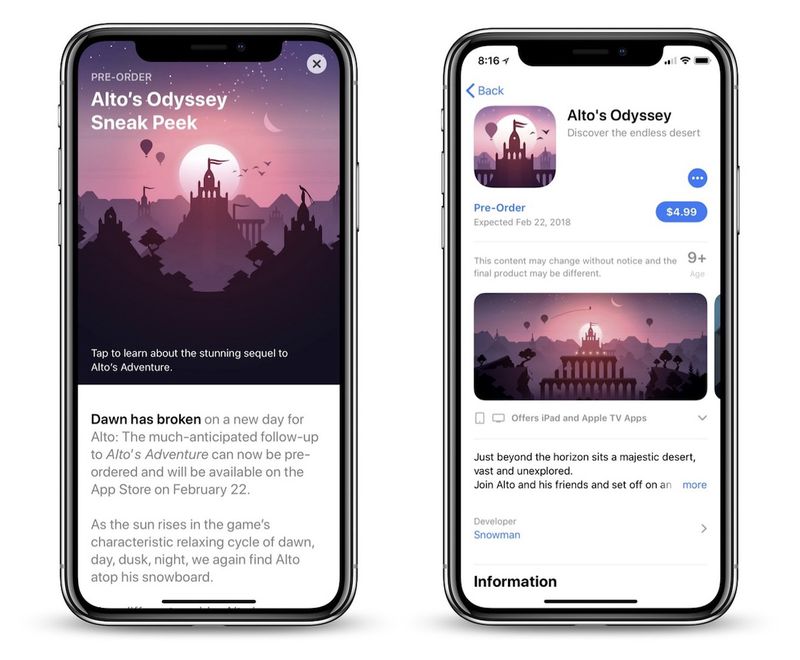 Air BnB
Air BnB is an American-based company that provides rental services for tourists. Their mobile app design is an extension of their website in terms of design and functionality. The consistency in design and brand makes it easier for users to navigate both interfaces seamlessly. The design also allows users to easily browse through rentals they might be interested in and engage property owners too.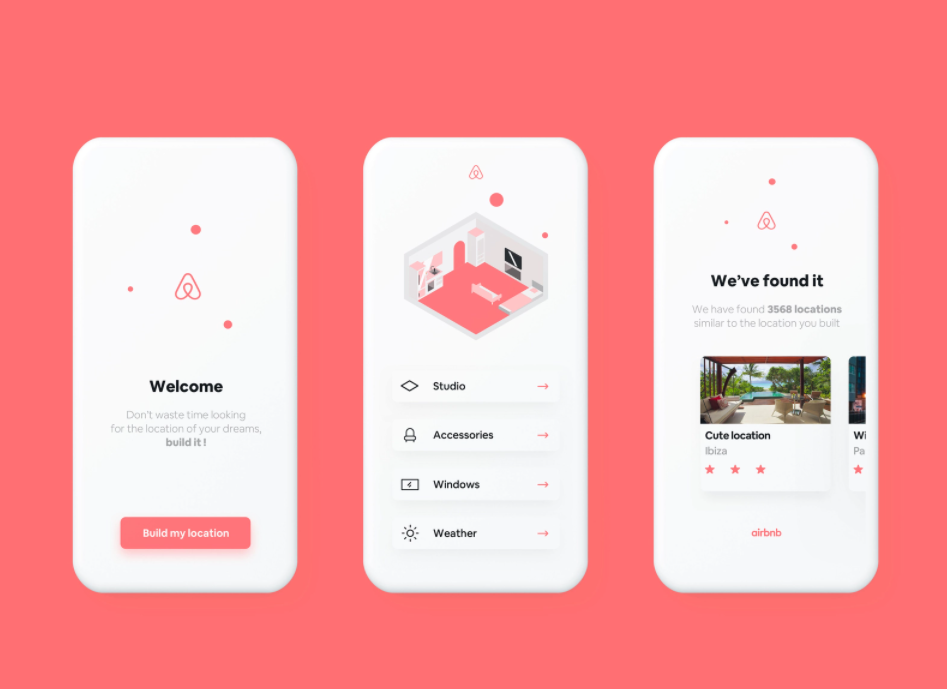 Medium
Think of a library for articles across various disciplines and you get Medium. Medium is an American online publishing platform founded in 2012. The app boasts a sleek and creative UX design, incorporating themes of only black and white. They have a top-notch user experience that optimizes scrolling and makes the reading experience more interesting.
ESPN App
ESPN is a popular sports streaming service. Recently, they have built an app designed to bring more content to the user. The app enables users to view sports information about their favorite sports and teams. The app is optimized for users to be able to view content from multiple sports and feeds in an orderly arrangement.
Wolly Bear Coffee Cafe
Designed by Dribbble Designer Swati Nirwal, Wolly Bear Coffee Cafe is a restaurant cafe app. The UI boasts bold and vibrant colors with a clean background, which overall makes for a lovely UX design. The design allows users to make reservations ahead and view information about the cafe.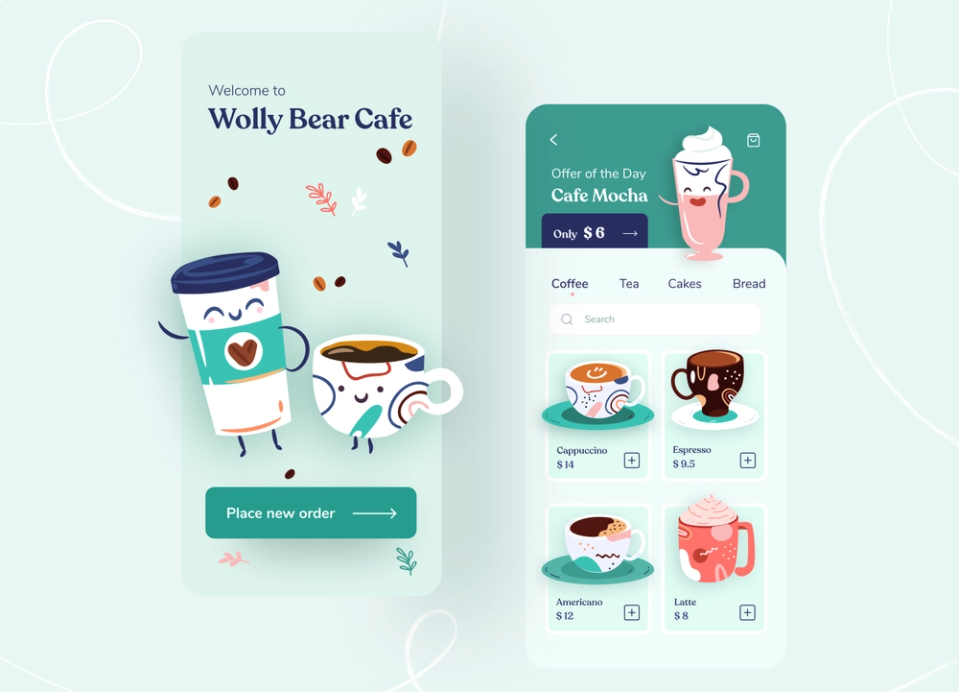 Music Player
Dribbble Designer Anton Lepko designed this beautiful music player layout using a fully black and white concept. The design highlights the key features of a music player without compromising on usability.
Fitness
Dribbble Designer Mary Tokar masterminded this creative design for a fitness workout app, using an emerging app design trend called neumorphism. The app includes instructional information on how to keep fit.
Workouts
Dribbble Designer Oleh Kopyl designed this innovative workout app. The sans serif font and creative combination of bright red and black create a sense of action and movement, perfect for a workout app. It also enables the proper display of workout instructions for users.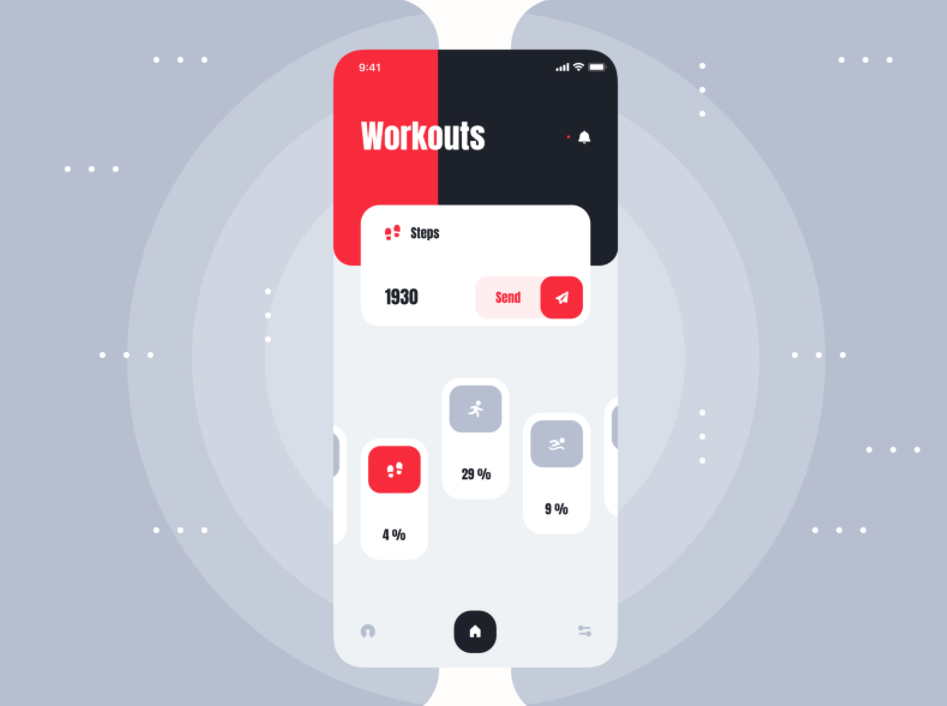 Plants App
This creative and fresh layout was created by Dribbble Designer Ghulam Rasool for Cuberto. This app is essential for plant lovers and they can view details about plants and subsequently make a purchase.
Rent a Boat
This innovative design by Dribbble design agency Outcrowd allows users to rent boats of their choice using the app. Users can view boats of their choice and see details about boats.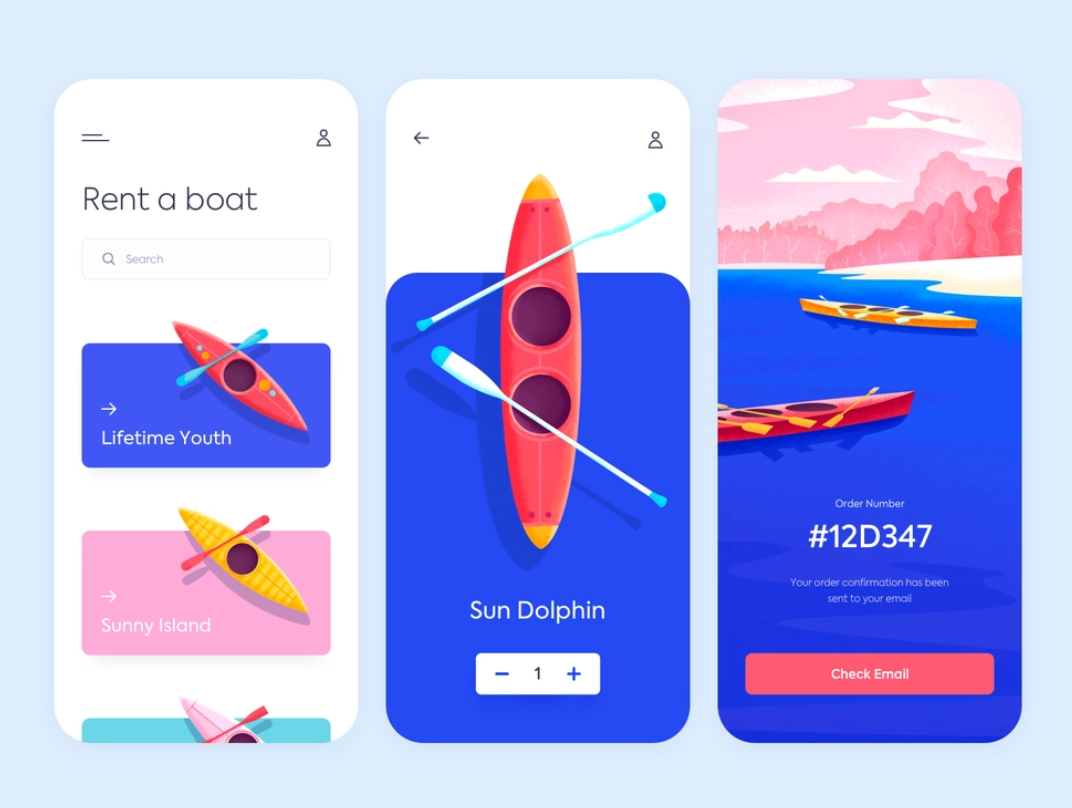 Radio App
Dribbble user Alexander Plyuto is yet another player to jump on the neumorphism design trend with this futuristic-looking radio app.
Dating App
Dribble user Hrvoje Grubisic designed this fresh and fun layout for a dating app. The app makes it easy to browse profiles and access information about other users in a single glance.
Crypto Mobile App
Dribble Designer Ghulam Rasool makes the list yet again, this time with a cryptocurrency mobile app. The app includes functions that allow users to send, receive and transfer cryptocurrency.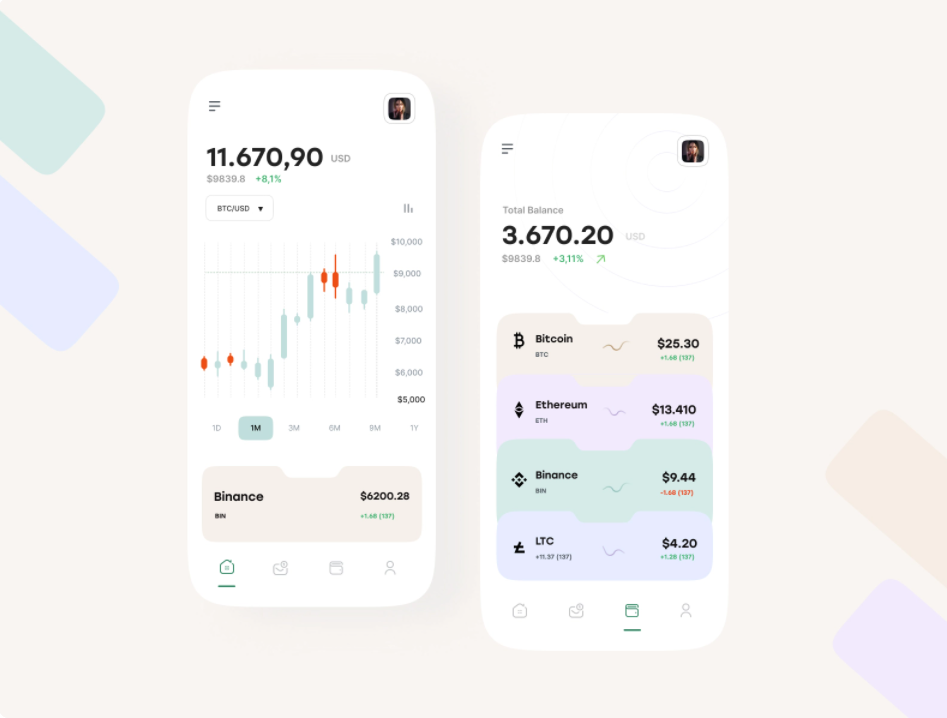 Healthy Food Delivery App
Outcrowd makes a comeback on the list, this time with a lovely and minimalistic design for a food delivery app called Vegga. Vegga embodies good design principles to present users with options of shopping for healthy food online.
Search Interaction App
Designed by Dribbble User Anton Tkachev, this app focuses primarily on searching for music.
Social Media App
Dribble User Kesnia Volovyk has designed this creative and aesthetically pleasing social media app idea for lovers of interior design.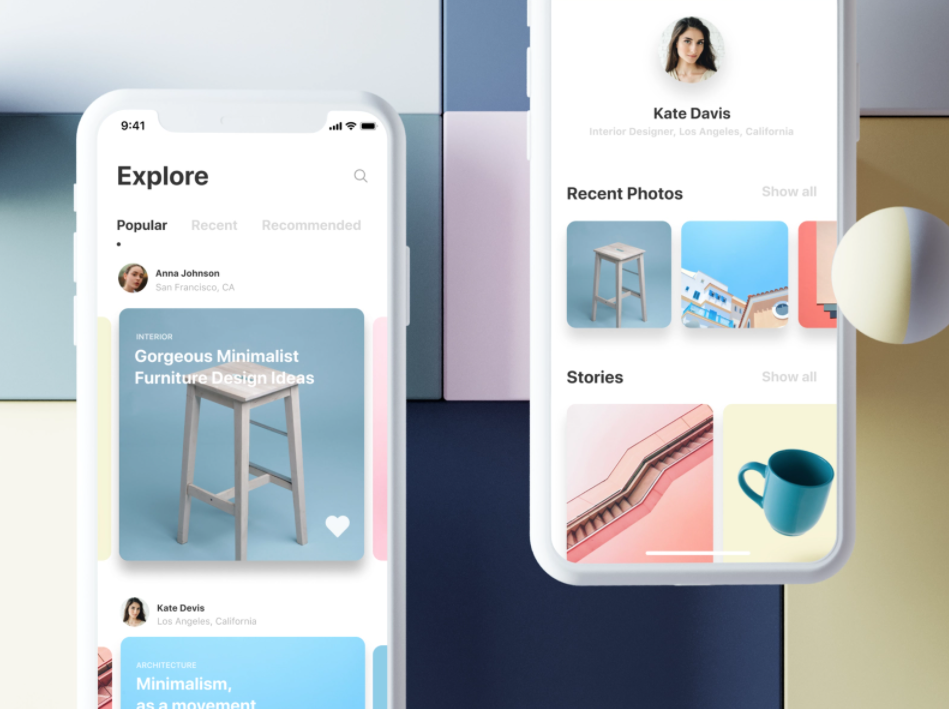 Healthcare Mobile App
Dribbble user Andy Selimov masterminded this beautiful mobile app designed to help analyze and track patient data. The app helps healthcare practitioners view patient information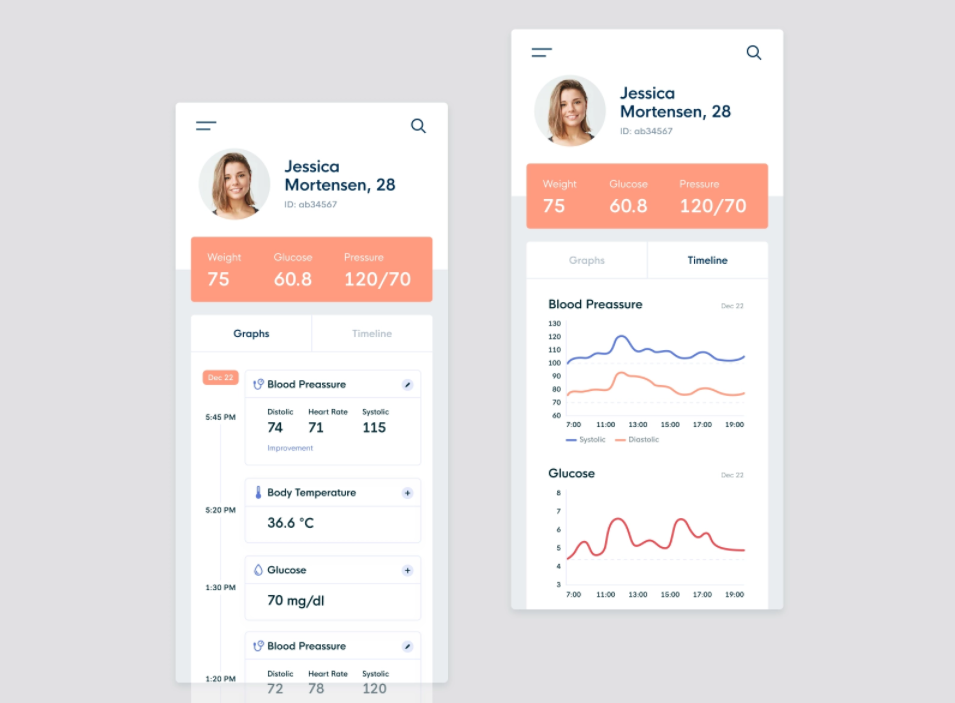 Property Rental App
Dribbble designer Luke Peake designed this masterful and clean app for viewing apartments and homes for rent in Europe.
Finance Wireframe Kit
Dribble Designer Priscillia Wong designed this calming and aesthetically pleasing wireframing kit. The design is ideal for financial services and users can carry out payments easily.
Unix
Unix is a mobile app that aids the seamless movement of money. Its clean layout and attractive interface were designed by Dribbble user Victa Wille.
Dropbox
Dropbox is a new mobile app designed to reduce the clutter of the user's online workspace. It has a tidy and user-friendly interface. The mobile app meets the users' needs in storage and creation of files. It is quite intuitive in its design and users can easily find their way around and store important documents on dropbox via the mobile app.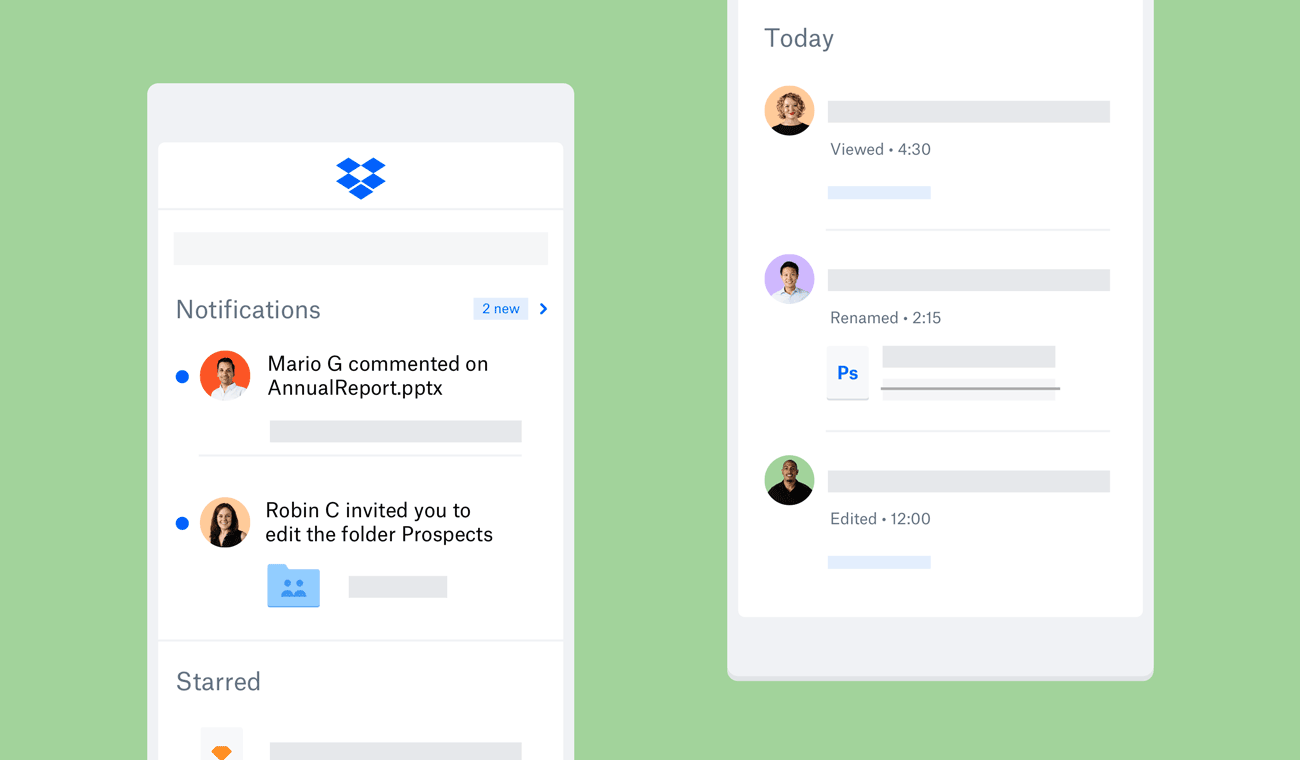 Shop App
Giga tamarashvili creates a friendly design that appeals to millennials and Gen-Z with a focus on giving them a seamless shopping experience. The design is quite simplistic and unencumbered. It highlights shopping pieces easily and uses the latest trends in e-commerce software development.
Dribble
Dribble is a "mecca" of sorts for designers and frontend engineers to view and showcase their designs. The ease of viewing designs is an important aspect of Dribble as users can seek and give feedback on designs. The mobile app translates the brand and functionalities synonymous with the web platform. The app is designed to be fluid and seamless and help designers do their best work, discuss ideas and connect with opportunities.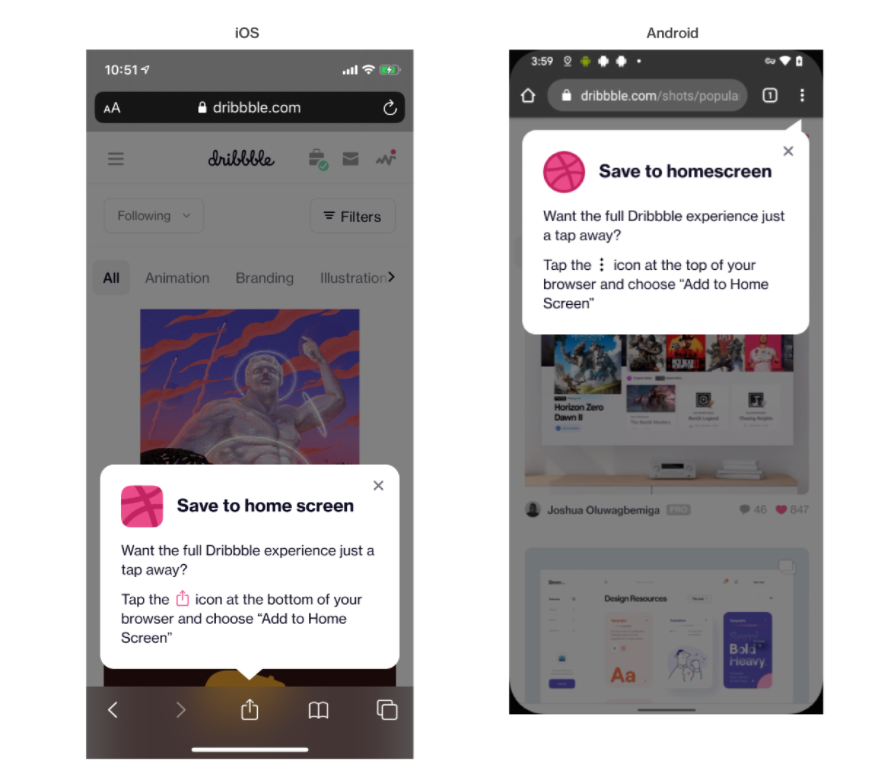 Food Delivery App
Marcus Leo creates this interesting design of a Food delivery service. The design focuses on the food items with a view to creating a want in the mind of users. The use of bright colors creates a feeling of happiness in users when using the app.
Starbucks
Coffee is an essential part of our day as it helps us stay focused during work hours. Starbucks has got it right with this app due to its obsession with user experience. The menu is a big deal for coffee lovers and ease of navigation across different items too. The app allows users to view necessary information at a glance and has a huge emphasis on usability over design.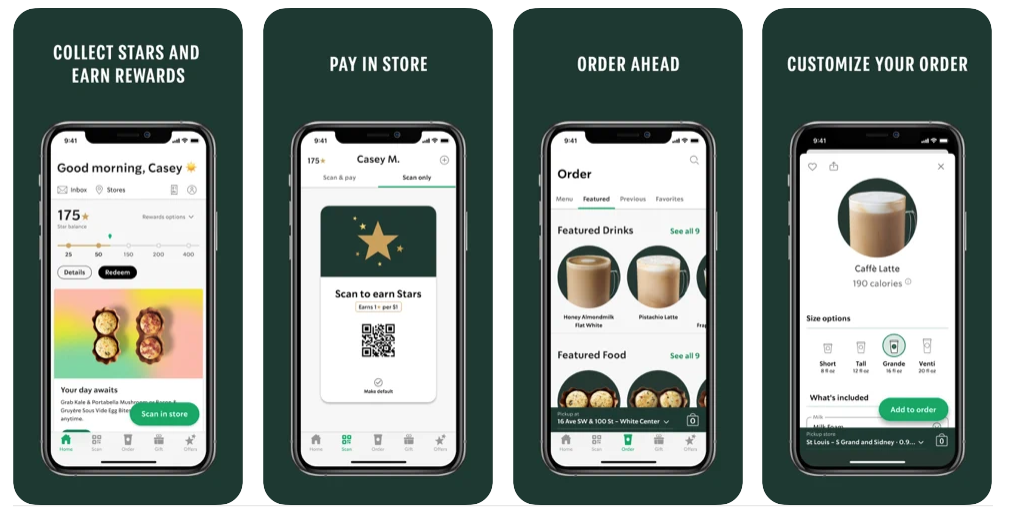 Home Rent App
The Home rent app makes renting a home easier as potential occupants can look at different properties(both internal and external parts of the house), and see a description of the house and the facilities in each house. It also comes with a checkout option to make payments via the app.
UI Application Elements
The UI application elements app allows designers to interact with each other, learn from each other and share information on upcoming design events with each other.
Fandango
This is a common name when it comes to ticketing. The app enables users to have instant access to information about movies and events close to them before viewing a decision page. The app also enables users to connect with their various social media pages and share with their friends.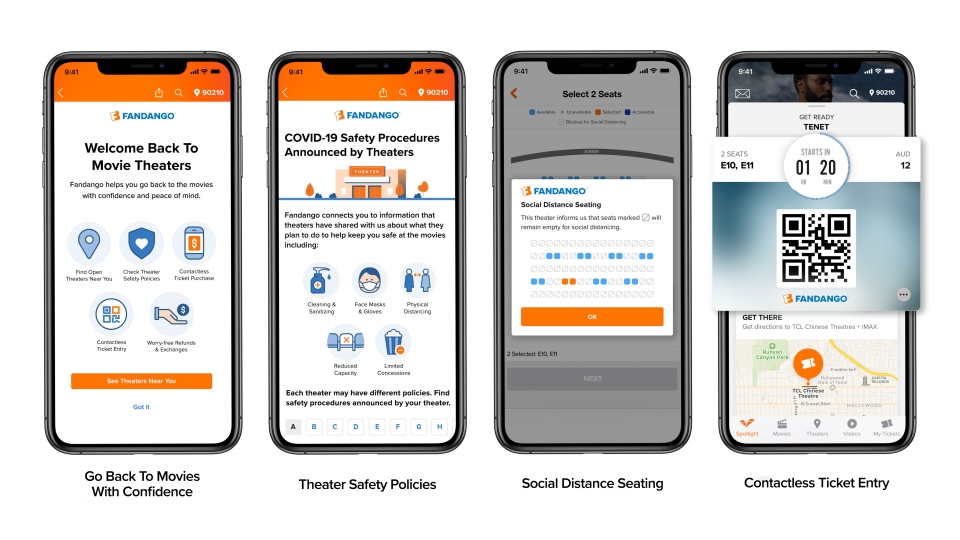 Hope you've found the inspiration!
These stunning and incomparable app design examples were supposed to bring some new fresh ideas to your mind. Hope they accomplished the task and managed to inspire you!
Additionally, we would like to mention that all these designs look differently because they serve different purposes and audiences. The design must be carefully developed to the needs of people who use the app – don't forget about it when you unlock the flow of your creative energy!